Three months of experience shooting with the Nikon Z8 camera as a pro weddings/events/landscape photographer by Zachary Lai (Website | Instagram | Facebook | YouTube), an official Nikon Creator supported by Nikon Singapore: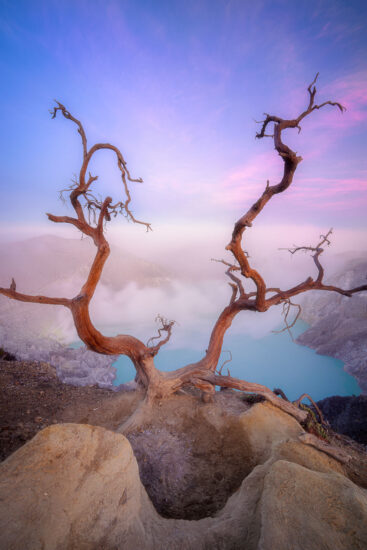 Introduction
The Nikon Z8 is Nikon's latest offering in its lineup of professional and reliable mirrorless cameras. Being an official Nikon Creator, Nikon Singapore invited me (along with all their awesome Creators) to be one of the first to get my hands on the Nikon Z8 during its launch event at the Nikon Experience Hub at Funan Shopping Center.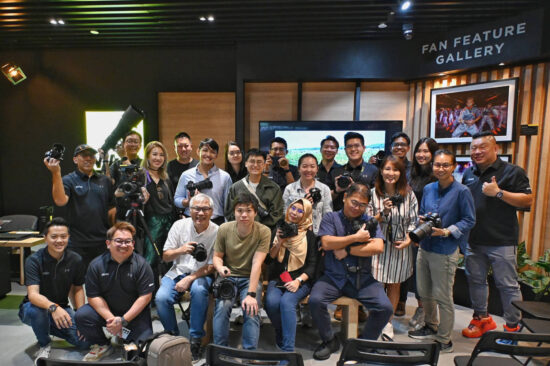 It's since been approximately 3 months after its release, and the Nikon Z8 has been an integral part of wedding photography, corporate event photography and landscape photography toolkit. I'm happy to report my findings on this fantastic piece of hardware.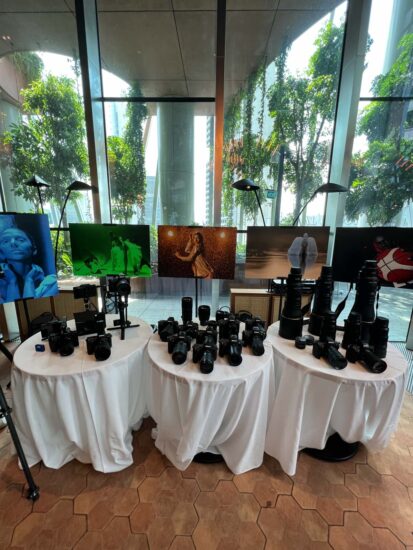 Initial Impressions
Weight and Handling
I've used the Nikon Z6, Z7ii camera series for many years since its debut, so I'll can't help but make many comparisons to these bodies. The Z8 is noticeably larger and heavier, weighing at approximately 910g while the Z7ii clocks in at about 694g, both including battery. The difference can certainly be felt during those long wedding shoots, though I prefer how my hands wrap around the Z8's more hefty frame. The Z7ii can feel a tad too small for my hands sometimes. The Nikon Z8 has 2 card slots, slot 1 is a CFexpress B/XQD slot while slot 2 fits your regular SD cards. I'm happy to use one slot for raw and the other for jpgs, captured simultaneously.
That said, I do feel some fatigue in my wrists after shooting long hours with the Z8. I'm gonna chalk that up to my hands still figuring out how to properly balance the camera after being too used to the smaller Z cameras. After all, I've shot with pro-body DSLRs including Nikon's flagship D5 series for many years with no issues.
Articulating LCD Screen
The Z8 was touted as a "mini-Z9", so one of features I really hoped would trickle down from the flagship was the same articulating LCD screen. Nikon did not disappoint in this regard! If you ever had to shoot at ground level for one of those water reflection shots, or held up the camera high up-stretched to get photos of large crowds, you'd know how invaluable the articulating screen is. The 8cm long LCD screen is horizontally and vertically tilting for 170° viewing and has a delightfully sensitive touchscreen in glorious 2100 k-dot resolution.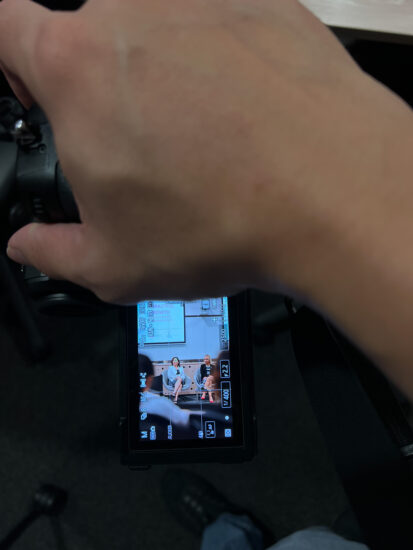 No more twisting your head to compose those vertical shots.
I have to mention here that I've always thought the Z7ii series touch and menu controls were flawless, but ever since I upgraded to the Z8 I realised that there is a discernible lag in the older camera's response. Being spoiled by how fast and smooth the touchscreen and menu controls are on the Z8, the Z7ii seems almost slow to react to inputs in comparison.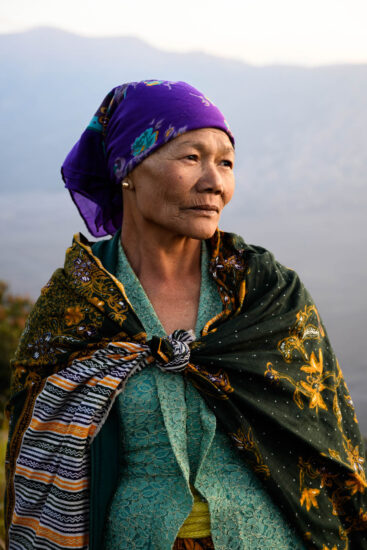 ISO500, 68mm, f5.6, 1/80s, I love using the tilt screen to shoot portraits.
Auto-Focus
Much has been said about Nikon's AF capabilities in the mirrorless field, and I honestly feel that Nikon has redeemed themselves in this regard. The Z8 auto focusing is quick, sticky and snappy. Even in dimly lit ballrooms where weddings or trade conferences frequently take place, I find that face and eye detection works like a dream.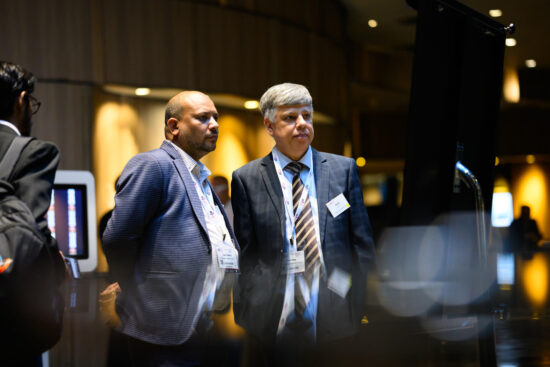 The Nikon Z8 auto focus is spot on, even in dim conditions.
Silhouette Focus
I've come across a situation where I'm sure most cameras(including my DSLRs) would have failed me, but the Z8 did brilliantly so I have give Nikon the credit here.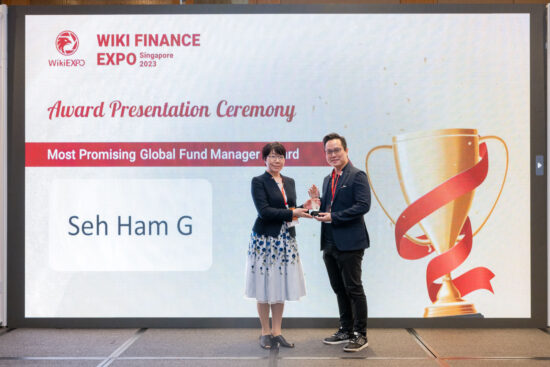 The LED background was so bright that the people in front looked like silhouettes, but the Z8 nailed autofocus.
While photographing a trade conference, my client unexpectedly informed me that they were going to give out awards on stage. The stage in question was backlit with a glaringly bright LED panel that was so gigantic that it filled my entire frame. The background in my shot was so bright, the people in front of it appeared as black as silhouettes. I knew from my years of experience as a professional events photographer that I was in trouble. Modern cameras have a tendency to focus on the background in backlit situations like these. I was too far from the stage to communicate with the people on stage, and there was no time to set up additional lights.
Thankfully, the Z8 saved the day here. It miraculously knew where to focus even though the people's faces were dark. I got a 100% hit rate with the worst possible AF conditions. Colour me impressed.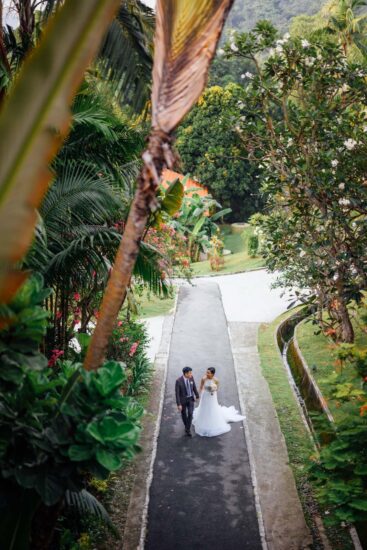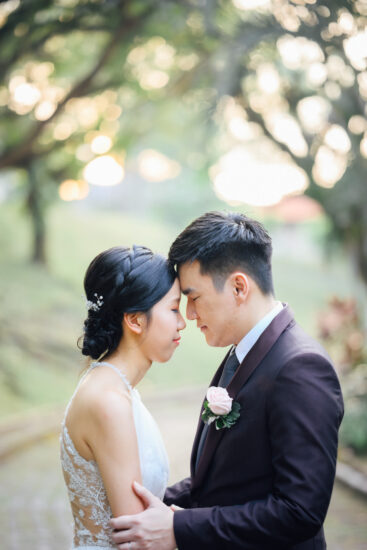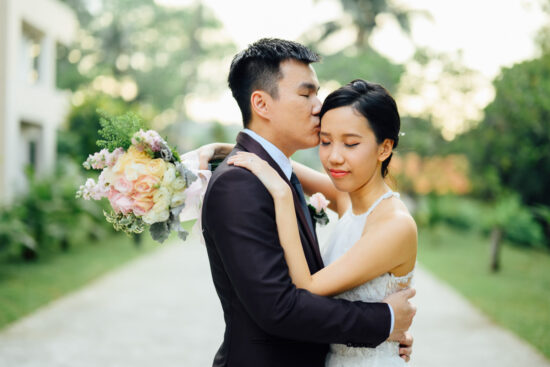 Wide Angle Face Detection works like a charm, even when the faces are farther or smaller in the frame.
Wide Angle Focus
I've written a lot on focusing so I'll keep this one short. The Z8 gained the ability to detect faces even when they're small in the frame. Go ahead, use a wide-angle lens and turn on face detection with the subject a distance away. The Z8 auto focus is unfazed. It doesn't falter and focuses just as efficiently.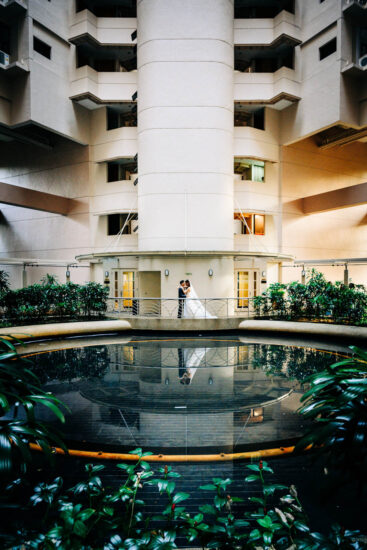 Nikon Z8 with the Nikkor Z24-120F4 S lens is a wonderful combination for versatility when you need it.
Battery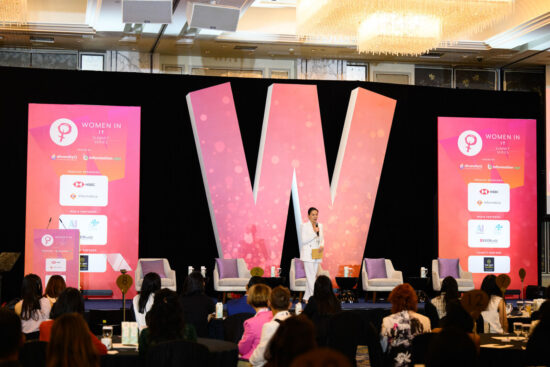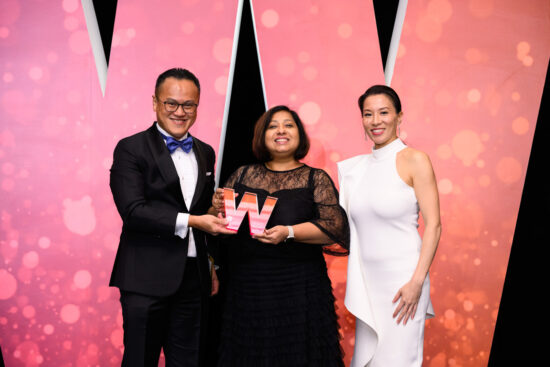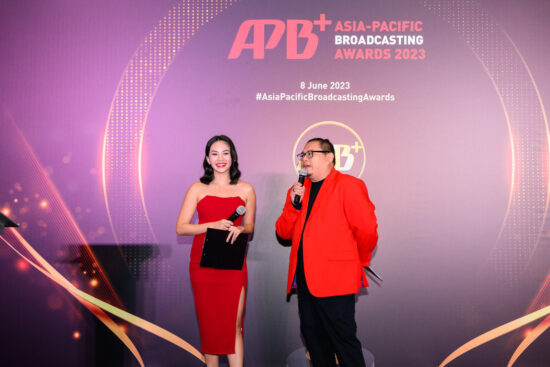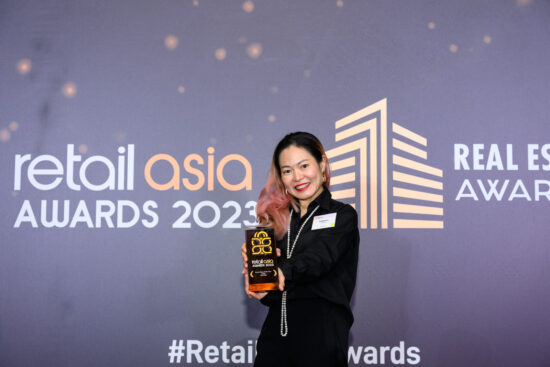 This was a 15 hours long event. The Z8 battery is depleted after approximately 3 hours of heavy usage, so you'd need a few spares.
It can't all be good right? The Z8 uses the same EN-EL15 batteries (thank the heavens!) as the Z6 and Z7 series. It's CIPA rated for 340 shots, but in my experience, rans out after about 3 hours of intense shooting. While not the best, it's acceptable for the average user and maybe a little disappointing for a professional. Carry extra batteries with you as this is not one of the Z8's strong suits.
Dynamic Range
It's pretty well-documented that the Z8 has a similar dynamic range to the Z9. It unfortunately doesn't offer as amazing results as the Z7ii at ISO64, but does it really matter when we can blend multiple exposures and have GND filters to help us?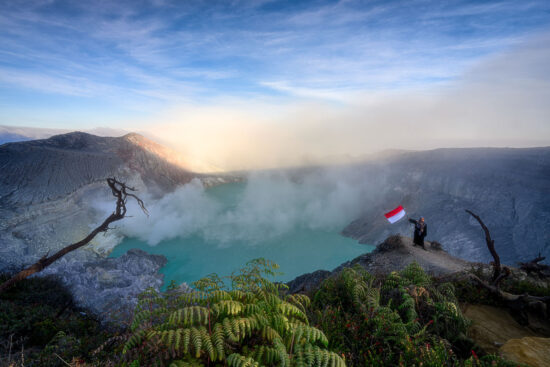 Sunrise at Mt Ijen during Indonesia's Independence Day.
In terms of practical landscape photography, during sunrises and sunsets where the sky would be blown out and the foreground might be too dark, the Z8 doesn't struggle at all.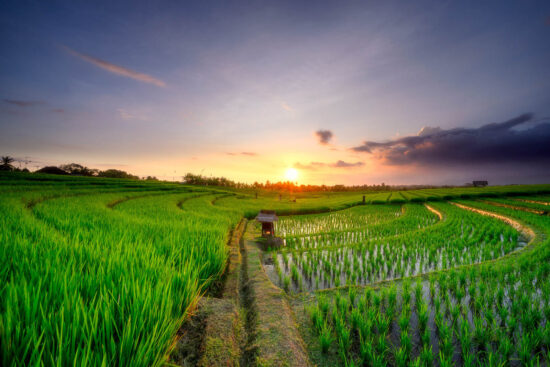 ISO64, 14mm, f14, 1/6s, sunset at a rice terrace in Bali, Indonesia
Electronic Shutter
I love the electronic shutter on the Z8. Turn off the shutter sound and you get true silent shooting. The lack of a mechanical shutter means there's absolutely no movement in the camera when you're taking a photo. It does up to a neck breaking speed of 120 fps, and since I don't do much sports or wild life photography, it's not a feature I really need.
I've not encountered any issues with banding. Flicker reduction can be turned on on the camera, and if that's not enough, you can turn on High Frequency Flicker Reduction to match your shutter speed to the lights. That's something else the Z8 does that my Z6 and Z7 series cameras can't do.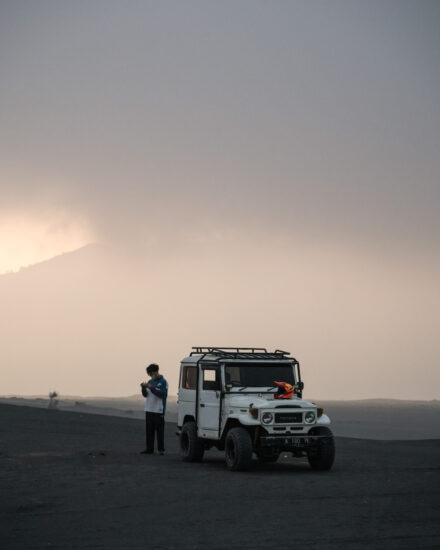 Sea of Sands in Bromo Indonesia. Imagine feeling confident enough to change your lenses in these desert-like conditions.
I'm a huge fan of the sensor shield! Z8 users can confidently change lenses in the field without being too worried of dust elements entering the sensor.
ISO and Noise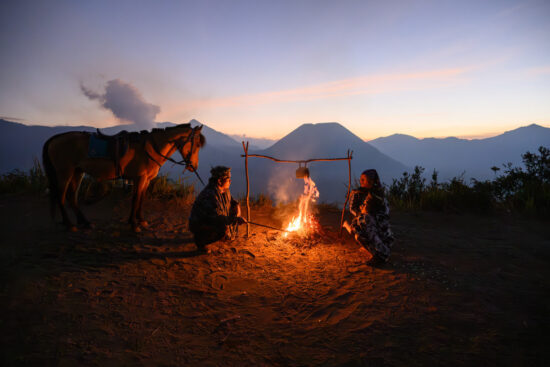 ISO4000, 24mm, f4, 1/30s, native Indonesian locals with their horse. Mt Bromo in the background.
This isn't one of the Nikon Z8's strongest points. Unfortunately it produces grainier images at higher ISO compared to the Nikon Z6 series, but is still reasonably good for a modern camera. I see no issues using it for dimly-lit weddings and events. You might have to apply some noise reduction in Lightroom or DeNoise AI.
Video
The Nikon Z8 records up to a whooping 12-bit N-RAW at 8K 60fps, making it an excellent camera for videography. I'm not a videographer by trade and have not tested the video capabilities, so I can't much on this.
Comparison to older models
Here are some of the functions I really love in the Z8 that I wish were in my Z6 and Z7 series cameras
If you've shot with the Z6 or Z7 series, you'd know how easy it is to accidentally bump the button next to viewfinder that changes the display mode to LCD or EVF. On the Z8, The display modes can be restricted in the settings menu so that takes care of that problem for good.

Starlight View and Warm Display Colors mode is a revelation if you're into astro photography. Starlight View makes is easier to find and focus on the brightest star so that you can focus to infinity, while Warm Display Colors solve the issue of the bright menu lights glaring into your eyes in dark scenarios.
Issues
Sadly, the Nikon Z8 was not launched without controversy.
Service Advisory / Recall

A service advisory was released shortly after launch. I've spoken to a Nikon rep about this, the issue seems to be related to the lens mount. If not secured properly, there is a tiny chance that the lens is not locked on the camera. The workaround is to remove the lens, and ensure a positive lock before you use it. Service advisory or not, it seems fairly common sense. Just make sure you feel the click when you mount the lens before using the camera.

Heating

I've experienced the same phenomenon that users worldwide have felt. The Nikon Z8 heats up and feels warm to the touch on the left side of the camera after heavy usage. While not a show-stopper, it does feel unusual. (U

Lug

There's been a few reports of the sling lugs failing. To my knowledge, this issue seems quite isolated and Nikon has acknowledged it, but is still investigating it at the time of writing. I mount my slings at the tripod screw so this issue does not affect me. (Update: Nikon Singapore has contacted me directly to ask me to send the body in. It was ready for collection the next day)
Zachary Lai is a professional photographer and YouTuber based in Singapore. He also runs Singapore Photography Community, a local community that organises monthly photo walks and workshops.
He also runs Singapore Photography Community, a local community that organizes monthly photo walks and workshops.
If you have an interesting idea for a guest post, contact me here.
Previous Nikon Z8 guest posts: