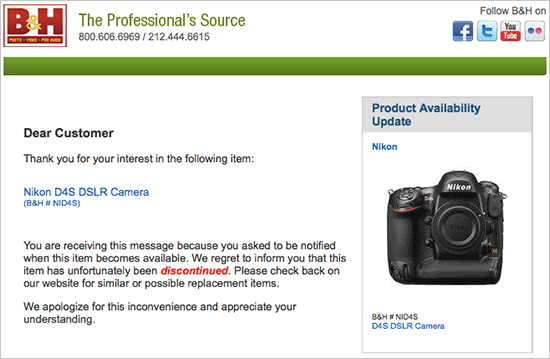 After Adorama, B&H also took down their D4s listings (with a D4s picture) after it has been online for over a month (initially reported on January 9th). This morning my inbox was full with emails from readers asking me what is going on. The camera is obviously not discontinued – this was just a glitch in their system as a result of the listing removal – see those emails: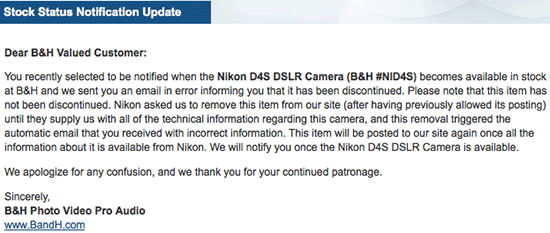 "Thank you for replying to our Product Update email. Indeed! The notification email you received was sent in error.

Not to worry though, the Nikon D4S DSLR camera that was recently announced (, and displayed at CES 2014,) is still in production. Further details and an official broadcast will come at a later date. In the meantime, rest assured that your place in line on the "Product Update" notifications list is upheld, and you are not required to resubmit for this service.

We hope this allays your concerns, and appreciate your understanding. Please bear with us while steps are taken to avoid such confusion in the future."
I am still surprised that Nikon announced only few Coolpix models for the CP+ show in Japan. It could be that the D4s got delayed, even though the camera is in use at the Olympics.
It's also strange that there were no new Nikon 1 products announced at the CP+ show. The Nikon AW1 is still nowhere to be found in the US  – the camera is no longer listed at Amazon US and is out of stock at Adorama and B&H. This shortage seems to be only in the US, the AW1 is in stock everywhere in Europe (Amazon UK, Amazon DE, Wex UK, Jessops).
Update: the Nikon AW1 is still listed on Amazon US, but is marked as "currently unavailable" (the Nikon AW1 search results did not include this listing):