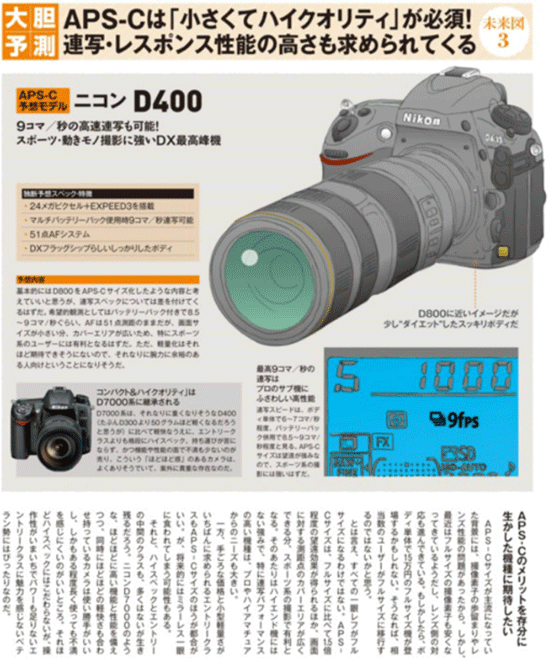 I already posted this on PhotoRumors, but since I am still getting emails about it, I have to mention it again.
The Japanese magazine CAPA published their annual "predictions" on upcoming cameras from Pentax, Sony, Canon and Nikon. On a full page they describe the D400 as being a 24MP APS-C camera with 9fps and 51 AF points. Again, this is not a leak or any type of reliable source, just the opinion of the editors. You can check their track record from their previous articles on the Nikon D4 and D900, a 24MP D700x camera and this Nikon D95 (their Sony and Pentax predictions were also not very accurate).
As far as I am concerned, Nikon may completely eliminate the high end DX line (D300s) and replace it with a lower end FX camera (D600). They may also further upgrade the D7000 replacement to become the top of the line DX camera. Just like CAPA magazine, this is not a reliable information, just my opinion. The D5100, D7000 and D300s are all due for replacement this year and I cannot see Nikon releasing three new DX models after the D4 and D800/D800E (and the rumored D600). Something has to go and I think it will be the D300s line.