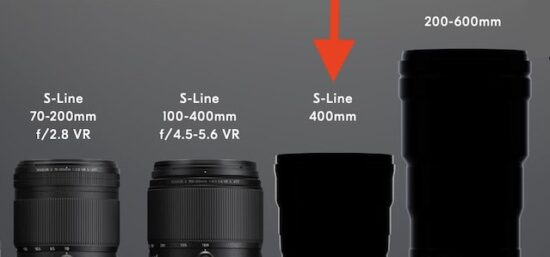 Nikon is rumored to announce a new Nikkor Z 400mm f/4.5 lens very soon.
The official announcement is expected this month (June), but I do not have an exact date yet.
The new lens was described as 400mm f/4.5 to me, but there is a very low chance that the actual aperture will be f/4 (Nikon already had a 400mm f/4.5 lens in the past).
The new 400mm Z lens will be very compact as you can see from the latest roadmap above: 23cm in length, and 1,250g in weight – almost the same size as the Nikkor Z 70-200mm f/2.8 (21,98cm, 1,360g) and Nikkor Z 100-400mm f/4.5-5.6 (22.2cm, 1,435g) lenses.
The new 400mm lens will be part of the Nikon S-line – meaning you should expect a very high-performance glass (Nikon calls the S-line "A Badge of Honor").
We shall see several other lens announcements by the end of the year (Nikon promised 50+ Z lenses by 2025).
Nikon will also announce a new APS-C mirrorless camera – I will have another post on that soon.