The Nikon Z9 could officially be released tonight after midnight EST (October 5th). I am still trying to confirm this information. I am also not sure if this will be the official announcement to the public or just an internal presentation to dealers. Some stores in Europe already have the Nikon Z9 on their website and those same stores are known to create new product listings only after they get the official info from Nikon – for example (there are others as well which I will not mention here):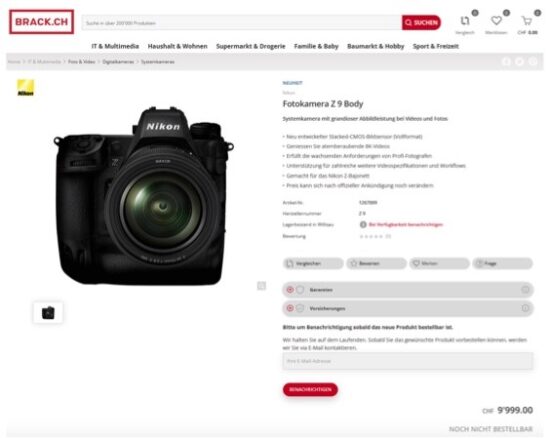 If the Nikon Z9 is announced tonight, shipping should start at the end of October or in early November, but expect the wait time to be very long given the current global parts shortage and shipping crisis. Prepare for a long Z9 pre-orders wait time.
Update – another date I heard for the Z9 announcement is October 13th.
The latest set of rumored Nikon Z9 specifications can be found here:
New Nikon Z9 monster specs leaked, announcement expected in the next two months: Nikon basically combined the D6 and D850 and made it mirrorless…