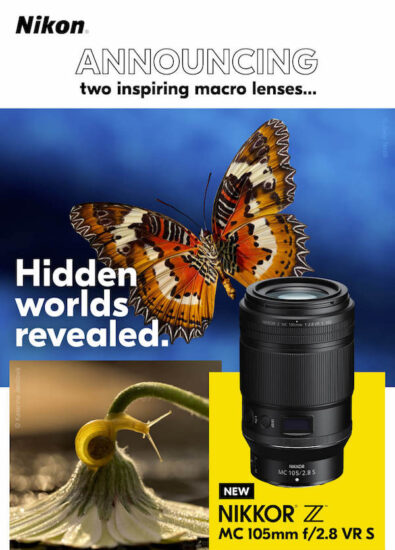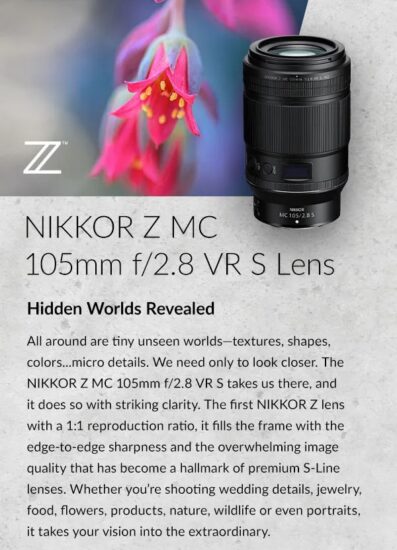 I already reported two weeks ago that the new Nikkor Z MC 105mm f /2.8 VR S macro lens will be significantly delayed based on the large number of pre-orders. Nikon Japan just issued an official apology:
"Apology and notice of delay in delivery of NIKKOR Z MC 105mm f / 2.8 VR S

June 17, 2021 Product Information

Thank you for your continued patronage of Nikon products.

We have received a large number of reservations for the Nikkor lens "NIKKOR Z MC 105mm f / 2.8 VR S", which is scheduled to be released on June 25, 2021 (Friday).

We may not be able to deliver the product on the day of release to some customers who are currently making reservations.
In addition, it may take some time for the product to be delivered to customers who make reservations in the future, as it will be delivered in sequence.

We sincerely apologize for any inconvenience caused to customers who are waiting for our products.
We will do our utmost to deliver the product as soon as possible, and we appreciate your understanding." (source: Nikon Japan)
Given the current global parts and chips shortage and "out of stock" status for many Nikon products, I think the new 105mm Z lens will be out of stock at least until the end of 2021.
Nikkor Z MC 105mm f/2.8 VR S pre-order links:
Nikkor Z MC 50mm f/2.8 pre-order links:
Additional coverage of the new macro lenses can be found here.