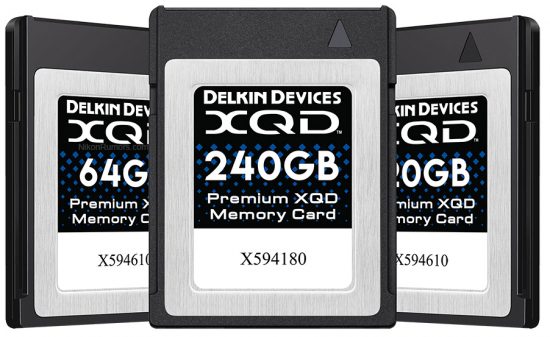 As I already reported last year, Delkin will start selling XQD memory cards. The official announcement will be next week, on August 21st.
This is a good news since Lexar is not ready to start selling XQD memory cards and Sony is currently the only XQD manufacturer (ProGrade will not produce XQD memory cards).
Here is the leaked press-release:
Delkin Launches New Line of Premium XQD Memory Cards
POWAY, CA, AUGUST 21, 2018 – Delkin Devices, a manufacturer of flash storage solutions and camera accessories, announced today the newest addition to their ever-growing line of memory-based products: Premium 2933X XQD memory cards. Version 2.0 compliant with speeds suitable for professional photographers and videographers, Delkin XQD cards are specifically designed to excel in the latest generation of cinematic hosts from both Sony & Nikon. As not all memory manufacturers are authorized to produce and sell XQD, Delkin is grateful for the opportunity to provide consumers another choice.
Utilizing a 2nd generation PCI Express interface and delivering blazing-fast write speeds up to 400MB/s (up to 440MB/s read speeds), Delkin Premium XQD memory cards are capable of capturing flawless cinema-quality footage, including DCI 4K & Full HD video at 180 fps, as well as RAW photos in burst mode. Each card has undergone extensive testing to ensure compatibility in today's high-end XQD hosts, including the Nikon D5, D500 & D850, as well as several of Sony's XDCAM Super 35 broadcast camcorders (PXW-FS7 & PXW-FS7M2). It is important to note though that XQD cards are not backwards compatible with either CompactFlash or CFast 2.0 hosts.
As proof that Delkin's XQD cards are built to the highest standard and full compatibility, each card is serialized, like your camera. This allows Delkin to offer the ultimate level of customer support, while providing customers additional protection and insurance for their purchase. Owners can register their Delkin Premium XQD cards at www.delkindevices.com/xqd/.
In addition to their "Lifetime Warranty" policy, Delkin also offers a unique built-in insurance policy for their XQD memory cards, called their "48 Hour, No-Questions-Asked Replacement Guarantee". Not offered anywhere else in the world, Delkin will replace any non-working XQD card within 48 hours or less (not including weekends), prior to receiving your non-working card. Cards can also be replaced over-the-counter at any authorized Delkin XQD reseller.
"This covers the unthinkable, from salt exposure to even pet and child inflicted damage" Jenn Sherry, Delkin's Marketing Manager explains, "Should anything happen, just give us a call and we'll send you a brand new replacement card that you'll receive in less than 48 hours, along with a pre-paid shipping envelope to get your damaged card back to us."
Delkin's "48HR Replacement Guarantee" is also offered on all Premium memory card lines, including BLACK (SD, microSD & CF), PRIME & POWER (SD & microSD), as well as CFast 2.0.
Delkin Premium XQD memory cards come in the following capacities and will start shipping mid/late October: 64GB, 120GB and 240GB. XQD cards will be made available for purchase to Promaster members exclusively through the PRO warehouse. Delkin products are sold through authorized camera stores worldwide. For more information on Delkin XQD memory cards, please visit www.delkindevices.com/xqd/.