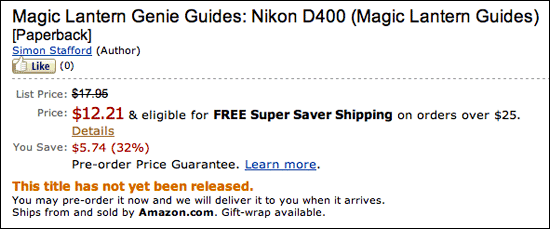 The saga of unreleased Nikon D400 books continues – this time it's Magic Lantern who promises a new D400 guide on September 4th, 2012. The book is currently available for pre-order on Amazon US, Amazon Germany and Amazon UK:
The timing of the book release (September 4th, 2012) is interesting because Nikon is known for making major announcements in August (D90, D7000, D3, D300). In addition, the biggest photo show Photokina starts on September 18th.
After the D3200, Nikon is expected to release two more DSLR cameras in 2012. It will not make sense to upgrade the D7000 and the D300s at the same time, so my guess will be for a new D5200 and a D400. This will open the path for current D7000 owners to upgrade to the D400 (just a speculation, I have no reliable info on the D400 at that point).
Update: the publisher of the book issues a statement that this listing was a mistake:
"Due to an internal systems error, the Magic Lantern Genie Guides book with ISBN 978-1454707820 was mistakenly listed with a fictitious model name: the D400. This was a dummy title that never should have fed out to booksellers, and neither Simon Stafford nor Sterling Publishing Co., Inc. have any knowledge of such a camera model."