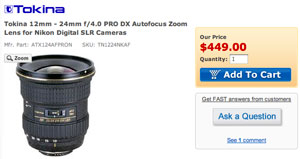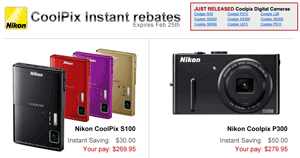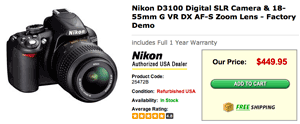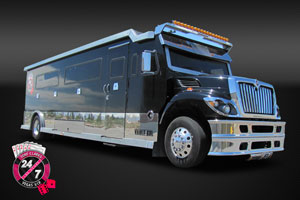 "The G1 X, at that price point, is a super kind of niche market, just for Canon fanboys if I'm completely honest. It's not something that I anticipated from them."
Nikon is confident that it will regain a 50% DLSR market share in Malaysia.
Press release: Nikon and Warner Music Group team up to rock South By Southwest (SXSW) with star-studded three-day music residency.
From Nikon's Q3 Q&A session about their mirrorless camera:
"Q: What can you tell about the sales of the Nikon 1 series?

A: Although we received some negative feedback in connection with the size of the image sensor for Nikon 1 at the time of launch, as customers experienced the quality of the AF response time, movie recording, picture quality and body size, the Nikon 1 has been highly appreciated. As a result, the J1 model achieved top market share in the United States, from 11 countries across Europe and in China for the month of December and we believe this product will trigger steady demand in so-called mirrorless interchangeable lens camera market. We plan to continue to expand on this market by adding more attractive features and building on our product lineup in the future."
24h in 25p-night Shot with Nikon D4 from Johnnie Behiri on Vimeo.
Nikon D4 (pre production model), first impression by Johnnie Behiri
For "24h in 25p-day" please go to: http://vimeo.com/35858338
I was lucky enough having the Nikon D4 (pre production model) for 24 hours. My original plan was to shoot a short feature with it and by doing so, check its strength and weaknesses, but the short notice confirming having the camera left me no choice but run a very "simple test" one that might not satisfy all….
I've divided the test to "night and day shots". Both videos are NOT color corrected. I wanted to share with the community what I got out of the camera. (CC versions might follow). For my eyes, up to ISO 1000 the camera produces clean video images. Also, please take a look at "24h in25p"-night, 0:49min. Surprise, the "rolling shutter" effect is almost a thing of the past!
Obviously having the camera for such a short time did not allow me to master it. I truly hope some of the short comings I discovered are due to my lack of "Nikon experience". Hopefully those are not "short comings" after all….
My decision was to shoot with 2 prime lenses. The reason was to see how useful and functional the "crop" function is. So everything you see (but the Capoeira shots) was done with the Nikon 20mm+85mm lenses.
What to like about this camera?
I liked what I saw, though hoped I could get a bit more sharper image. I would love to experiment more and get even better results if possible.
Audio quality: It is very nice. I dare to say that the D4 is producing a cleaner sound then my Tascam DR-100.
Needless to say that the headphone socket is a real treat…
"Crop factor": I can't say enough good things about this function. Simply put, AMAZING! By the way, Nikon representative told me that the best video quality produced by that camera is on the 2.7 crop factor so this setting is a default. You are able to toggle between "full screen" and "1.5 crop factor" as a second option.
Things I would love Nikon to review and hopefully change in a firmware update if possible:
It is unfortunate but sound levels can not be adjusted after starting recording.
When switching the camera on in video mode, there is ALWAYS a need to press the LV button BEFORE being able to actually shoot video.
Clear HDMI output is great but when an external EVF is connected, there is a need to see some information there. I couldn't find a way to "overlay" the info in my Cineroid EVF for comfortable shooting.
Also, when shooting with an External EVF connected to the camera via HDMI, I could not find a way to turn the camera LCD off. At times I am not interested that others will see what I'm shooting or just would like to save a bit more of the battery life.
In some occasions, there is a delay after pressing the record button between the LCD screen and the external EVF. The EVF will go blank for a second or 2 before you see what you are recording.
There is a way to assign 2 front buttons for a smooth aperture control. This is a nice feature. The problem is that the changes are so quick that I ended up pressing the button in steps so the end result is like using a "clicked" aperture ring on a manual lens. Welcome feature, wish it had a "slower response".
Crop factor changes: As amazing this feature is, there is no way to operate it "on the fly". There is always a need to fiddle within the menu in order to access and change the settings. This feature should definitely be accessed easily.
WB settings: There is no way to see the WB settings on the LCD screen only down at the battery pack compartment window.
Other notes:
My Cineroid EVF showed 1080i signal before hitting the record button and 720p right after pressing it. So I guess clean 720p signal can be output to an external device if you are interested in recording HD ready resolution while simultaneously filming into a memory card…..
All footage was shot in natural picture profile setting in1080/25p
Equipment used:
Nikon D4 pre production model firmware 1.0
Lenses- Nikkor 2omm f/2.8, 85mm f1.8, 14-24mm, 70-200mm
Rig-O'Connor (All but the Vocas handle)
EVF-Cineroid
Tripod-Sachtler DV8 SB
Camera bags- Kata DR-465i and FlyBy 76
Light craft Fader ND
A special thanks to my trainee assistant Claudia for doing at most for helping during this long day! Also, a big thank you to professor David and his team for preforming a short Capoeira theme for us. More about their school: http://suldabahia.at/. Johnnie Behiri is a BBC freelance cameraman operating from Vienna, Austria. When not working for the BBC, Johnnie films documentaries, commercials, music videos, and testimonial/marketing videos for other broadcasters and clients.