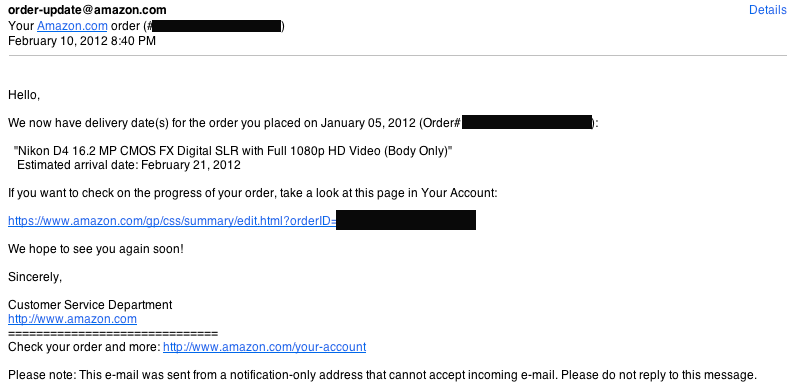 Contrary to the information I received from multiple sources few days ago about the Nikon D4 shipment delay (which was also reported by several other websites, unless they just recycle what they read here), Amazon just sent emails to certain pre-orders with a D4 estimated arrival date of February 17 and in some cases February 21st, 2012:
Hello,

We now have delivery date(s) for the order you placed on January 05, 2012 (Order# ***):

"Nikon D4 16.2 MP CMOS FX Digital SLR with Full 1080p HD Video (Body Only)"
Estimated arrival date: February 17, 2012

If you want to check on the progress of your order, take a look at this page in Your Account
…
We hope to see you again soon!

Sincerely,
Customer Service Department
…
Maybe Amazon did not get the memo. Or maybe their D4 shipment is not impacted by whatever problem caused the delay.
Amazon has not opened they Nikon D4 pre-orders since they closed them down few hours after the official announcement.