Nikon filed a patent application in Japan for a interchangeable/removable sensor. This patent application is not yet uploaded in the English language website of the Japanese Patent Office (they update this every few months) and the details are not clear, but it seems that the sensor is inserted into a guide rail and Nikon somehow have also addressed the dust issue (Google translation):
"The imaging unit is inserted into the body along the guide rails until the well-studied material is pressed from the back, the positioning is accurate. It seems that the dust reduction is also considered. The description in the patent literature, but seems to assume SLR conventional and a mirror reflex, to the presence of the reflector from there to the claims, I can say is intended to mirror-less. (Patent application 2010-258657, published on 11/11/2010, filled on 04/23/2009).
Patent application 20100284092 is for a Nikon 80-400mm f/4.6-5.4 lens. This design is slightly different that the previous patent for a 80-400mm lens:
Nikon also filed a patent application for a Nikkor 1500-6000mm f/5-20 and 375-1500mm f/5-20 reflex type lenses. Again, the details are hard to understand – maybe this a telescope with a F mount that will allow you to attach a Nikon DSLR camera – similar to Nikon EDG fieldscopes that have an optional DSLR F-mount adapter. Remember also the Nikon stereoscopic microscope that had a F-mount attachment?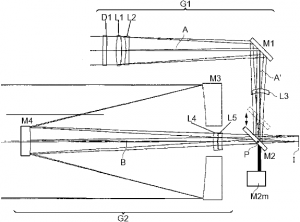 Did Nikon tried to patent a Wi-Fi SD card with this patent application (something similar to Eye-Fi cards)?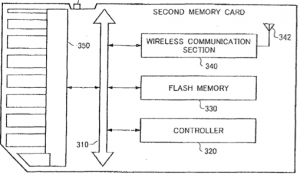 "Patent Document 1 discloses a communication apparatus provided to an image capturing apparatus. This communication apparatus can transmit to the outside, via a wireless LAN, a digital image stored in a recording medium of the image capturing apparatus or a digital image recorded by the image capturing. apparatus."