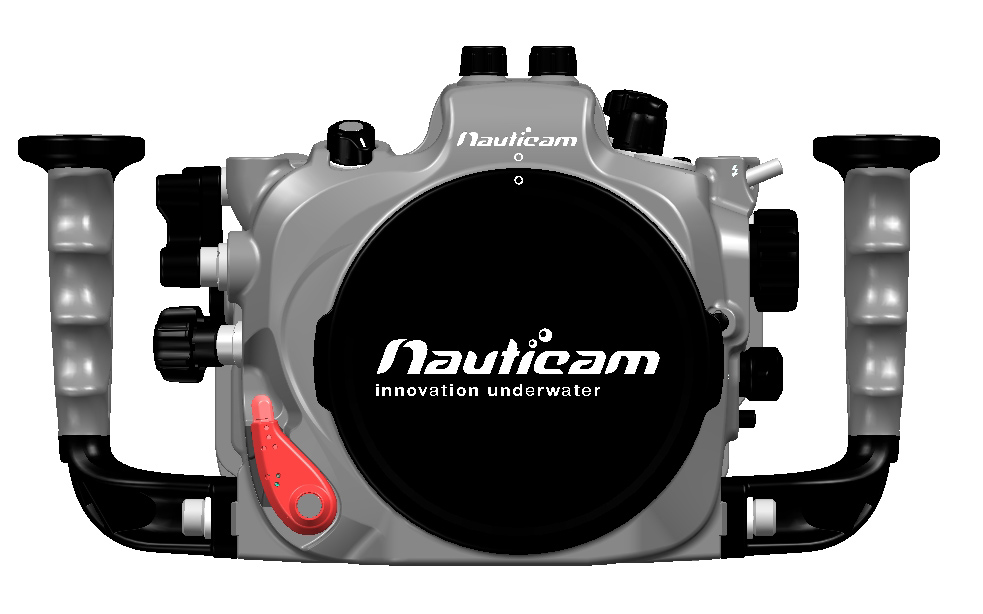 Nauticam announced their underwater housing for Nikon D7000. NA-D7000 has depth rating of 100m, it will cost $3,100 and will be available for sale at the end of November, 2010.
More images and full press release after the break:
Nauticam NA- D7000:  Innovation Underwater
Nauticam proudly announces the newest addition to the Nauticam family of innovative, ergonomic, high-quality camera housings. Come see (and handle) the Nauticam NA-D7000 for the Nikon D7000 in Booth 3838 at the DEMA Show in Las Vegas, Nevada November 17-20, 2010.
The NA-D7000 is packed with new features including new locking latches, a new lens release lever and flash activation button, a new patented two stage shutter release, and an improved rear command dial control, all in a smaller package*.
Nikon D7000
The newest release SLR offering from Nikon, the D7000 boasts an impressive number of advanced features at a very affordable price point. With its 16.2 MP CMOS sensor, 1080p HD video with manual exposure control, and 39-point AF system, the D7000 is an excellent choice for the advanced enthusiast. DxOMark just awarded the D7000 the second highest rating of any cropped sensor camera ever tested.
Nauticam is poised to take the D7000 to new depths and on new adventures with the NA-D7000.
The NA-D7000 housing inherits numerous innovations from earlier Nauticam housings like the piano keys which first appeared on the NA-7D housing, an improved version of the locking latches from the NA-550D housing, and the patented Nauticam port locking system. As with all Nauticam housings, comfortable rubberized handles, and innovative ergonomic access to key camera controls are standard.
Unmatched Ergonomics
In keeping with Nauticam philosophy, the NA-D7000 housing continues to improve new products while building on previous successes and innovations. Notable examples are the newly redesigned rear command dial control, and a piano key for easily accessing the video activation button.
The playback button has been moved out to a paddle lever on the left side of the housing, offering instant access from the handle by the user's thumb. Each control for critical camera functions is designed to allow the underwater photographer unfettered access without removing their hands from the handles.
Continued Innovation
Another innovative advancement is Nauticam's patented two-stage shutter release lever. This mechanical lever greatly enhances tactile feel of the half-press and full-press positions of the camera shutter release button, allowing precise focus control, and fewer accidental shutter actuations.
New, easy to use locking latches are easy to close with only minimal hand strength required, and are protected from accidental opening by a locking detent. This new closure method is not only easier to operate, but reduces the overall size of the housing.
A new flash activation button and a lens release button allowing lens changes while a zoom gear is attached without opening the housing back are standard equipment.
Patented Locking Port Release Lever & Locking Extension Rings
The acclaimed patented Nauticam Locking Port Release is incorporated into the NA-D7000 housing. Lens ports are inserted straight into the port mount, eliminating the twisting or threading actions that can extrude dry o-rings. Once seated, the large red port lock lever is engaged, securely locking the port in place. To remove a lens port, the silver unlock button is pressed, the port lever rotated to the outboard position, and the port is pulled straight out of the housing.
Nauticam also features the industry's only locking extension ring system as standard equipment, securely fixing large dome ports even when mounted with an extension ring.
NA-D7000 id compatible with the same accessories as all Nauticam housings, allowing use of an extensive line of lenses, ports, port adapters, lens gears, and viewfinders.
Patented Expanded Viewfinder
The optional Nauticam accessory viewfinder provides a crystal clear life size view of the camera's optical viewfinder through a diving mask. The patented external dioptric adjustment allows eye relief to be fine tuned in water. The high quality optics eliminate distortion and keep color fringing to an absolute minimum. The edge-to-edge, magnified viewfinder image makes confirming fine focus and checking corner composition an absolute breeze.
Port Adapters for Other Housing Lines
Nauticam offers a full range of port adapters allowing existing housing owners to use their current ports, reducing the cost of switching to a Nauticam housing. Port Adapters are available for Aquatica, Ikelite, Inon, Nexus M5, Nexus M6, Sea & Sea NX, Seacam, Subal Version 3, Subal Version 4, and Zillion lens ports.
Optical Flash Connectors for Inon S-TTL, and Sea & Sea DS-TTL
A variety of optically fired underwater strobes yield reliable, totally automatic flash exposures via fiber optic cables with Nauticam housings.  Inon Z-240, D-2000, S-2000, Sea & Sea YS-110 Alpha, and YS-01 strobes provide automated lighting, precisely reproducing the camera's onboard flash at a proportionally greater intensity.  This system yields accurate TTL flash performance with no electrical sync cables to flood!  Nikonos, Ikelite, and S6 style flash connectors are available as optional accessories for customers utilizing legacy electrically fired strobe systems.
Rubberized Ergonomic Handles
Nauticam uses a sophisticated over-mold process to produce extremely comfortable and secure rubberized ergonomic handgrips. Handles are available in two sizes to accommodate customers with different size hands, and spacers are available with the housing for cold-water divers.
Proven Construction Materials
Nauticam Housings are machined from a solid block of seawater resistant aluminum alloy, then hard anodized making them impervious to corrosion. All hardware is marine grade stainless steel. Acrylic windows protected with a scratch resistant material.
Specifications
Depth Rating: 100m
Dimensions (with handles mounted): 326mm x 171mm x 126mm (12.8in x 6.7in x 5in)
Weight: Under 2.7kg (6lb.)
Standard Features
Patented Locking Port Release Lever
Sensitive Two Stage Shutter Release Lever
Optical Strobe Connectors
Rubberized Ergonomic Grips
Customizable Accessory Port (allowing use of optional Nikonos, S6, or Ikelite Strobe Connectors, Hydrophone, Video Out, or Remote Control Connectors)
Embossed Control Function Labels
Quick Release Camera Mounting Shoe
Lens Release Button
Four Strobe & Accessory Base Mounting Locations
Complete Access to All Key Camera Controls
.66x Optical Pickup Finder (Enhanced 180 deg Viewfinder with External Diopter Adjustment Optional)
USA Retail Price, $3,100
Estimated Shipping Date, November 30, 2010
More information is available from Nauticam USA.
About Nauticam USA:
Nauticam USA is the exclusive wholesale distributor of Nauticam products in the North American Market. Nauticam USA's warehouse and service center is located in Fort Lauderdale, FL. Our staff of underwater photography experts strives to provide the best customer support and after sale service available. Dealer inquiries are welcome!
* Compared to the NA-D90