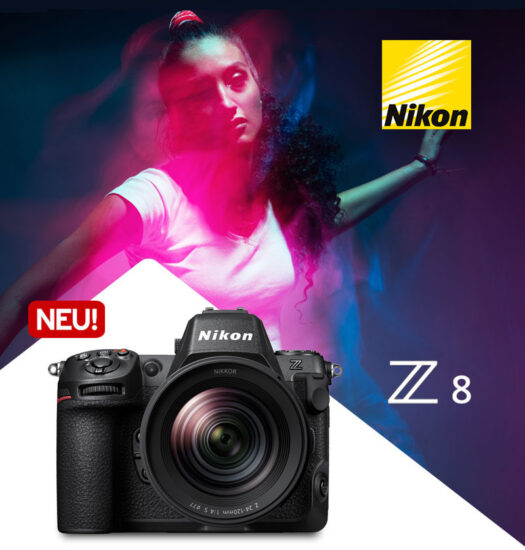 Foto Erhardt on the new Nikon Z8 camera
Nikon introduces their latest full-frame mirrorless camera: the Nikon Z8. The camera offers impressive image quality, an advanced autofocus system and high speed. In this blog post we take a closer look at the technical highlights of the Nikon Z8 and show the similarities and differences to the Nikon Z9. The new Nikon Z8 will be available from the end of May.
Smaller and lighter than the flagship Z9, the Z8's body features a professional-grade weather-sealed housing and the same cold tolerance as Nikon's top-of-the-line D6 and Z9 models to ensure reliable performance in low temperatures. The Z8 is also Nikon's first mirrorless camera with two USB-C ports, enabling fast and reliable data transfer during charging.
Image sensor and image quality
With a photo resolution of 45.7 megapixels and a native movie resolution of 8.3K, the Z8 offers creative possibilities. The same stacked CMOS sensor and EXPEED 7 processor used in the Z9 deliver out-of-the-camera image quality that meets the highest professional standards and gives creatives maximum flexibility to adapt to any workflow. The sensor has ISO sensitivity from 64 to 25,600 and Hi-ISO modes, offering high dynamic range and colour depth.
Movies can be recorded at a wide range of frame rates and codecs, including in-camera 12-bit RAW for movies up to 8.3K/60p or 4.1K/120p. For photographers, a range of file formats and continuous shooting rates are available, including 120 frames per second. For HDR content creation, the camera captures 10-bit HEIF photos and 10-bit HLG movies in addition to raw files.
Advanced autofocus system with Deep Learning
The Nikon Z8 is equipped with an advanced autofocus system that covers almost the entire image field with 493 phase detection points. This enables fast and precise focusing on the subject. In addition, the camera has an eye detection system that automatically focuses on the subject's eye. This is particularly advantageous for portrait shots and enables precise focusing on the face. With the special portrait functions, photographers can fine-tune the colour tone and brightness or add the finishing touch to portrait and fashion shots with the finely adjustable skin blur.
In addition to eye detection, the Nikon Z8 also recognises animals, vehicles and aircraft, which can be particularly useful in nature and sports photography. Thanks to Deep Learning, the AF system is prepared for many situations.
Speed and continuous shooting
The Nikon Z8 is capable of shooting up to 120 frames per second with the electronic shutter without viewfinder flicker – at full AF/AE performance. This allows photographers to accurately capture fast-moving subjects such as animals or sporting events. This is because, like the Z9, the Z8 also relies on a purely electronic shutter. In addition, the camera can also take continuous images in RAW format, which allows for great flexibility in post-processing. If desired, the Z8 can also be used completely silently.
Video features for professionals
The Nikon Z8 has an impressive video recording function. It can record video in 4K UHD resolution (3840×2160) and 8K resolution (7680×4320) at up to 60 frames per second. It also offers optional recording of 12-bit RAW material and supports either the professional Apple ProRes RAW HQ codec (up to 4.1k 60p) or Nikon's highly efficient N-RAW codec (up to 8.3k/60p), which requires only half as much memory in comparison. In-camera Full HD proxy files are created for internal 8.3K N-RAW or 4.1K ProRes RAW HQ shooting.
Similarities and differences to the Nikon Z9
The Nikon Z8 has many things in common with the Nikon Z9, for example the autofocus system, eye detection and electronic shutter. Both cameras have a robust magnesium housing and are protected against dust and moisture. However, there are also some differences between the two cameras. The Nikon Z9 remains the flagship in the Nikon portfolio and offers some additional features that are not included in the Nikon Z8. These include a built-in high-speed handgrip for longer battery life, a dedicated RAW video mode for higher resolutions and improved cooling for longer shooting times.
Nikon Z8
Nikon Z9
NSensor
Vollformat CMOS
mit 45,7 Mio. Pixel
Vollformat CMOS
mit 45,7 Mio. Pixel
Video-Auflösung
8K/60p, 4K/120p
8K/30p, 4K/120p
Serienbilder
bis zu 120 B/s
bis zu 20 B/s
ISO-Bereich
ISO 64 – 25.600
(ISO 32 – 102.400 erweitert)
ISO 64 – 25.600
(ISO 32 – 102.400 erweitert)
Display
3,2 Zoll Touchscreen
mit 2,1 Mio. Bildpunkte
3,2 Zoll Touchscreen
mit 2,1 Mio. Bildpunkte
Speicher-Slots
1x CFexpress/XQD
1x SD-Karte
2x CFexpress/XQD
Größe
144 x 118 x 83 mm
149,5 x 149 x 90,5 mm
Gewicht
910 Gramm
1.340 Gramm
Our first impression of the Nikon Z8
The Nikon Z8 is a powerful camera for demanding photographers and videographers. With its advanced autofocus system, fast continuous shooting, high image quality and impressive video recording capability, it offers many features that will appeal to both photographers and videographers. While the Nikon Z9 remains Nikon's top-of-the-line model, the Nikon Z8 is an excellent choice for those looking for a powerful camera with many professional features. The Nikon Z8 will be available from us from the end of May and will cost 4,599 euros.