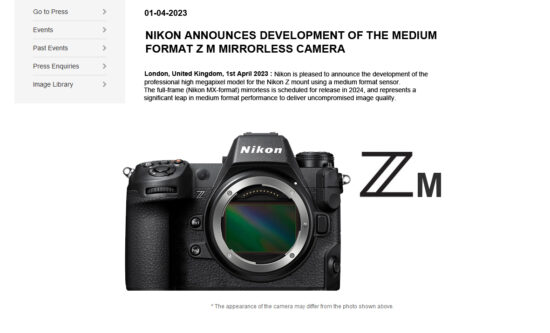 Nikon UK accidentally posted a new camera development announcement on their website for a Nikon Z M medium format mirrorless camera (https://www.nikon.co.uk/en_GB/product/cameras/Z-M). Apparently, the press release was online for around 30 minutes before it was taken down, and a NikonRumors reader took a screenshot and sent it to me:
NIKON ANNOUNCES DEVELOPMENT OF THE MEDIUM FORMAT Z M MIRRORLESS CAMERA

London, United Kingdom, 1st April 2023: Nikon is pleased to announce the development of the professional high-megapixel model for the Nikon Z mount using a medium format sensor. The full-frame (Nikon MX-format) mirrorless is scheduled for release in 2024, and represents a significant leap in medium-format performance to deliver uncompromised image quality.
If anyone has the rest of the press release, please send it to me.