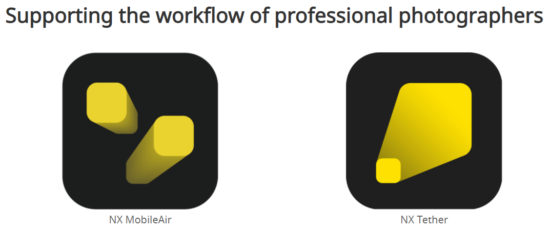 In addition to the Z9 camera, 100-400mm, 24-120mm lenses, and FTZ II adapter, today Nikon also announced a new NX MobileAir smartphone app for uploading images taken with Nikon cameras (coming November 24) and NX Tether computer software for tethered shooting and remote camera control/adjustment (coming November 4).
Here is the video presentation of NX MobileAir and NX Tether (starting at the 32:28 mark) and additional information:
Nikon NX MobileAir app

New NX MobileAir is an Android™ and iOS® app that lets you tether a compatible** Nikon camera to a compatible*** smartphone for in-the-moment FTP uploads over a 4G or 5G cellular connection. Easily manage FTP server info, make simple photo edits, enter IPTC data and add voice memos. Available as a free app with an optional subscription.
Nikon NX MobileAir features
Workflow efficiency is increased with the automatic import of captured images to a smart device, automatic attachment of IPTC metadata information during image import, automatic upload to a pre-registered FTP server, and support for an auto straighten function convenient during the automatic upload of images*1.
Option to import only protected images within the camera to a smart device, and upload to an FTP server.
Imported images within the application can be selected manually for upload to an FTP server.
The number of albums that can be created, and the maximum number of images storable in each album are unlimited*2.
Reliable and high-speed image import is possible via USB wired connection without setting adjustments on the camera side*3.
Voice memos can be imported simultaneously with the image to the smart device. IPTC metadata information can be edited while playing the voice memo.
IPTC metadata information can be added manually, voice memos can be input for each IPTC metadata item*4, and images can be viewed and edited within the application.
Supports the upload of images captured with a smart device or cameras of other brands to an FTP server.
Features settings that are effective for preventing mis-operation, such as screen lock during operation, as well as a resend function in case of import error.
IPTC metadata and FTP upload settings can be set for individual albums.
Supported OS
Android™ (9 or later)
iOS (14 or later)
Supported cameras
Android™: Z 9, Z 7II, Z 6II, Z 50, D6, D5
iOS: Z 9
Nikon NX Tether software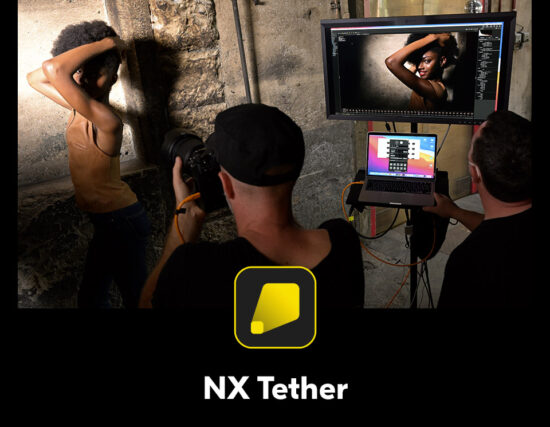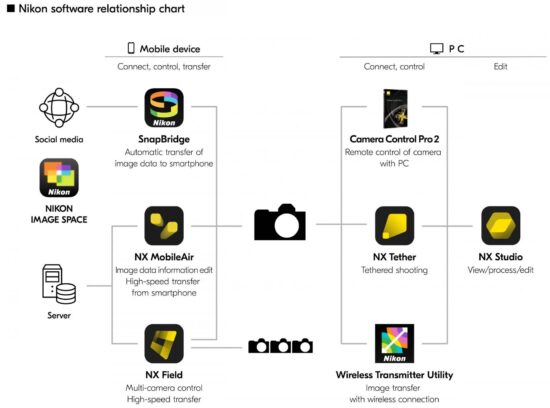 New NX Tether is a simple, streamlined tethered shooting utility for compatible1 Nikon cameras. Transfer shots to a laptop or computer automatically in real-time and collaborate with your team. Monitor and adjust key camera settings—all in a free software compatible with both Mac and PC.
Nikon NX Tether features:
All functions can be used free of charge.
High operability achieved through a user interface that features a simple, consolidated layout for the basic functions required for tethered shooting
Features the same operation icons that are utilized in Nikon digital camera interfaces, supporting intuitive operation.
The operation panel can be minimized, enabling images to be viewed with less distraction.
Supports a function that notifies users of transmission errors via sound and display.
Works not only with NX Studio, but also in collaboration with software such as Adobe Photoshop Lightroom and Capture One.
Supported OS
Windows Version:
Microsoft Windows 10 Home
Microsoft Windows 10 Pro
Microsoft Windows 10 Enterprise
Microsoft Windows 8.1
Microsoft Windows 8.1 Pro
Microsoft Windows 8.1 Enterprise
Mac Version:
macOS Big Sur Version 11
macOS Catalina Version 10.15
macOS Mojave Version 10.14
Supported cameras
Z 9, Z 7II, Z 6II, Z 7, Z 6, Z 5, Z fc, Z 50, D6, D780
The full press release is available here. Screenshots of NX MobileAir and NX Tether: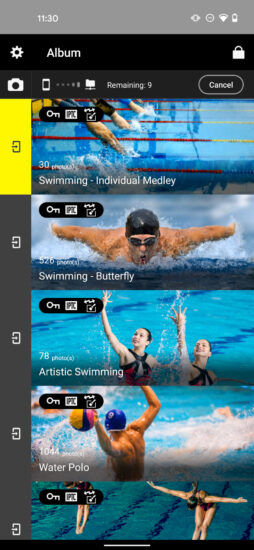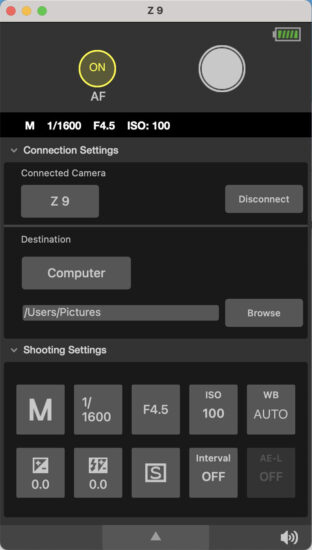 All new Nikon products are now available for pre-order:
---
$60 off Topaz Labs Image Quality Bundle
30% off all DxO products
15% off Topaz Labs products with code RUMORS15
10% off ON1 products with code NIKONRUMORS
$10 off Skylum products with code NIKONRUMORS
30% off Capture One products with code NIKONRUMORS