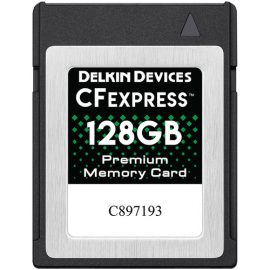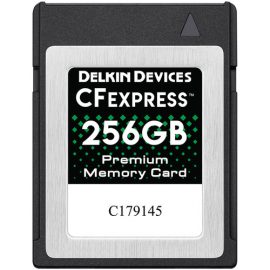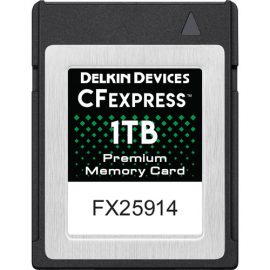 The previously reported Delkin CFexpress memory cards are already here – four different sizes are available:
Price comparison – the new Delkin CFexpress memory cards are the cheapest solution so far ($5-$10 cheaper than ProGrade):
64GB
128GB
256GB
512GB
1TB
In Europe, CFexpress memory cards can be found at Amazon UK, Amazon France, Amazon Italy and Amazon Spain.
Delkin is going to be marketing their CFExpress cards through dealers for PhotoPlus in New York on October 24-26.
I already reported that we should expect the Nikon CFexpress firmware update for the Z6/Z7, D6, D850, and D500 in November.

Basic Delkin CFexpress memory card specifications:
PCIe 3.0 Bus
CFexpress™ Format Version 1.0 Compliant
10667X Speed Rating
Max Read Speed (Varies by Capacity): Up to 1660MB/s
Max Write Speed (Varies by Capacity): Up to 1050MB/s
Records Flawless 8K & 4K Ultra HD Video at High Frame Rates & Bit Rates
RAW Continuous Burst Ready
Serialized for Added Protection
48HR Replacement Guarantee
Water / Magnet / X-Ray / Shockproof
Anti-Static and UV-Guarded
Can Withstand Extreme Temperatures
Additional information from Delkin:

The CFexpress™ Memory Card from Delkin Devices combines industrial strength & reliability with unmatched performance, plus a quality guarantee like no other card. With speeds suitable for professional photographers and videographers, the CFexpress™ card is specifically designed to excel in the latest generation of high-end cinematic hosts. As a bonus, every CFexpress™ card is backed by our 48HR Replacement Guarantee policy for the ultimate coverage.
Technologically Advanced CFexpress™ Recording Speeds
Utilizing a 3rd generation PCI Express interface (as well as supporting NVM Express), the CFexpress™ card boasts recording speeds surpassing 1050MB/s for flawless cinema-quality video capture, including DCI 4K & Full HD video at 180 fps. It also supports continuous-burst shooting of up to 200 RAW images without delay – never miss those precious split-second moments!
Streamlined Workflow
Capable of offloading data at speeds reaching up to 1660MB/s, the CFexpress™ card ensures the quickest, most efficient data transfer from card to computer for immediate access to your files and sooner post-production start time. This is ideal for photographers and videographers who need to quickly unload large amounts of data and get back to shooting.
Tested for Compatibility
Each CFexpress™ card has undergone extensive testing to ensure full functionality and performance in today's high-end hosts. Built to meet the extensive demands of today's broadcast, cinema and photography industries, the Delkin CFexpress™ memory card is the card you can trust for fast, reliable photo & video capture. It is important to note though that CFexpress™ cards are not backwards compatible with either CompactFlash or CFast hosts.
Durable Design & Lifetime Warranty
Built to endure even the most strenuous shooting environments, the CFexpress™ card is durably designed to be shockproof, magnet proof, X-ray proof, anti-static, UV-guarded and resistant to extreme temperatures. Each card is also backed by a Lifetime Warranty and Delkin's American-based customer support team out of San Diego, CA.
World's Best Warranty – 48HR Replacement Guarantee:
Not offered anywhere else in the world, Delkin CFexpress memory cards and those with the "48HR logo" come with a superior 48-hour replacement guarantee in addition to our "Lifetime Warranty" policy. We will happily replace any non-working card within 48 hours or less (not including weekends), prior to receiving your non-working card. You can also replace your card over the counter at any authorized Delkin reseller. To activate your Delkin CFexpress™ card's free replacement program & lifetime warranty