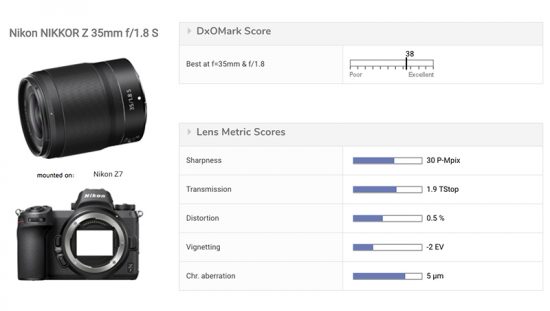 DxOMark published their test results for the Nikon Nikkor Z 35mm f/1.8 S mirrorless lens ($847 at Adorama & B&H). Here is their conclusion:
The new wider Z-mount with its shorter register means there's a lot more flexibility for optical engineers when designing lenses. The mount should especially benefit wide-angle lenses, and indeed, the Nikon Z 35mm f/1.8 S is the highest-scoring Nikon 35mm lens we've tested to date. Its key strength is sharpness, with good performance at the maximum aperture and exceptionally uniform resolution at the mid-apertures. This said, it doesn't quite match such third-party options as the Sigma 35mm f/1.4 A and the Tamron SP 35mm f/1.8 Di, which achieve better sharpness when tested on the lower-resolution 36.3Mp Nikon D800E, compared to the Nikkor Z lens on the 45.7Mp Nikon Z 7. Overall, however, Nikon Z-system shooters who are looking for a 35mm prime can rest assured that the native Nikon Z 35mm f/1.8 S lens is an optically excellent choice.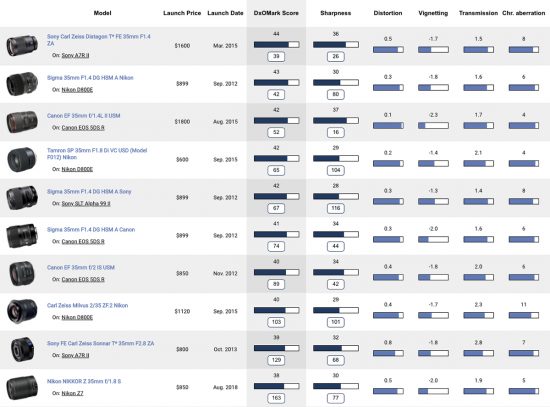 Press release:
PARIS – June 12, 2019 – DxOMark has just published the results of its in-depth analysis of the Nikon Nikkor Z 35mm F1.8 S camera sensor.

The Nikkor Z 35mm f/1.8 S is a moderately fast, mildly wide-angle prime lens designed specifically for the Nikon Z system. The 35mm focal length and 63º angle of view makes it an ideal choice for street photography and photojournalism, as well as for general-use photography. Combine that with a wide f/1.8 maximum aperture for better low-light photography and creative depth-of-field effects, and the Z 35mm f/1.8 S is a highly desirable optic for many Nikon Z shooters.

Tested on the high-resolution 45.7MP Nikon Z 7 mirrorless camera, the Nikkor Z 35mm F1.8 S ranks as the highest-scoring Nikon 35mm lens we've tested, achieving an overall score of 38 points and an impressive sharpness sub-score of 30 PMpix at f/4.
Previous DxOMark Z-mount test reports:
Nikon Nikkor Z 50mm f/1.8 S lens tested at DxOMark: "it comes close to some of the best and most expensive lenses currently available"
Via DxOMark