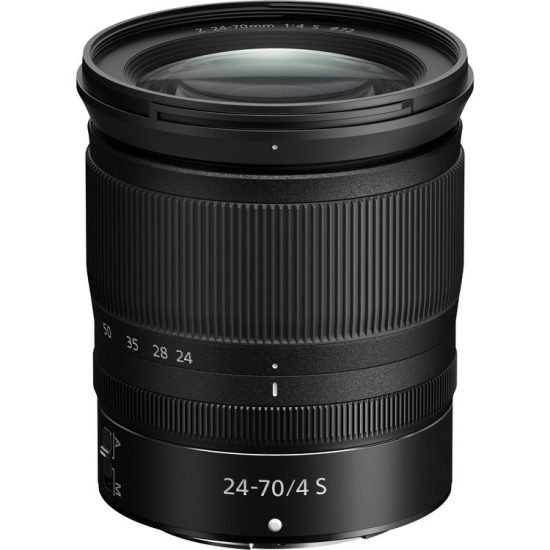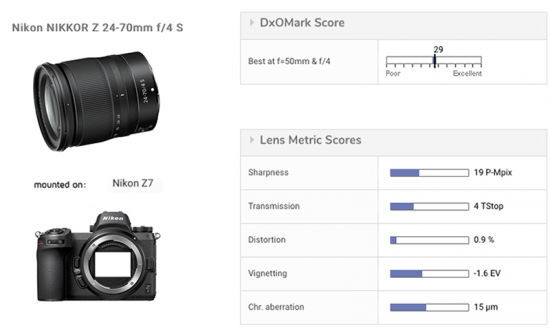 DxOMark published their Nikon Nikkor Z 24-70mm f/4 S lens (Adorama, B&H, Amazon) review – here is their conclusion:
When Nikon announced the new wider Z-mount with a short flange back, the prevailing thought was that there would be a real leap in image quality. The Nikkor Z 24-70mm F/4S is without doubt an attractive addition—it is, after all, a very compact and user-friendly lens—but the best way to describe its optical performance (at least on the high-resolution Z 7) is "well-rounded." It admittedly brings unprecedented uniformity to a zoom—there's no measurable astigmatism—but that appears to come at the price of outright resolution. There's also no denying it has excellent transmission, but unless you're into serious film-making, that isn't going to be high on your wish-list. Bought separately, it's also not what we would call inexpensive, especially without OIS. But when purchased as part of a kit, it's an entirely different proposition and well worth taking a closer look.

In this review, we have compared the Nikkor Z 24-70mm F/4S to its closest rivals from other brands. Remember that the lenses are intended to be used on different camera systems and mounts, so the comparisons are not strictly applicable.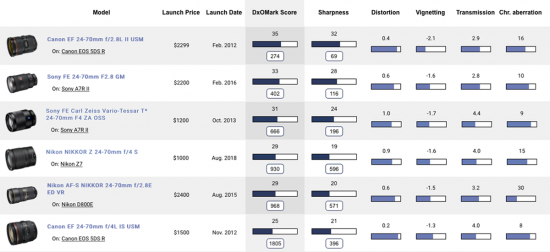 Press release:
PARIS – May 29, 2019 – DxOMark has just published the results of its in-depth analysis of the Nikon Nikkor Z 24-70mm F4 S lens.
The Nikkor Z 24-70mm F4 S is a constant-aperture, moderate-speed zoom for the full-frame mirrorless Nikon Z-series cameras and is offered as a kit lens for both the Nikon Z 6 and the high-resolution Z 7. It features a retractable design and adopts 14 elements in 11 groups, which include one aspherical extra-low dispersion (ED), one spherical ED, and three aspherical elements. The minimum focusing distance is 30cm (11.8″).

For a compact, moderate-speed zoom, the Nikon Nikkor Z 24-70mm F/4 S achieves a very good overall balance in performance, with consistent sharpness an overriding theme. Mounted on the high-resolution 45.7MP Nikon Z 7 body, it scores 29 overall in our image quality rankings.
Via DxOMark