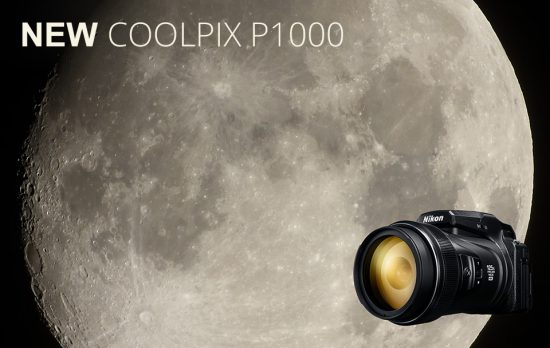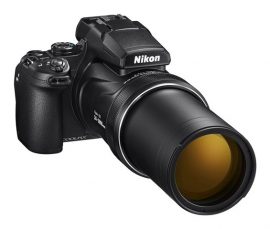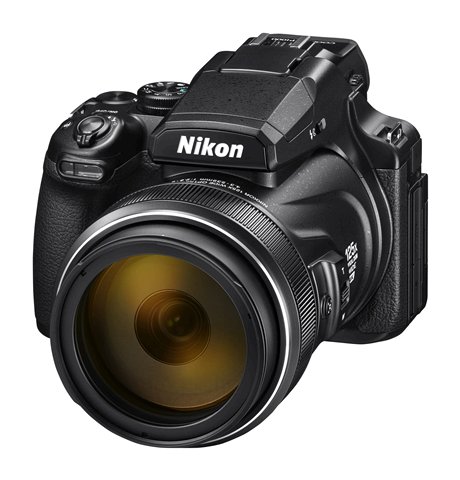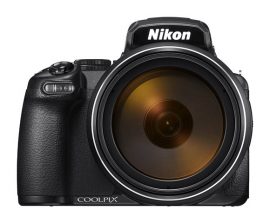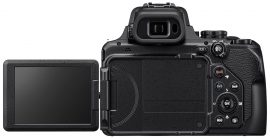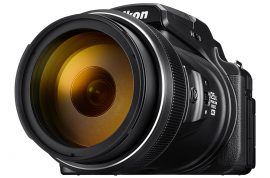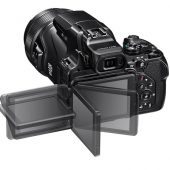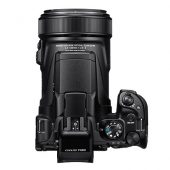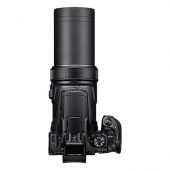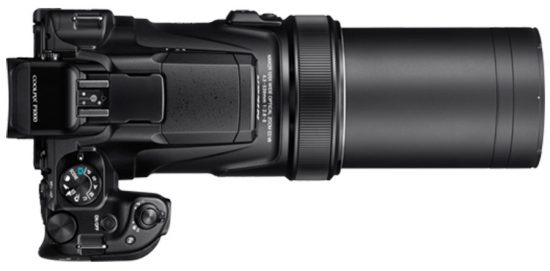 The long-rumored Nikon Coolpix P1000 camera is finally officially announced. As previously reported, the new model has a 125x zoom lens (24-3000mm f/2.8-8), 4K UHD video, 16MP sensor, 7 fps, 5-stops VR and RAW files support!
The US price is $999.95/€1,099/£999. Pre-orders are now open at:
B&H | Amazon | Adorama |WEX | Park Camera
Shipping starts in September 2018.
There is also a new ML-L7 Bluetooth remote control for the P1000 camera (previously leaked here):
Additional information:
3000mm optical zoom—the most powerful zoom lens ever put on a Nikon COOLPIX camera
4K Ultra HD video with HDMI out, stereo sound and an accessory hot-shoe
Rock-steady Dual Detect image stabilization and great low-light capability
RAW (NRW), time-lapse and Superlapse shooting plus great creative modes
Full manual controls along with easy auto shooting
The detailed technical specifications can be found at Nikon's website.
Nikon P1000 camera features and press release:
1.Equipped with a 125x optical zoom NIKKOR lens that supports super-telephoto shooting at the equivalent of 3000mm
The COOLPIX P1000 is equipped with a 125x optical zoom NIKKOR lens that covers the wide-angle 24mm to super-telephoto 3000mm focal lengths. It supports an incredibly broad zoom range, offering users the opportunity to enjoy the recording of photos and movies at focal lengths that were never before possible. Furthermore, super ED and ED lens elements were adopted for this lens, providing superior compensation for chromatic aberration. High-resolution images can be captured throughout the entire zoom range.
*Equivalent focal length in 35mm [135] format.
2.A high-resolution XGA OLED electronic viewfinder that delivers a sharp and clear view
The COOLPIX P1000 is equipped with a high-resolution, approximately 2359k-dot OLED electronic viewfinder. The subject is clearly projected with a viewfinder magnification of approximately 0.68x (equivalent in 35mm [135] format). This high-performance viewfinder makes viewing images comfortable and easy, even in bright outdoor situations.
3.Dual Detect Optical VR, that provides camera-shake compensation equivalent to a 5.0-stop increase in shutter speed, for effective image stabilization even with hand-held super-telephoto shooting
The COOLPIX P1000 features Dual Detect Optical VR, which achieves vibration reduction equivalent to a 5.0-stop increase in shutter speed, for worry-free super-telephoto photography. The camera processes two types of camera-shake information, detected from the angular velocity sensor as well as the image itself, for extremely precise camera-shake compensation. The effects of camera shake are effectively suppressed, even with hand-held super-telephoto shooting, greatly expanding shooting possibilities.
4.Supports the recording of 4K UHD/30p movies
The COOLPIX P1000 supports the recording of high-definition 4K UHD/30p movies. The photographer can harness the power of 3000mm-equivalent super-telephoto shooting to beautifully record subjects at great distances. Frames from movies recorded in 4K UHD format can also be saved as still images to preserve moments that simply cannot be captured with a continuous burst of still-image shooting.
5.Superior operability makes super-telephoto photography easy
Adoption of a deep grip ensures a firmer, steadier hold during hand-held shooting. The operability of each switch and button was also considered thoroughly. The camera accomplishes outstanding operability with features that include a focus mode selector that can be used to change the focus mode after focus has been acquired, and a control ring that enables the adjustment of settings such as white balance and manual focus.
6.Enhanced versatility provides increased enjoyment of authentic shooting
The COOPLIX P1000 is equipped with an accessory terminal and an accessory shoe that supports a wide variety of accessories, including external Speedlights. Support for Nikon's extensive lineup of accessories further expands possibilities for imaging expression. Among the many optional accessories available for the COOLPIX P1000 is a new Bluetooth remote control (ML-L7) that can be used to eliminate the camera shake that is often a concern with telephoto shooting. This accessory facilitates smooth and precise super-telephoto photography.
7.Additional features
A 3.2-in. TFT LCD vari-angle monitor with wide viewing angle and a display that provides comfortable viewing
Compatible with Nikon's exclusive NRW (RAW) format
COOLPIX Picture Control allows individual imaging style to be achieved easily
A creative mode that makes attaining the ideal imaging expression simple
Ability to record superlapse and time-lapse movies
SnapBridge support that enables remote camera control from a smart device and automatic transfer of photos to a smart device
Press release:
The Superzoom COOLPIX P1000 Offers an Astounding 125x Zoom to Capture Your World and Beyond
With its Impressive NIKKOR 24-3000mm Equivalent Optical Zoom Lens and Advanced Shooting Controls, the New COOLPIX P1000 Brings Creative Possibilities Closer Than Ever
MELVILLE, NY – Today, Nikon Inc. announced the COOLPIX P1000, the new undisputed powerhouse of superzooms. With an incredible 125X optical zoom (24-3000mm equivalent) powered by high performance NIKKOR optics; the P1000 is the ideal companion camera for birding, sports, wildlife and celestial-photographers seeking superior performance from extreme distances. Beyond its incredible zoom range, the versatile 16-megapixel COOLPIX P1000 captures 4K UHD video and offers a myriad of manual controls, as well as user-friendly functions including built-in Wi-Fi1 and Bluetooth2connectivity, letting photographers of all levels explore and share their creativity."The COOLPIX P1000 is the first of its kind for a compact digital camera," said Jay Vannatter, Executive Vice President, Nikon Inc. "It raises the bar for superzoom cameras and is a testament to our commitment to delivering innovative tools that offer creative freedom to capture and allow users to share their unique visions of the world."
Powerful Optics go the Distance
The COOLPIX P1000 incorporates state-of-the-art NIKKOR technology, designed with ED and Super ED lens elements, boasts the world's most powerful3 125X optical zoom lens (24-3000mm f/2.8-8) and 250X Dynamic Fine Zoom4, equivalent to a staggering 6000mm from macro to extreme distances. This powerful zoom range gives the P1000 the versatility to chronicle an adventure filled vacation, capture a favorite ballplayer from the top tier of a stadium or fill the frame with celestial objects like the moon, that normally only a telescope could reach.
To handle such extreme distances, the camera is equipped with the latest Nikon EXPEED image processing system and Dual Detect Optical VR technology for 5-stops5 of camera shake compensation that help capture sharp images and reduce blur. Featuring a 16-megapixel back-side illuminated (BSI) CMOS sensor and expanded ISO range up to 6400, the P1000 affords users the versatility to capture superior image quality even under challenging lighting conditions. The COOLPIX P1000 also boasts a variety of high-speed features including a quick start-up and fast Autofocus (AF) system, making it an ideal choice for capturing action from the sidelines of your kid's soccer game or from an adventure-packed safari. Additionally, whether capturing a ballplayer sliding into home plate or photographing a bird in flight from afar, users will feel confident finding, tracking and capturing these far-away subjects using the camera's snap-back zoom feature which temporarily expands the field of view for super-telephoto shots.
Versatility Ignites Creativity
The COOLPIX P1000 makes it easier than ever for photographers to express their personal creativity. Through its host of manual functions and RAW (NRW) image output, the P1000 is great for advanced users seeking precise control from point of capture to post-production. The COOLPIX P1000 offers an innovative control layout complete with a function button, command dial and mode dial to bring frequently used functions to a photographer's fingertips.
Additionally, the camera includes a focus mode selector that can be used to change the focus mode and a control ring that allows for the adjustment of settings such as the white balance and manual focus. Photographers will find the camera's built-in 2.3-million dot OLED electronic viewfinder (EVF) helpful when composing their shot, while the Vari-Angle 3.2-inch 921K-dot TFT LCD display is ideal for capturing challenging angles like framing a performer on a concert stage.
The COOLPIX P1000 offers numerous picture controls, creative modes and filter effects to help photographers bring their creative vision to life. Whether capturing the night sky or a bird perched on a tree branch, users can take advantage of the camera's designated scene modes, such as Moon Mode and Bird Watching Mode, to automatically adjust settings to deliver brilliant results in a variety of environments. While amazing for extreme zoom, the COOLPIX P1000 also supports versatile shooting scenarios like capturing macro images from as close as 1 cm away. Beyond mastering still photography from both near and far, the P1000 is also capable of incredible 4K UHD video with stereo audio recording and time-lapse effects to further expand artistic expression. Lastly, with built-in Wi-Fi and Bluetooth connectivity, images will transfer automatically to a photographer's compatible mobile device so family and friends can view stunning vacation moments or epic shots of the night sky in real time.
New Accessory: Bluetooth Connected Remote
The new COOLPIX P1000 is equipped with an accessory terminal and an accessory shoe that supports a wide variety of compatible devices, including external Nikon Speedlights. To bring more capabilities and creative control to photographers, Nikon also announced the new ML-L7 Bluetooth connected remote as another optional accessory available for the COOLPIX P1000. The ML-L7 Bluetooth connected remote control expands the shooting possibilities of the P1000 by enabling users to trigger various camera functions, including video start and smooth zoom control, remotely.
Price and Availability
The COOLPIX P1000 will have a suggested retail price (SRP) of $999.95* and will be available in September 2018. The new ML-L7 Bluetooth connected remote control will also be available in September 2018 for a SRP of $49.95*. For more information on COOLPIX P1000 and other Nikon products, please visit www.nikonusa.com.
---
Like the new Nikon Coolpix P1000 Facebook page
Join the new Nikon Coolpix P1000 Facebook group