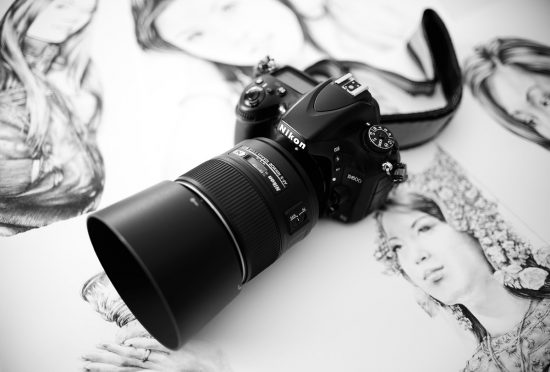 Nikon AF-S Nikkor 105mm f/1.4E ED lens review by Boon Vong (website | Instagram):
Hi Everyone, my name is Boon and I'm an artist/photographer from the Atlanta, GA area. I'm into all types of photography and gear, but if I had to pick just one system for my portrait and wedding work, it would have to be our beloved Nikon one. Like many of you, when the Nikon 105mm 1.4E was announced in late 2016, I thought, wow that's pretty expensive! After a few years of browsing images on the internet, I decided to break the piggy bank and get one.
Thanks to Peter and Nikon Rumors for letting me share my thoughts on what I believe is probably the best portrait lens out there.
So how does a relatively new lens perform on an "old" and "unwanted" camera like the D600 and old unsupported/ non-upgradeable software like Capture NX2? Let's see! 🙂
Any lens can be used to take a picture of a person, but for fun outings with friends, I've always opted for primes like the 50mm, 85mm and 105mm focal lengths. Zooms are great for work-related gigs, but there's always been something pure and simple when only shooting with primes.
The Nikon 105mm is very sharp wide open. With my vintage lenses, I've accepted the optical flaws and character that they possess visually, but it's pretty stunning to be able to just leave the camera in Aperture Priority at f/1.4.

Here's a photo of Atlanta from the top of Ponce City Market at sunset. Below is a 100% center crop, shot at f/1.4.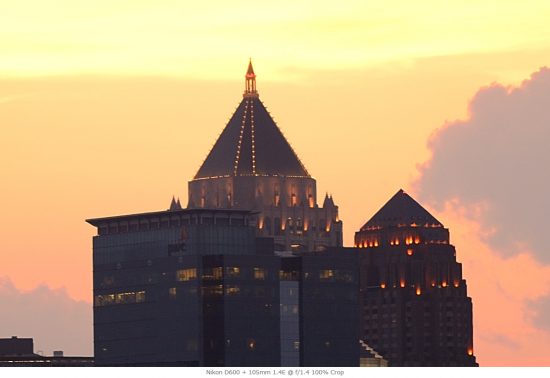 Depending on how you edit, you can have the lens show vignetting or not. I actually prefer some vignetting for portraits as it does add contrast and visual interest.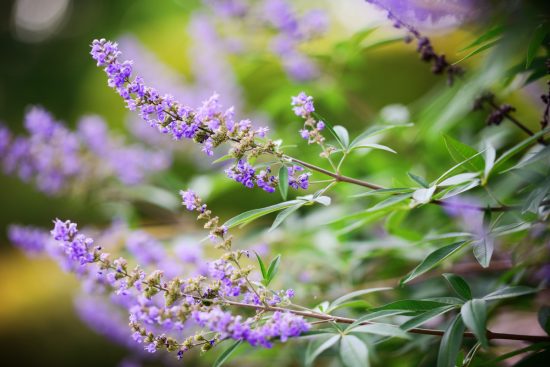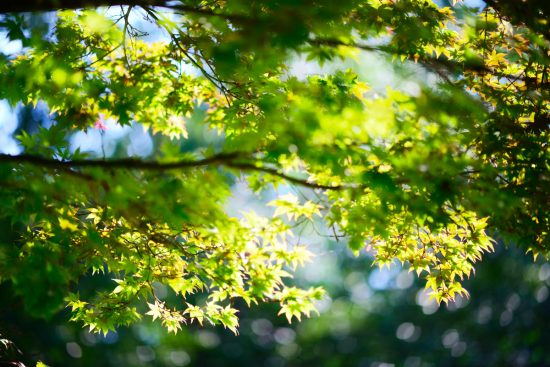 This is a mundane scene, but it gives you an idea of what kind of bokeh this lens renders. I actually like the cat's eye highlights. Having used the 105mm 2.8 Micro VR for so long, I'm actually used to it. The main reason why I prefer Nikon lenses is because of the color, contrast and sharpness that gets transferred to the RAW files. You really can take an image in any direction creatively, even with the old NX2. There's something to be said about a workflow that works best for you.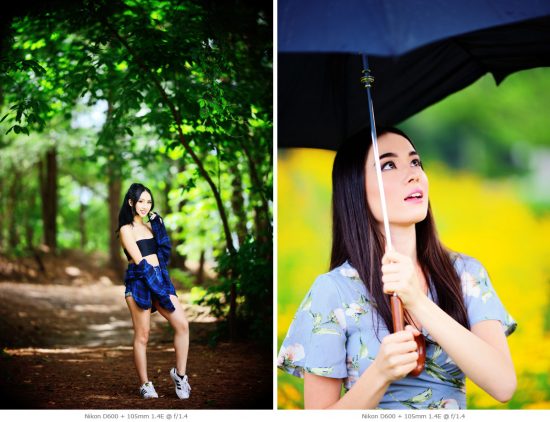 When used in conjunction with a portrait subject amidst a busy background, it really does render like a baby 200mm f/2.
Below are some examples of the different apertures on the 105mm. If and when Nikon ever comes out with a FF mirrorless camera, looking through an EVF at 1.4 full time will probably be a mesmerizing experience. Until then, you can use live view to get an accurate gauge of the DOF, since the aperture is now electronically controlled.



Below are examples of the lens sharpness when shooting something that is definitely only on a flat plane. In this case, one of my charcoal drawings.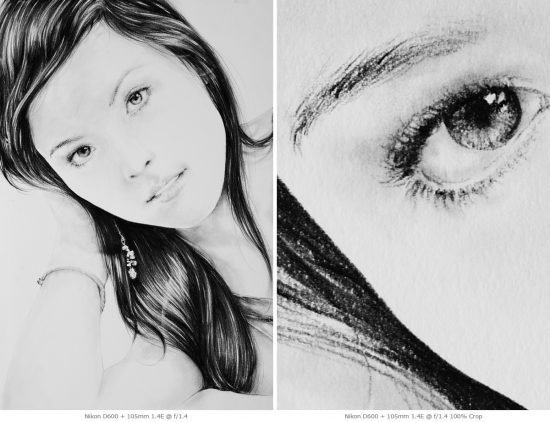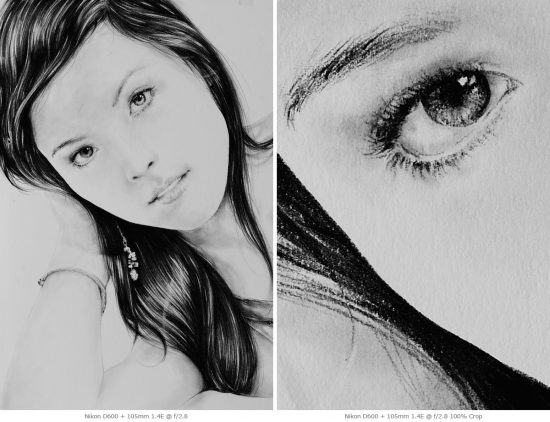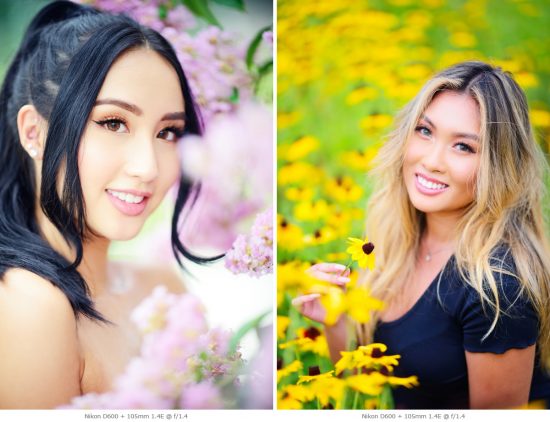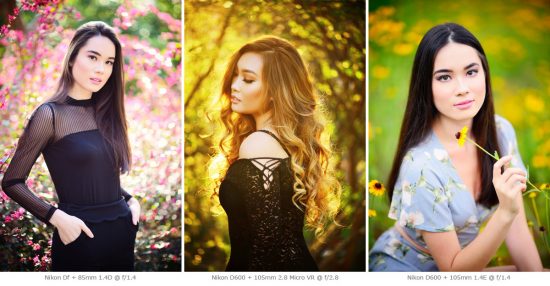 The layout above shows portraits taken with the Nikon 85mm 1.4D, the 105mm 2.8 Micro, and the 105mm 1.4E.
Could any of those lenses have taken those images? Sure could, but there's just something about the 105mm 1.4 that is a bit more "magical" in rendering. Is it worth it though, is something only you can answer for yourself.
Does this make my 85mm 1.4D worthless now? Of course not! I can always use it manually focused on the Canon platform. I've used it many times as my oddball Nikon+Canon combo and have always been wowed with the images that need no editing or color
Plus it is quite easy to adapt and use on cinema cameras.
What will happen to my 105mm 2.8 Micro VR? Besides its macro duties, I think I can use it full time as my anamorphic combo! Which is a different topic for another time…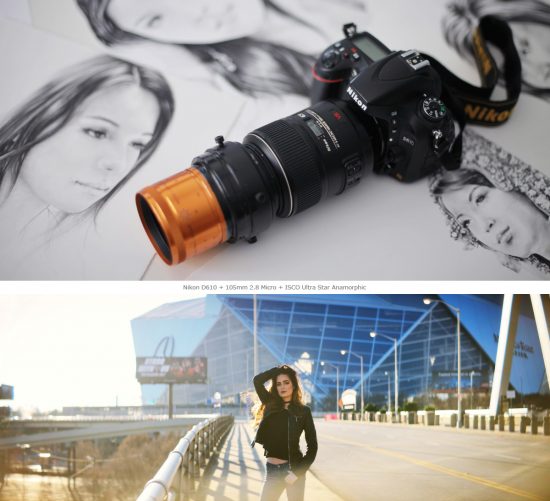 In closing, the Nikon 105mm 1.4E and it's slightly narrower angle of view as opposed to an 85mm is something that has always been noticeable and more "attractive" to me. All these lenses are tools just as much as they are musical instruments or drawing pencils. There's just enough differences in them that normal folks might not see or understand, but for the practitioner of a specific craft, it's enough to warrant the time and money spent on our tool/toys
Thanks for reading!
Boon Vong
www.b-vong.com | IG: @bvong
Read also the original review initially published here. If you have an interesting idea for a guest post, you can contact me here. Additional coverage of the Nikon AF-S Nikkor 105mm f/1.4E ED lens ($2,196.96) can be found here:
Nikon AF-S Nikkor 105mm f/1.4E ED lens tested at DxOMark: the best-performing lens in the lineup below 200mm
Nikon AF-S Nikkor 105mm f/1.4E ED review and comparison with the Nikkor 85mm f/1.4G lens