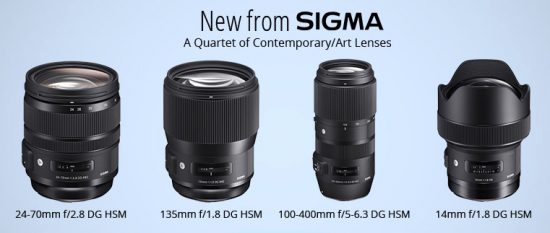 The pricing and pre-order options for the new Sigma Art lenses that were announced last week will be announced at the end of March, here are the links:
In addition to my coverage, Sigma has released the various performance tests/graphs on their global website. The 135mm f/1.8 looks absurdly sharp (according to Sigma, the diffraction MTF better represents real-life performance, even if almost everyone in the industry uses the geometric MTF, which tends to be sharper than reality):
Update: more sample photos from the 135mm f/1.8 from AP:
Sigma 135mm f/1.8 AF speed test video:
The Sigma 14mm f/1.8 and 135mm f/1.8 ART lenses will also be available as cinema versions in the future (part of their new line of cinema lenses). Sigma also mentioned that they will be making cinema zoom lenses:
Check also the latest dpreview interview with Sigma's CEO:
Q: Sigma's new Art-series lenses have a degree of weather-sealing – why now?

A: It's based on customer demand. Some of our customers said that rain and snow sometimes got into the lens mount, so they wanted sealing. And the other reason is that it's becoming a trend. Other manufacturers are offering sealed mounts.

Q: Does that make the design process more complex?

A: No, not really. The only seal is around the lens mount. It's not a perfect weather-proofing like our Sports series. The 150-600mm for instance has sealing everywhere, on the focus ring and zoom ring.

Q: Of the lenses in the Global Vision line, which were the most complex to bring to market?

A: Our 12-24mm zoom. Because that lenses uses a very large aspherical element, and at the time, no other company was producing an element of this kind, and there were no machines capable of producing it. So we designed a custom machine to make that element. But as a result of developing that technology, we were able to create this new 14mm F1.8.
Another interview with AP:
AP: Sigma prides itself on producing lenses that are cheaper than its rivals. How much more challenging is this at the premium end of the market?

KY: There are two reasons why we can reach high quality standards at reasonably low price. We have a basic organization with a very small marketing team, research teams, sales teams and so overall costs are lower than some of the big companies. The second reason is our factory, which can produce very high quality parts that require high precision. If we were to buy parts from suppliers it costs a lot. We can't release such high quality products at the same price otherwise. If we maintain our organization structure I think we can continue producing a strong product lineup.

AP: You say it's able to resolve more than 50-million-pixels. How much more are we talking?

KY: Our statement is that the 135mm f/1.8 is usable with cameras with a 50-million-pixel resolution. With regard to the centre resolution, it outperforms 50-million-pixels.

AP: Your saying that the Nikon mounts of your new lenses feature the recently debuted new electronic diaphragm. Can you go into more detail?

KY: Traditionally Nikon controlled the aperture mechanically. There was a lever to control the aperture. We've put a motor inside our lenses to control the aperture meaning it operates similarly to the EOS system.

AP: What's are photographers asking you to make next?

KY: Customers expect very popular lenses like a 70-200mm f/2.8 and 14-24mm f/2.8. These are the requests we often get from our customers. Sigma's motivation is to develop unique lenses that have never existed before in the market.

AP: Last time we spoke you mentioned you could see DSLR and mirrorless cameras running side-by-side in the future. Do you still feel the same?

KY: I don't think mirrorless cameras can be as good as DSLR's for moving subjects. If you shoot fast moving subjects then DSLR still has the edge. For this segment, DSLR is very strong. Mirrorless does have its benefits though – focusing is accurate and you can get instant feedback for white balance and exposure, which remains a huge advantage over DSLR. I think the majority of interchangeable lens cameras will be mirrorless in the future, but this doesn't mean DSLR will die.
Additional pictures: