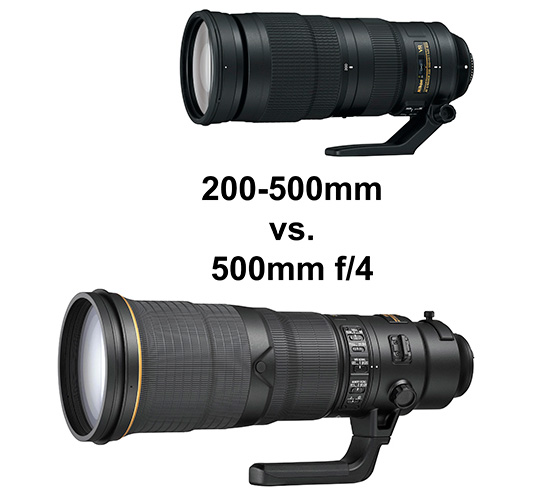 Andy Nguyen (website | flickr | facebook) compares the $1,396.95 Nikon 200-500mm f/5.6E zoom lens to the $10,296.95 Nikkor 500mm f/4E prime lens:
I know from comments on various photography forums that there's a lot of people wanting to know if the new Nikon 200-500mm f/5.6 can live up to the hype, and how it measures up to the "big brother" prime versions.
We all know that the 200-500mm zoom lens is just a fraction of the price of the prime (about 20%), and weighs about half of it. But what many don't know is what kind of IQ (image quality) does it produce, and how it will perform at various apertures, compared to the 500mm f/4 – the previously "go-to" lens for many wildlife photographers.
Since I have both lenses in my closet, I thought I would make a direct comparison. My method is as follows. I use the same body for all shots in this test – Nikon D4S – and I shoot in Manual mode, keeping all settings constant between the two lenses. I chose a 'typical' distance (similar to an average distance to your subject when you shoot birds), which is around 100 ft. After shooting one lens at various settings, I switch lens and shoot it using those exact same settings again.
The photos were shot in RAW, then using View NX to batch-convert them into JPEG, straight, with NO slider adjustments at all. All EXIF data are preserved for anyone wanting to peek. They have been uploaded at full resolution (Medium size) so you can view them at Full screen to see all details.
The shots have been grouped in sets, so you can easily draw direct comparison between them. Here we go:
A wide shot to show you the first test "subject". Distance to the KFC sign = 264 ft. OK, it was much much bigger than a bird.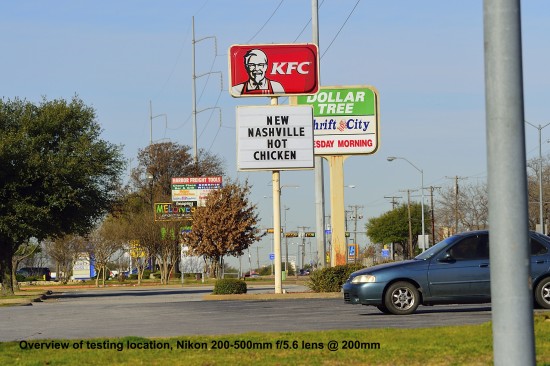 The first set was taken at f/5.6 on both lenses. The zoom was wide open (left), and the prime was 1-stop down (right).
Shot at f/5.6:
Shot at f/8:
Shot at f/11:
Shot at f/16:
VR test, all at shutter speed 1/25 hand held with VR off:
Another one with the same setup:
VR test, shutter speed 1/25 hand held with VR on:
Second set of tests, again, a wide shot to show at 200mm. A much wider shot, taken with my cell phone, showing you the whole surrounding:
Shot at f/5.6:
Shot at f/8:
Shot at f/11:
Shot at f/16:
Conclusion:
I literally "pexel peeped" and viewed each photo at 400% magnification, the results I found might be surprising to many since they're the opposite of what you might expect. First of all, the light(er) weight zoom seems to be SHARPER than the prime, at all apertures that I tested (f/5.6, f/8, f/11, f/16). Secondly, even with the VR turned ON with the 200-500mm, it looks like it's "softer" than the prime which Doesn't have any VR in the first place! Odd, eh?
What I also noticed though, is that consistently the 200-500mm's white areas look more like light gray, while its black areas look truer to real black, than the prime, even though all exposure settings are the same for both.
The verdict:
If you're a budding wildlife photographer who's looking to pick up your first super-tele photo lens, the Nikon 200-500mm f/5.6 is your best choice considering all. First, the price is way more affordable for the "average Joe photographer". Second, its lighter weight is makes handholding more possible, and after a long day of shooting (or hiking), your back will Thank You! Not to mention, its IQ is not too far behind the 500mm f/4, surprisingly, given that you're shooting in well-lit situations (same as when I performed the test). The autofocus, which I didn't cover in this article, is … adequate for moderate action (such as big birds flying, and objects moving in a predictable path), but anything faster (such as race cars zooming by at close distance, or small birds flying in an unpredictable pattern) might make it "sweat" to keep up. Furthermore, if you add a teleconverter (TC-14EI I), you can almost forget about shooting BIF, unless you are a very SKILLED photographer. But then, you get what you paid for. J It's not so bad. I still think it's worth every penny.
Now, if you're a pro, or can afford top-of-the-line stuff, there's no question the prime is cream of the crop. I've seen so many photographers using the 500mm f/4 with tripod and a gimbal head (usually Wimberley), and that's all fine. Some use the handheld method, but I guess you must be physically able. Its AF acquisition speed is second to none. IQ here matters the most if/when you enlarge your photo (again, I said if you're a PRO). You can't go wrong if lugging around 9 lbs. and $8500 is a peace-a-cake to you.
Lucky me, I don't have to make a choice.
If you have an interesting idea for a guest post, you can contact me here.