The next big wave of Nikon announcements will happen in January/February 2015 for the CES/CP+ shows. There is also the PhotoPlus show at the end of this month, but I doubt Nikon will release any new products one month after Photokina. As of today, I expect the following products to be announced in the next few months:
New "high-end" Nikon Coolpix camera(s) with 1″ sensor
I have been reporting about a new Coolpix camera with 1″ sensor for few months now. I am not sure about the exact name – it could be P1000, P8000 or P700. There could be more than one new camera with 1″ sensor. Here are the rumored specifications:
The new camera will most likely use a new 1″ Aptina sensor (first Coolpix with 1″ sensor)
At least Expeed 3 imaging processor (Expeed 4 is also a possibility)
Magnesium body
Comfortable grip similar to the Nikon P5100 and  P6000 models
24- 120mm or 24-80mm equivalent fast lens (f/2, maybe even f/1.8) with 3 ED and 1 ASP glass elements
3.0″ or 3.5″ LCD screen
P A S M mode
Built-in GPS with Google maps
Built-in Wi-Fi
Price: under $1,000
New Nikon DX DSLR
There must be a new Nikon DX DSLR camera – D7200 or D9300 (especially after Canon announced the EOS 7D Mark II). I have not received info on a new DX body for months – it seems that everything is put on hold.
Nikon 1 lenses
I also expect a new Nikon 1 lens roadmap to be announced soon. Nikon has introduced all but one of the 1 Nikkor prototype lenses that were on display once the system was first introduced. The missing lens is the macro 1 Nikkor: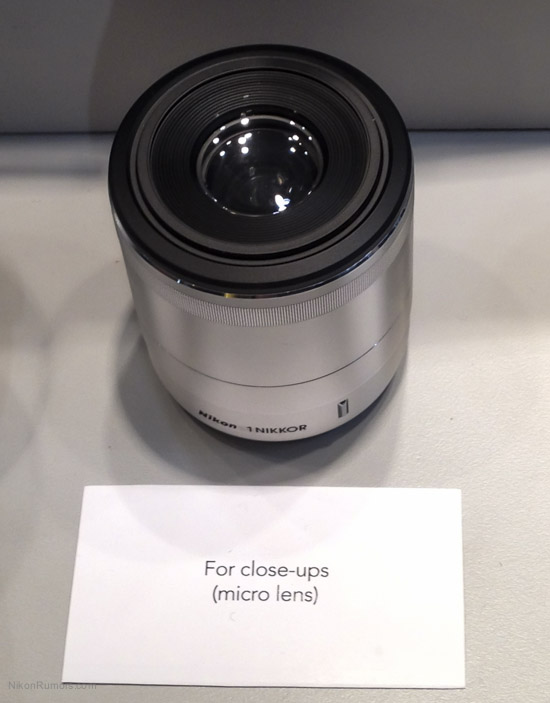 Nikkor lenses
A new tele lens – maybe a Nikkor AF-S 300mm f/4G VR or something to replace the already discontinued Micro-Nikkor 200mm f/4D IF-ED.
Nikon could respond to the Sigma 18-35mm f/1.8 DC HSM lens with a new fast DX zoom lens. The announcement could happen with the introduction of the next DX DSLR.