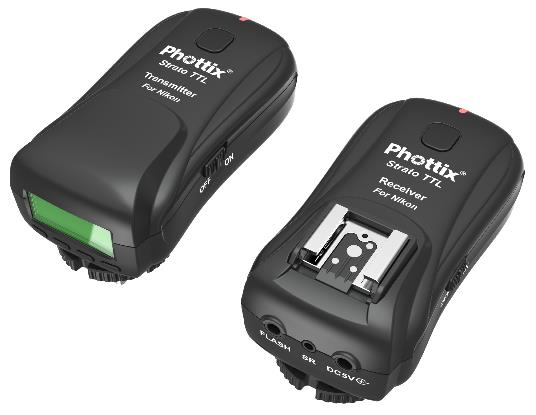 The Phottix Strato TTL flash trigger for Nikon cameras that was announced at the 2012 Photokina show is now shipping and is currently in stock. More information after the jump:
Product description:
The Phottix Strato TTL Flash Trigger for Nikon is the newest addition to ever-popular Strato series of flash triggers and wireless remotes. It provides an easy-to-use and affordable TTL flash triggering solution to photographers. With the LCD display and quick-change buttons adjustments are fast and easy. High-speed and second curtain sync are supported in this 4-channel, 2.4 GHz transmitter and receiver set. Shoot at maximum shutter speeds of 1/8000 s.
Main Features:
TTL flash trigger with EV adjustments (+/- 3 stops in 1/3 stops)
Quick-change buttons and Backlit LCD to adjust EV level, mode, and channel
High Speed Sync mode – 1/8000s
Second Curtain Sync mode
Wired and wireless shutter release functions
100 meter range
Compatible with other Phottix flash triggers
Technical specifications:
Transmitting power:≤10dBm
Distance: 100m+
Frequency: 2.4GHz
Channel: 4 channels
Input voltage:2.2V-3.2V
Flash port voltage handling: Transmitter 6V; Receiver ≤300V
Batteries: 2xAA alkaline batteries or rechargeable batteries (Transmitter and Receiver); 5V DC on Receiver (external power port)
Max sync speed: 1/8000s
Output: hot shoe, 3.5mm (Receiver)
Input: USB port (transmitter and Receiver)
Attachment: 1/4〞 tripod lug, cold shoe (Receiver)
Weight: Transmitter 74g; Receiver 72g—-without batteries
Body dimension: Transmitter L 92.5 * W 47.8 * H 45.5 mm; Receiver L 93.3 * W 46.7 * H 45.4 mm
Antenna:Built-in PCB antenna
Operating temperature: 0℃~ +50℃
Operating humidity: 35﹪~95﹪RH