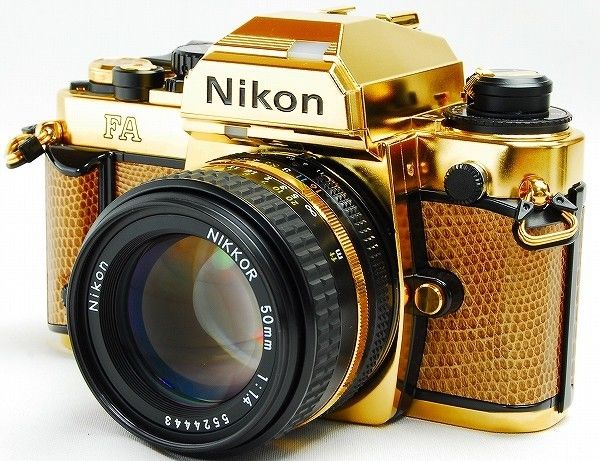 Check out this Nikon FA limited edition gold film camera listed on eBay for $12,000. The camera has never been used, it's plated with 24K gold and decorated with lizard skin. Only 2000 pieces were produced. There are also several cheaper FA gold listings priced between $1000-$2000. Additional images and information:
From
Nikon's website
:
"In commemoration of winning the "Camera Grand Prix" prize, Nikon FA Gold was released in Japan (Nippon). This was based on the FA, and its silver color parts such as top and bottom covers are gold-plated and the lizard skin was used for leather cover.

It was a limited edition housed in the box of paulownia wood and priced at 500,000- Japanese Yen, even the coupling ring of the barrel of AI Nikkor 50 mmf/1.4 normal lens attached was gold-plated and Nikon logotype on its lens cap was also gold-plated ......such an elaborate work.

Nippon Kogaku had made so far gold-plated cameras in small quantity which were used for commemorative gifts to dealers, but the FA Gold was the first gold-plated model that was for sale.
It is a little-known episode that they asked jeweler's advice about the maintenance of the gold-plated part before the start of the sale."
More images of the Nikon FA limited edition gold film camera are available here: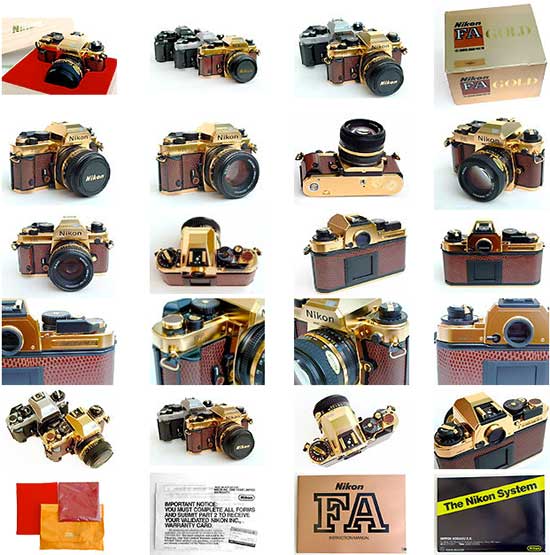 Via PopPhoto