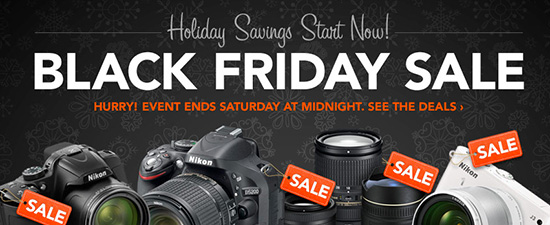 Update: the new Nikon Black Friday rebates are now listed also on Amazon: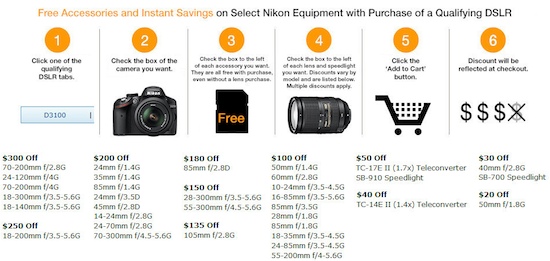 The new Nikon deals for Black Friday are now online at B&H and will be valid till November 30th: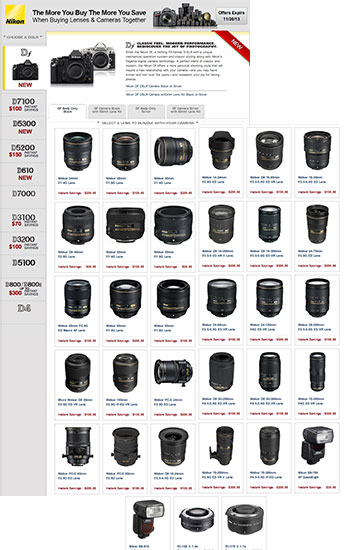 You still will have to buy a DSLR body (D3100, D3200, D5100, D5200, D5300, D90, D7000, D7100, D300s, D600, D610 D800, D800E, D3x, Df or D4) in order to qualify for the savings. The rebates are stackable, which means that you can buy multiple lenses with one body and still qualify.
Few other Nikon deals can be found here and here. Black Friday deals from other manufacturers can be found on PhotoRumors.
Here is the full list of the Nikon Black Friday lens instant rebate savings:
AF-S NIKKOR 28mm f/1.8G
$100.00
AF-S NIKKOR 50mm f/1.8G
$20.00
AF-S NIKKOR 85mm f/1.8G
$100.00
AF-S DX Micro-NIKKOR
40mm f/2.8G
$30.00
AF-S NIKKOR 14-24mm
f/2.8G ED
$200.00
AF-S NIKKOR 18-35mm f/3.5-
4.5G ED
$100.00
AF-S NIKKOR 24-70mm
f/2.8G ED
$200.00
AF-S NIKKOR 70-200mm
f/2.8G ED VR II
$300.00
AF-S NIKKOR 24-120mm f/4G
ED VR
$300.00
AF-S NIKKOR 70-200mm f/4G
ED VR
$300.00
AF-S DX NIKKOR 18-300mm
f/3.5-5.6G
$300.00
SB-700 AF Speedlight
$30.00
SB-910 AF Speedlight
$50.00
AF-S NIKKOR 24mm  f/1.4G ED
$200.00
AF-S NIKKOR 35mm f/1.4G
$200.00
AF-S NIKKOR 50mm f/1.4G s
$100.00
AF-S NIKKOR 85mm f/1.4G
$200.00
AF-S Micro NIKKOR 60mm f/2.8G ED
$100.00
AF-S VR Micro NIKKOR 105mm f/2.8G IF-ED
$135.00
PC-E NIKKOR 24mm f/3.5D ED
$200.00
PC-E NIKKOR 45mm f/2.8D ED
$200.00
PC-E Micro NIKKOR 85mm f/2.8D
$180.00
AF-S DX NIKKOR 10-24mm f/3.5-4.5G ED
$100.00
AF-S DX NIKKOR 16-85mm f/3.5-5.6G ED VR
$100.00
AF-S Teleconverter TC-14E II (1.4x) s
$40.00
AF-S Teleconverter TC-17E II (1.7x)
$50.00
AF-S NIKKOR 24mm  f/1.4G ED
$ 200.00
AF-S NIKKOR 35mm f/1.4G
$ 200.00
AF-S NIKKOR 50mm f/1.4G s
$ 100.00
AF-S NIKKOR 85mm f/1.4G
$ 200.00
AF-S Micro NIKKOR 60mm f/2.8G ED
$ 100.00
AF-S VR Micro NIKKOR 105mm f/2.8G IF-ED
$ 135.00
PC-E NIKKOR 24mm f/3.5D ED
$ 200.00
PC-E NIKKOR 45mm f/2.8D ED
$ 200.00
PC-E Micro NIKKOR 85mm f/2.8D
$ 180.00
AF-S DX NIKKOR 10-24mm f/3.5-4.5G ED
$ 100.00
AF-S DX NIKKOR 16-85mm f/3.5-5.6G ED VR
$ 100.00
AF-S Teleconverter TC-14E II (1.4x) s
$ 40.00
AF-S Teleconverter TC-17E II (1.7x)
$ 50.00