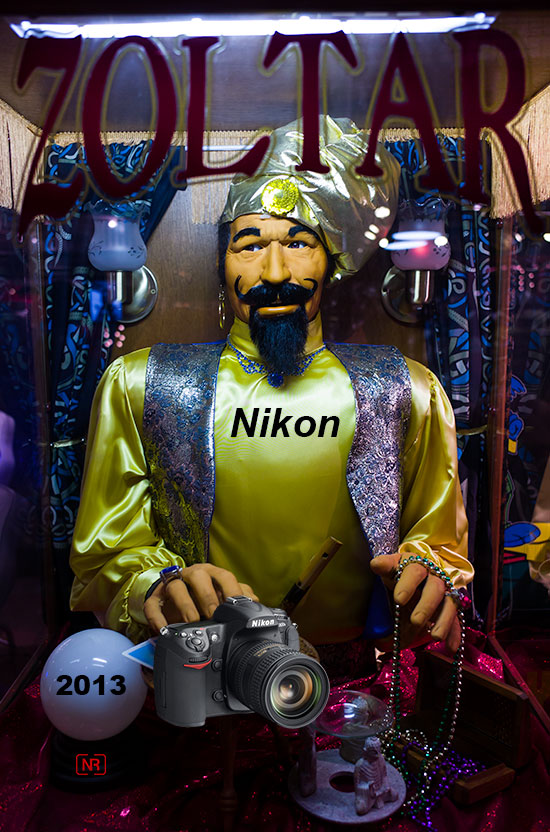 A quick look at what to expect from Nikon in 2013:
Nikon D300s/D7000 fusion
One of the possible scenarios is that in 2013 Nikon will merge the D7000 and D300s product lines. There is a good chance that only one high end DX DSLR camera will be announced (D400 or D8000?) that will replace both D7000 and D300s models. The camera will have a "pro" body similar to the D300s and most likely come with a 24MP sensor and 8fps. The D3200 and D5200 should be sufficient to cover the entry level needs. The new DX camera will be the "transition model" to the full frame category (D600). Expected announcement: January/February 2013.
Nikon D4x
The Nikon D4x (not sure about the name) will not be a direct replacement of the D4 and is expected to have a high MP sensor – either the 36MP from the D800 or a new 52MP with 4 fps. Expected announcement: end of 2013.
Lenses
Some recent tips suggested that Nikon was waiting for the latest VR technology that offers up to five stops of image stabilization and will implement it in the long-awaited 80-400mm lens (which may have a slightly different focal length). I don't have information on other lenses at that point.
Please note that it is still too early to put any high probability ratings on those rumors. I expect to have more details on the new DX camera in early January, 2013. Similar to this year, around February I will hopefully have more information on all upcoming Nikon products for 2013.