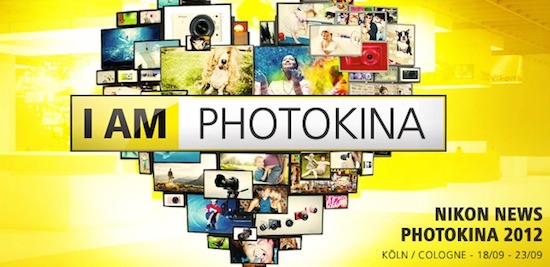 Nikon issued a press release about their Photokina 2012 presence:
Amsterdam, August 9th 2012: Nikon will once again be the premier booth at Photokina, bringing the theme 'I AM Life' to the world's leading imaging show. Expect hands-on access to the latest products and exciting presenters in the most spectacular booth in Halle 2.2 at the Koelnmesse. Photokina is open to the public between 10am and 6pm from the 18th to 23rd September.

Takami Tsuchida, President, Nikon Europe, comments: "In 2010, the theme of the show for Nikon was 'I AM Photokina'. This year, we are taking the theme one step further as we introduce 'I AM Life' with the largest interactive booth, inspiring presentations, movies and visuals."
Central to the Nikon booth will be a giant interactive multimedia 'heart'. In addition, visitors will be able to enjoy the huge I AM Nikon video screen and presentation area throughout the day. Nikon Europe has assembled some of the world's finest photographers and filmmakers, including Sandro Miller and Anthony Arendt, who will be presenting their Nikon D800 'Joy Ride' video. Adventure sports photographer, Rainer Eder, and renowned pet photographer, Carli Davidson, will also introduce their work, educate, entertain and inspire visitors with their presentations. A full schedule of English and German speakers will be available at www.facebook.com/NikonPhotokina.

In 2010, Nikon delighted Photokina visitors who entered the show, via the South Entrance, by taking their photograph and projecting the resulting image on to a giant screen. This year, Nikon is planning to surprise guests once again, taking over the South Entrance to offer more photo fun, with the option to email, print or share the results on the Nikon booth.

Furthermore, Nikon will be showcasing its full range of products – from stylish compact cameras to high-end professional D-SLRs including the Nikon D800 and Nikon D4 flagship cameras. Visitors can take advantage of the interactive video area which demonstrates the outstanding video capabilities of the must-see cameras.