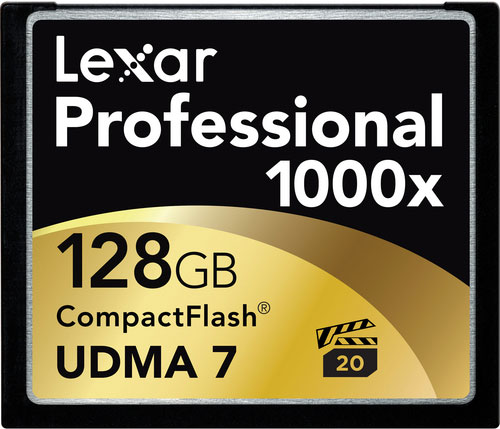 B&H has updated their website with the new super fast (x1000) Lexar CF cards – they should start shipping in 7-14 days, just in time for the D800. The prices range from $138 for 16GB to $730 for the 128GB versions.
The upcoming Nikon D800 is not expected to support XQD cards like the D4. With a 36MP sensor and improved video recording capabilities, those x1000 Lexar CF cards are probably going to be your best choice for the D800.
Form Lexar's press release:
The new card provides professional photographers and advanced photo and video enthusiasts with blazing-fast 150MB per second minimum guaranteed sustained read speed. The Lexar Professional 1000x CF card will be available in 16GB, 32GB, 64GB, and 128GB capacities, and supports the VPG-20 specification, meaning the card has been tested and guaranteed for professional video capture streams at up to 20MB per second, ensuring professional-quality video at high frame rates with no dropped frames. In addition, the Lexar Professional 1000x CF memory card helps accelerate the digital photography workflow, helping clear the camera's buffer for uninterrupted shooting and quickly transferring images and video from the memory card to the computer, when paired with a UDMA 7-enabled reader such as the Lexar Professional USB 3.0 Dual Slot Reader.