Those are the new Coolpix camera for the first half of 2012: S9300, S9200, S6300, S4300, S4200, S3300, S3200, S30, P510, P310, L810, L310, L26 and L25. The new P310 still doesn't support NEF files. The P510 has a 42x optical zoom (24mm to 1000mm). The S30 looks like it will be a hit for all parents – waterproof, large buttons, fun built-in features, all for $119.95.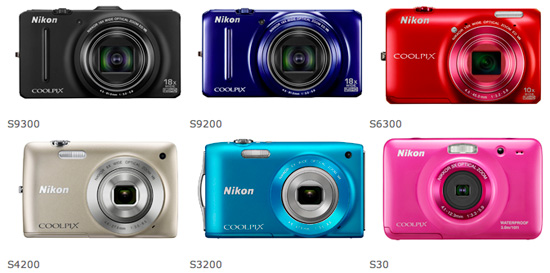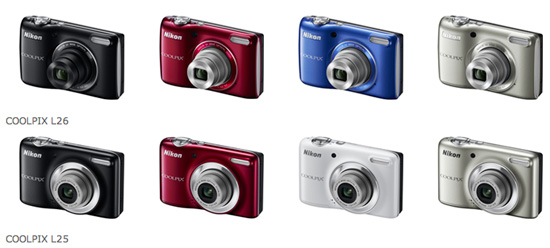 Press releases:
The 42x COOLPIX P510 is the Ultimate Ultra-Long Zoom Camera, While the Fast Aperture Lens of the COOLPIX P310 Makes it the Advanced Photographer's Compact Companion
MELVILLE, NY (Jan. 31, 2012) – Today, Nikon Inc. introduced two new COOLPIX cameras into the P-series, providing photographers with amazing optics from compact offerings for their next adventure-packed outing. Breaking the zoom barrier, the new COOLPIX P510 brings the action close with an impressive 42x optical Zoom-NIKKOR ED glass lens, from a wide 24mm to an amazing 1,000mm* focal range. When the adventure begins once the sun sets, the new COOLPIX P310 tackles demanding low-light conditions with a 16.1-megapixel Backside Illuminated (BSI) CMOS sensor and a fast f/1.8 maximum aperture, NIKKOR glass lens. From the expansive Serengeti horizon, thunderous waterfalls of the Amazon to the jazz-infused nightlife setting of New Orleans, Nikon's new COOLPIX P-series cameras enable photographers to capture any adventure with astounding clarity.
"With the new COOLPIX P-series cameras, Nikon is raising the bar for performance and image quality to better accommodate the needs of advanced photographers looking for a compact companion," said Bo Kajiwara, director of marketing, Nikon Inc. "Both the COOLPIX P510 and P310 combine Nikon's legendary NIKKOR lenses and advanced features to challenge photographers creatively in environments that call for portability and easy access."
COOLPIX Technology
At the core of these powerful new COOLPIX cameras are Nikon's world-class NIKKOR lenses, delivering accurate detail, brilliant color and amazing clarity. Further enhancing color and sharpness, Nikon's EXPEED C2™ high performance digital image processing engine is implemented and custom-optimized for each COOLPIX model to ensure high-quality pictures and movies.
The New COOLPIX P510: Setting a Higher Zoom Standard
Shattering the conventional zoom barrier, the new COOLPIX P510 features a staggering 42x Wide-Angle NIKKOR glass zoom lens. The astounding zoom range of 24mm to 1,000mm with advanced optical Vibration Reduction (VR) image stabilization ensures that the photographer captures their intended subject with exceptional image quality. With this kind of extreme focal length, the need for superior image stabilization becomes essential for photos and HD video. Photographers are given increased stability with the additional zoom control located on the side of the lens barrel.
To further enhance image quality and help combat challenging low-light conditions, the COOLPIX P510 includes an advanced 16.1-megapixel BSI CMOS sensor. Utilizing the high-speed continuous shooting performance (capture five images at full resolution in approximately one second) of the CMOS sensor and fast autofocus (AF), the COOLPIX P510 makes it possible to capture even the most spontaneous moments.
This full-featured compact camera also comes complete with built-in GPS capabilities, allowing photographers to track their adventures and geotag photos. The COOLPIX P510 also includes Full HD (1080p) movie recording with stereo sound and the ability to utilize the expansive zoom range during recording with AF for dynamic videos. A 3-inch high resolution (921,000-dot) vari-angle monitor makes it easy to compose images and movies from difficult angles. Additionally, The COOLPIX P510 features a variety of advanced functions for the sophisticated user seeking smooth handling with intuitively placed controls such as the mode dial that enables easy setting of frequently used functions on the fly.
The New COOLPIX P310: Low Light, No Problem
The new COOLPIX P310 achieves superior image quality in low-light settings thanks to the powerful combination of a 16.1-megapixel BSI CMOS sensor, wide ISO range up to 3200 (Hi1 6400 equivalent) and a fast, wide-angle maximum aperture f/1.8 lens. The COOLPIX P310 further fights blur by incorporating advanced optical VR image stabilization and makes shooting in low-light a breeze with several scene modes including Advanced Night Portrait mode, Night Landscape mode and Backlight/High Dynamic Range (HDR) mode. The Advanced Night Portrait mode combines consecutive images of the background while the subject is captured using the flash, while the Night Landscape mode combines a series of consecutive shots taken at a fast shutter speed into a single image with reduced noise. The Backlight HDR mode merges images of the same scene at different exposures to achieve a single image with a broad range of tonal detail.
Designed to be the serious photographer's compact companion, the COOLPIX P310 comes equipped with several features found in D-SLR cameras including manual exposure control (P/S/A/M) and a new Zoom Memory function that enables the selection of popular prime focal lengths during shooting. Through an easily accessible top-mounted control wheel, users are able to adjust shutter speed, aperture and other settings in order to achieve their preferred look. For more creativity, the COOLPIX P310 also includes special effects and filter effects that can be added to photos in-camera for a quick artistic touch. To facilitate easy composing, viewing and playback, the COOLPIX P310 features a 3-inch high resolution (921,000-dot) LCD screen.
Understanding the demand for a capable multimedia camera, the COOLPIX P310 also sports incredible video capabilities. With the ability to capture Full HD (1080p) video at 30 frames-per-second (fps) with AF, stereo sound and the use of the optical zoom while recording, the COOLPIX P310 also lets users edit movies in-camera for a seamless moviemaking experience.
Pricing and Availability
The COOLPIX P510 will be available in February 2012 for a suggested retail price (SRP) of $429.95* and will be offered in black and red. The COOLPIX P310 will also be available in February 2012 for $329.95* SRP and will be offered in black only. For more information about these and other COOLPIX cameras, please visit www.nikonusa.com.
With Super-Zoom Capabilities and Compact Design, New COOLPIX Cameras are User-Friendly and Feature Technologies to Inspire Creativity
MELVILLE, NY (Jan. 31, 2012) – Today, Nikon Inc. introduced four new digital cameras to the COOLPIX S-series lineup to give consumers new ways to go super-zoom or super chic. These new cameras deliver on Nikon's rich optical heritage and benefit from new technologies poised to create an amazing camera experience for any user, such as GPS and enhanced resolution.
The Spring 2012 line of Nikon COOLPIX cameras help capture memories with advanced features including extraordinary low-light capabilities, powerful optics and HD video recording with full stereo sound. Added features such as the built-in GPS of the COOLPIX S9300 and Easy Panorama mode of the COOLPIX S6300 bolster the S-series lineup, in addition to the easy-to-use, slim and stylish COOLPIX S4300 and S3300. These cameras also include Nikon core technologies for amazing photos, including Nikon's Smart Portrait System for flattering portraits and HD video capability across the line.
"The new COOLPIX S-series cameras are super slim and easy to carry around for all of those  special 'can't miss' moments that matter in a person's life," said Bo Kajiwara, director of marketing, Nikon Inc. "These cameras complement a personal style while providing amazing image and video quality easily."
The Ultra-Zoom That Fits in a Carry-on
The COOLPIX S9300 is deceptively slim (approximately 1.5-inch body), but hides a super-zoom secret with an outstanding 18x optical Zoom-NIKKOR ED glass lens (25mm-450mm). Vibration Reduction (VR) image stabilization lets users capture far-off horizons or up-close action, making the COOLPIX S9300 a packing priority for any trip. The camera features a 16.0-megapixel Backside Illuminated (BSI) CMOS sensor for capturing low-light images with stunning clarity and sharpness. Nikon's BSI sensor technology increases the flow of light to the sensor's surface, which improves image quality and reduces noise. Whether traveling around the globe or enjoying a night out on the town, users can also record Full HD (1080p) movies with full stereo sound and enjoy high speed frame rates for slow and fast motion effects. Further adding to the COOLPIX S9300's credibility as the ultimate travel camera, built-in GPS has been added to provide the user with accurate geotag data of adventures and even displays a map as to where the user has been. 

The Super-Zoom Goes Super Thin
The slim COOLPIX S6300 bundles a 10x optical zoom with a compact body and VR technology, so users can quickly zoom in to the action without worrying about blurry photos. A 16.0-megapixel BSI CMOS sensor captures fast action and scenarios in challenging lighting, such as faces around a dimly-lit birthday cake or sun soaked days at the lake. The COOLPIX S6300 also records full HD (1080p) movies for memorable moments without missing a beat. Additionally, 180º and 360º views of the world, including stunning landscapes or amazing interiors, are simple to create and share with the Easy Panorama mode. Creative color options let the user add their own personal touch in-camera with effects like Low key, High key, Nostalgia Sepia, and even Selective Color, putting a little punch to images and movies.
The Touch Screen to Set Trends
For those looking for a no-frills touch screen camera that captures amazing photos and HD video, the 16.0-megapixel COOLPIX S4300 is the camera that fits the bill. It features a wide-angle 6x (26mm-156mm) optical Zoom-NIKKOR glass lens, plus VR image stabilization for maximum versatility. The 3-inch touch screen LCD makes it easy to compose, focus and capture moments quickly, and subjects come alive with 460,000-dot detail. Additionally, multiple Scene Modes immediately adjust settings for optimum results, while the Auto Scene Selector can identify scenes automatically and set the camera accordingly. The COOLPIX S4300 also features Nikon's Smart Portrait System, which includes the intelligent Smile Shutter function that automatically recognizes when a subject is smiling and releases the shutter for picture-perfect results every time. The Face-Priority AF can find and focus up to 12 faces, making the COOLPIX S4300 the ultimate party accessory.
A Fashionable Zoom for Any Occasion
The Nikon COOLPIX S3300 answers the call for a cost-efficient 16.0-megapixel camera with a 6x (26mm-156mm) optical Zoom-NIKKOR glass lens for near or far photos on any occasion. The slim design of the camera makes it effortless for traveling, while the easy-to-use interface is always ready to capture photos and video. The camera has 19 Scene Modes, including the Scene Auto Selector which analyzes a scene and automatically selects from one of six scene modes. With the COOLPIX S3300, the party can be relived in glorious HD with 720p movie recording, while optical VR minimizes the effects of camera shake for sharp, high-quality images.

Pricing and Availability
The COOLPIX S9300 will be available for a suggested retail price (SRP) of $349.95 in black, red and silver, while the COOLPIX S6300 will be available for $199.95 SRP in red, black, silver and blue. The COOLPIX S4300 will be available for $169.95 SRP in plum, black, silver, white and red, while the COOLPIX S3300 will be available for $139.95 SRP in silver, black, pink, purple and red. The new COOLPIX S-series cameras will be available in February 2012. For more information about these and other COOLPIX cameras, please visit www.nikonusa.com.
Easily Capture Special Moments with Spectacular Photo Quality and Have Fun While Doing It
MELVILLE, N.Y. (Jan. 31, 2012) – Today, Nikon Inc. introduced a new line of COOLPIX digital cameras that combine affordability and convenience with performance and versatility to create a lineup of cameras that are ideal for the modern, fast-paced and connected family.  Perfect for any type of family adventure from the sidelines to the backyard, the COOLPIX L810, L26 and S30 each offer a simple, convenient and fun way to capture great photos and HD movies with ease.
Expanding on Nikon's outstanding long zoom reputation, the COOLPIX L810's extremely powerful zoom (26x) offers a chance to capture every detail without giving up the convenience of a compact point-and-shoot camera.  The COOLPIX S30 is a new type of camera from Nikon, providing worry-proof construction with a simple to use interface and an affordable price point so any family can enjoy photography with a camera that instills confidence. The COOLPIX L26 is ideal for casual photographers and streamlines photo-taking with intelligent Nikon technologies like automatic Scene Modes and easy-to-understand controls.  All three cameras are AA battery compatible for the ultimate on-the-go convenience.
"Today's family spends time together in more places than the dining room table; they are on adventures and vacations together, constantly in motion and creating memories," said Bo Kajiwara, director of marketing, Nikon Inc.  "Nikon's latest COOLPIX cameras combine Nikon's renowned image quality, advanced performance and superior technology to offer simple and affordable cameras for every member of your family."
COOLPIX L810: Zoom That Goes the Distance
Whether at the game or in nature, users need a camera that can go the distance to get in close to the action. The COOLPIX L810 sports a powerful 26x (22.5mm-585mm) zoom that makes it possible to capture every detail with extraordinary precision.  This latest affordable ultra zoom continues in a long line of superb Nikon compact long zoom cameras and features a super wide 22.5mm wide angle lens with VR image stabilization technology to help eliminate blur in photos and movies, regardless of focal length.  Nineteen Scene Modes optimize camera settings automatically for picture-perfect results, while the Smart Portrait System helps make every portrait flattering and pictures priceless. Additionally, the COOLPIX L810 features a Sports Continuous Shooting mode to capture fast moving subjects. If still images aren't enough to tell the whole story, begin recording 720p HD movies with stereo sound through a simple one-touch control button and play them back on a 3-inch, 921,000-dot high resolution LCD display.
COOLPIX S30: No Muss, No Fuss – Ready for Action
A wonderful addition to any family, the COOLPIX S30 makes it easy and fun to preserve memories from the priceless to possibly messy, including a baby's first steps, first swim or first plate of spaghetti.  Boasting a shockproof* (up to 2.6 feet) and waterproof *(up to 9.8 feet) exterior, the COOLPIX S30 affords a chance to capture all of their favorite moments without hesitation or worry.  A 10.1-megapixel image sensor produces high quality images and HD video that can be easily shared, printed and framed for family and friends.  A 3x wide angle zoom lens, HD video capabilities and extremely easy-to-use modes like the Smart Portrait System make the COOLPIX S30 simple, durable and affordable.
COOLPIX L26: The Simple Way to Great Photos and Movies
Let the camera do the thinking while marveling at the great images taken with the COOLPIX L26. Simply point, shoot and let the camera do the rest with easy-to-use and intelligent automatic Scene Modes, helping bring out the user's inner photographer. Featuring a 5x (26mm-130mm) optical Zoom-NIKKOR lens for close to intermediate distance shots, the COOLPIX L26 is fun and easy to use whether snapping photos on a field trip or capturing 720p HD video of a birthday party. A wide and bright 3-inch LCD screen, vibration reduction and Smart Portrait technology make this the ideal camera for the beginner or casual photographer who might not use a camera often, but knows they want amazing image quality when they do.
Price and Availability
The COOLPIX L810 will be available in February 2012 for a suggested retail price (SRP) price of $279.95** in a choice of colors including Black, Red and Blue. The COOLPIX S30 will be available in February 2012 for an SRP of $119.95** in a choice of colors including White, Blue and Pink. The COOLPIX L26 will be available in February 2012 for an SRP of $119.95** in a choice of colors including Red, Black and Silver. For more information about these and other COOLPIX cameras, please visit www.nikonusa.com.
**Suggested retail price listed only as a suggestion. Actual prices are set by dealers and are subject to change at any time.