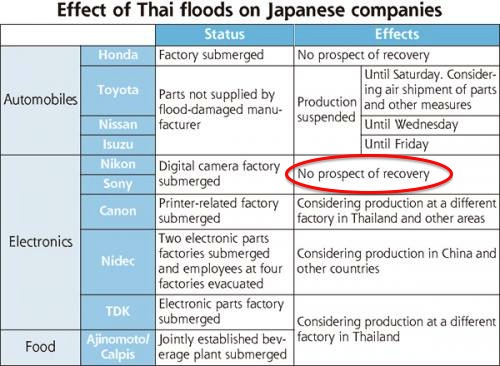 Nationmultimedia published the above table about the effect of the Thailand flooding on Japanese companies. Quote from the same article:
"Electronic manufacturers also are heavily dependent on production in Thailand. Nikon Corp.'s Thailand plant produces low- to mid-range single-lens reflex cameras, which account for 90 percent of the company's SLR camera production."
Western Digital who also has factories damaged by the floods said that it may take up to six months to repair their facilities:
"They asked us to speed up draining water from the plants. If it could be done in one to two months, the company expected to then take about four to six months months for repairs."
I received an unconfirmed information that a Nikon press conference in Belgium scheduled for October 26th has been canceled.
Chase Jarvis will have a "Special chasejarvis LIVE on Wed Oct 26th":
I am clueless as of what will happen next week – a lot of conflicting information.