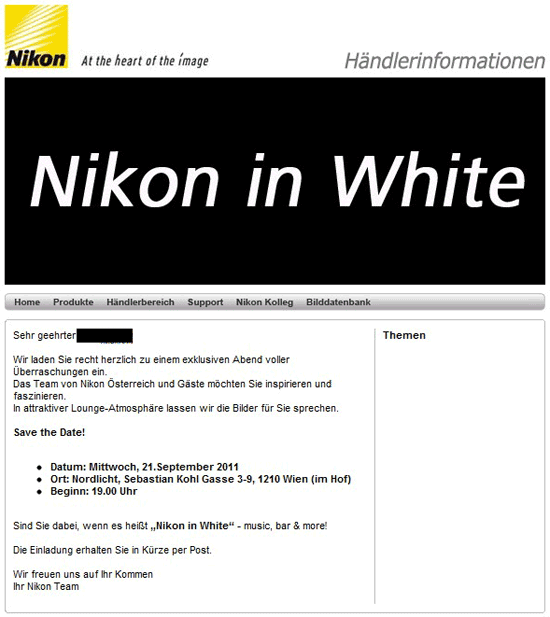 This is the invitation for a "Nikon in White" event that will take place on September 21st at 7:00 pm in Vienna, Austria. The text says the night will be "full of surprises". This event obviously will be for the announcement of Nikon's mirrorless camera which is expected to come in different colors, including white.
Nikon will announce two different mirrorless bodies, one will be smaller in size with less functionality. Nikon's mirrorless solution will have enhanced video features not seen in any previous models. The new lenses will have power zoom buttons similar to the latest Panasonic Lumix X series. Expect four new lenses announced at launch. There will be a super zoom and a pancake. The super zoom will be very big in size (compared to the camera body). As far as I know, there will be no dedicated macro lens in the first run. In the future Nikon will announce also a dedicated external flash for their EVIL camera line. The first camera kit should be available end of September/early October, the second body + other lenses at the end of October/early November.
Here is a recap of all Nikon mirrorless interchangeable lens camera details known so far (known knowns):
Camera code/project name: X810. Not sure about the final marketing name
Two different models will be available
The camera body will be very small, very compact, with a clean industrial design
Built-in high resolution EVF
Many video features
Compatible with F-mount lenses
The sensor will be slightly smaller than Micro Four Thirds (probably 17mm in diameter, 2.6x or 2.7x crop factor)
Four lenses to be released, one of them will be a pancake, the second will be a super zoom
Phase and contrast-detect AF
Similar clean design like the Coolpix P300
The camera will not have any dials on the top plate
Speaker will be located on top plate
There will be a pop-up flash and/or flash hot shoe for external flash
The new mirrorless lenses may have electronic zoom buttons (see this patent)
There will be some functionality that will be introduced for the first time in a mirrorless camera
The camera will be available in different colors
At that point I feel comfortable enough to rate the Nikon mirrorless camera announcement at the end of September at 99% probability. Unfortunately, I still cannot give the same probability rating for the other DSLR announcement in the first week of September.