The official Nikon announcement should happen tonight around midnight US Eastern time (±1 hour). I expect that some website will leak details earlier. Now is a good time to check your local Nikon website for any visual changes in the design, listings, placement of products, etc.
Another Nikon day in Slovakia on August 25, 2011 with "unique presentation of new products in portfolio":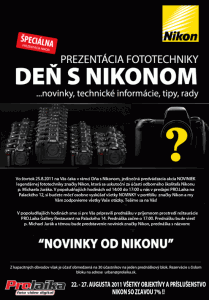 An update by a reader from the Czech Republic:
"The poster mentions the name Michael Jurák who is presenting new products for professional audience in Czech Republic and Slovakia. As long at this name is mentioned, it is for sure that DSLR products are coming – this guy – so far – has presented highest class of products…. It is very unlikely that such guy would present a new Coolpix."
Scott Kelby's big announcement tomorrow is not Nikon related.
That's it for now.