Let's first start with the Sigma 50-150mm f/2.8 II EX DC HSM lens (Nikon mount) – discontinued:

I am not sure why, but Amazon Germany doesn't sell the Nikon D3x any longer:

I got few reports that some smaller dealers in Europe have also removed the D3x from their catalogs. In the US, the D3x is in stock almost everywhere.
Nikon UK is out of Nikon D700 brochures (and D90 brochures of course):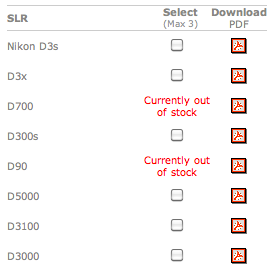 Ritz Camera did not list Nikon D700 and D5000 in their Holiday/Winter 2011 Imaging Book (all other Nikon cameras are listed, including the D3s/D3x/D300s/D7000).