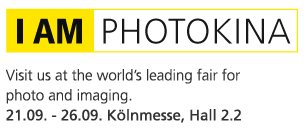 So far I have not received any indication that Nikon will show something new at Photokina. I will be covering any Nikon related news for the next 24 hours. If you are going to Photokina, you can share your pictures/videos/commentary by contacting me or by uploading pictures to the flickr group I created: http://www.flickr.com/groups/photokina-2010/. You can use also the [NR] forum.
Some Nikon/Photokina related links:
This year Photokina is expecting 60,000 people from 49 countries, over 1,500 companies will part of the show.
From the Nikon blog: "Nikon has joined forces with six leading companies in the professional photography space, including Adobe, HP and Nik Software, to once again bring you the Photokina Creative Alliance."
Nikon's offcial press release for Photkina after the break:
Press Release:
Nikon Europe will be showcasing the latest trends and recently launched products at Photokina 'World of Imaging' 2010 at the Koeln Messe in Cologne, Germany from the 21st to 26th September 2010.
In addition to inviting visitors to get hands-on with the most recently launched products, the company has created its most spectacular booth and exhibition experience ever including an inspiring programme of movies and workshops, as well as presentations from some of the world's top photographers. From the moment visitors arrive at entrance to the Koeln Messe and see a picture of themselves displayed on a giant screen, they'll know that in 2010, Nikon is Photokina.
At the show this year, Nikon will also be revealing the high-profile celebrity behind its latest I AM NIKON advertising campaign.
Visionary talks, expert advice
Nikon's largest and most engaging space ever at Photokina is located in Hall 2.2 of the Koeln Messe and will play host to a series of talks from the world's leading photo visionaries including award-winning commercial photographer, Chase Jarvis, who will be making a keynote speech on the first day of the show.
Nikon's team of product and technical experts will be available daily to discuss and demonstrate Nikon's range of imaging products – from stunning, compact COOLPIX cameras to top kit for professionals.
The finest cameras
Of special interest to visitors will be the recently launched D3100 and D7000 cameras as well as Nikon's famous FX-format D-SLR, the D3S. The D3100 is the most easy-to-use D-SLR, with full High Definition (HD) video, to date. The successor to Europe's best selling D-SLR[1], the D3000, it offers 14.2 megapixels, full HD movie, Live View with new AF modes and improved ergonomics. It is the ideal camera for families who want to capture all the important moments in perfect quality, without worrying about settings. It also has the popular Guide Mode as seen on the D3000, which now shows you sample images of what you can achieve with certain settings, for example if you change the shutter speed or aperture.
The D7000 is a D-SLR that offers exceptional image quality, reliability and performance packed into a durable and portable body. It is the ideal next camera for D-SLR owners who want to further indulge their passion for photography with a camera that boasts more advanced features providing creative power. It has a new image sensor, EXPEED 2, AF system and metering sensor to ensure great performance in a highly durable body. In fact, it has everything you need in your next SLR but in a size you wouldn't expect.
Nikon's flagship FX-format D-SLR, the D3S will also be at the show. Renowned for fast response and high light sensitivity, the Nikon D3S has become famous for taking the potential of Nikon's proprietary FX-format to incredible new levels designed to exceed a professional's high standards. The D3S delivers ISO 200 to ISO 12800 as standard, with the excellent noise control and wide dynamic range providing photographers of any discipline with additional latitude to achieve quality images in most lighting situations.
Inspiring films
A daily programme of movies, stills and product films will be playing on the Nikon Video Wall, showcasing work by Nikon Pros from all over the world including Vincent Munier and Bill Frakes. The Nikon Video Wall programme will run from 10am to 6pm daily.
The Nikon Key Cube
Visitors to the show can experience the world of Nikon via the spectacular Nikon Key Cube. The Cube, at the heart of the Nikon stand, is a giant, interactive installation which enables people to get hands-on with Nikon's latest products and innovations. The Nikon Key Cube symbolises the past, present and future of the company, allowing visitors to discover more about Nikon's heritage with the History Cube; to experiment with shutter speeds with a specially created game – and even to become immortalised on the Nikon Video Wall with the Photobooth Cube.
I AM NIKON Blog
For those who can't make it to the show, Nikon will be reporting directly from the event via theNikon Blog and Microsite. It will be detailing all the news from the show with interesting blog posts, stunning movie content from the Nikon Video Wall, filmed interviews with top photographers and even a daily Nikon News programme.