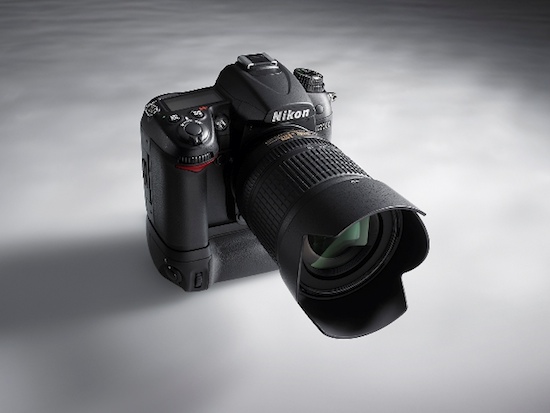 This post will be updated multiple times in the next few hours. Pre-order options available here.
What we did not know: D7000 has AF fine tune, meters with AI lenses, 1/8000 speed, manual video control (Chase Jarvis confirmed this on twitter).
Official Nikon links:
Coverage from around the web:
Crunchgear has a quick comparison between Nikon D7000 and Canon 60D: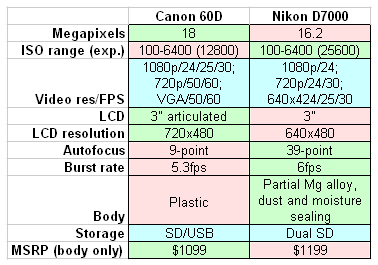 Full press releases after the break:
The D7000 Offers Creative Freedom with Advanced Features Such as a New 16.2-Megapixel DX-Format CMOS Sensor, Six FPS Shooting, 39-Point AF System and 1080p HD Movie with Full Time Autofocus
MELVILLE, NY (September 15, 2010) – Nikon Inc. today introduced the new D7000 digital SLR camera designed to fulfill the needs of passionate photographers who demand exceptional performance, reliability, and unprecedented levels of control and versatility in a compact form factor. Engineered as an ideal balance of durability and functionality, the D7000 D-SLR features a multitude of new enhancements and updated Nikon technologies, which results in stunning photos and amazing full HD (High Definition) movies.
Continuing the tradition of innovative technology that began with the revolutionary D90, the first D-SLR to capture HD movie, the D7000 features a new 16.2-megapixel CMOS sensor with low-light ability never before seen in a DX-format (APS-C) camera. The new EXPEED 2 TM image-processing engine fuels the enhanced performance of the D7000 along with a new 39-point AF system and groundbreaking new 2,016 pixel RGB 3D Matrix Metering System to deliver amazing image quality in a variety of shooting conditions. Additionally, the D7000 D-SLR provides full 1080p HD movie capability with full-time auto focus (AF), enabling users to capture their world with both striking still and moving images.
"The D7000 D-SLR creates a new class of Nikon camera by delivering exceptional quality, control and an innovative feature set; this is a camera that enables D-SLR users to achieve a true expression of their creative vision, while concentrating primarily on image quality above all else," said Lisa Osorio, general manager of marketing at Nikon Inc. "When you combine the innovation of the agile D7000 with the exceptional and robust line of NIKKOR lenses and accessories, the potential for D-SLR photographers and filmmakers is limitless."
Unparalleled Performance From Unrivaled Technologies
With its new 16.2-megapixel CMOS image sensor and Nikon's new EXPEED 2 image processing system, the D7000 D-SLR delivers superior image quality with low noise. The EXPEED 2 image-processing engine combined with a 14-bit Analog / Digital conversion brings a new level of even tonal gradations while managing color, contrast, exposure, and noise resulting in brilliant image quality. EXPEED 2 also manages the D7000's speedy 50-millisecond shutter response, blazing AF speed and rapid six frame-per-second (fps) burst speed for up to 100 images.
The D7000 D-SLR features an all-new 39-point AF System, which includes nine center cross-type sensors that operate with more than 60 NIKKOR lenses. The 39 points in the new Multi-CAM 4800DX AF module work together to provide superior subject acquisition and fast tracking capabilities, allowing photographers to confidently capture a player stealing third from the sideline to fast-moving wildlife. Additionally, photographers can activate dynamic or single point AF, configurable in combinations of 9, 21 or 39 or a 21-point ring to match a variety of shooting styles and situations. Photographers can activate 3D tracking, which continuously follows moving subjects within the 39 AF points, highlighting the activated AF point in the viewfinder.
Utilizing Nikon's exclusive Scene Recognition System, the camera analyzes subject information from a database containing more than 30,000 images to optimize focus, exposure and white balance. To assist in creating amazing imagery, the Scene Recognition System reads data from a groundbreaking 2,016-pixel 3D Color Matrix Meter RGB sensor that examines the scene's brightness and color data then optimizes the camera's performance prior to the actual exposure. Another revolutionary Nikon first, this system interprets scene data for improved control of light metering and i-TTL flash output. Additionally this new sensor allows for a new "Ambient" white balance setting which can be activated to allow warm rendering in Automatic White Balance.
Nikon Continues the Low-Light Fight
The D7000 D-SLR continues Nikon's tradition of providing photographers the confidence to shoot in low-light, knowing they will capture high quality low-noise images. The camera's native ISO range of 100-6400 affords the versatility to photograph in challenging lighting conditions, such as when indoors or in the evening. The ISO range can be expanded to a Hi-2 setting of 25,600, which was previously found only in Nikon FX-format territory. The resolution of the camera renders a pixel size of 4.78 µm, which allows more light to be gathered, resulting in a correctly exposed image that has less noise and finer grain.
Full 1080p HD Movies with Advanced Video Features
Building upon the popular D90 D-SLR, the Nikon D7000 captures breathtaking full 1080p HD movies with full-time autofocus and manual exposure control. To keep critical HD focus, users can choose to engage a variety of AF functions, including face priority to track up to 35 human faces, subject-tracking and normal or wide-area autofocus.
Advanced movie features also allow exposure adjustment on the fly while recording. The D7000 D-SLR offers variable frame rates and resolutions, and can record 1080p at a cinema-like 24 fps, or a web-friendly 720p at either 24 or 30 fps for up to 20 minutes per clip. Once recorded, users are able to edit and trim video clips in the camera to save time in post production. Whether utilizing a wireless or hot shoe mounted microphone, sound can be recorded via the stereo microphone input for professional audio results.
To further simplify movie shooting, Live View is activated by a single dedicated switch, and HD video recording is achieved by pressing a single button. The D7000 D-SLR also incorporates a built-in HDMI output CEC compliant (Consumer Electronic Control) that allows users to connect it to a HDTV and playback with most HDTV remote controls.
By adding versatile NIKKOR lenses to the equation, photographers can create a variety of photo perspectives to video such as isolating subjects with a shallow depth of field, and recording in low-light conditions. Combining the D7000 D-SLR with NIKKOR lenses also delivers the sharpness essential for HD video, and Nikon's innovative Vibration Reduction (VR) II technology helps to eliminate the effects of camera shake.
No Compromise: Enhanced Build Quality, Durability and Usability
The compact design is lightweight enough for a full days use, but has a reassuring heft that hints at Nikon's reputation for reliability. The durable camera body consists of a magnesium-alloy top and rear covers and a 150,000 cycle-rated shutter system. Additionally, the D7000 D-SLR is dust and moisture sealed and features Nikon's dust reduction system to remove image-degrading particles from the image sensor. Among the well laid out ergonomics, users will immediately notice a new Mode Dial that eschews traditional Scene Mode icons for more advanced manual functions and two user-defined settings (U1, U2) to adapt to a users shooting style on the fly. Placed under the control wheel is a Release Mode dial, which allows access the burst modes, timer, or the Quiet Shutter, to soften the cameras operation when shooting in sensitive environments such as a ceremonies or nature.
When framing lush landscapes or tight telephoto shots from afar, users will appreciate the large, bright glass pentaprism optical viewfinder has approximately 100% frame coverage and approximately 0.94x magnification. The three-inch, 921,000-dot super-density LCD monitor with 170-degree viewing delivers bright, crisp image playback and precise Live View and movie shooting.
The D7000 D-SLR features twin SD card slots with SD, SDHC, SDXC memory card compatibility that offers several recording options including designating separate NEF (RAW) JPEG and movie files. The built-in i-TTL Speedlight flash offers coverage for lenses as wide as 16mm and has Wireless Commander support so users can choose how to light their subjects. The D7000 was designed to provide maximum performance with minimized power usage and also employs a new EN-EL15 battery which enables up to 1050 shots when fully charged.
Nikon Technologies That Empower and Inspire
The D7000 D-SLR contains many features aimed at empowering the user with creative freedom including the ability to process RAW images directly in the camera, and add in special effects using the retouch menu. Among the many editing options are color filters, distortion control for a fisheye effect, perspective control for a miniature effect, or a new color sketch filter that creates a sketch-styled image. As always, manipulated images are saved as copies while the original is retained.
The Picture Control system also allows the choice for Standard, Neutral, Vivid, Monochrome, Portrait, or Landscape settings to apply a personal look and feel to their pictures, and it's versatile Scene Modes let them choose from Portrait, Landscape, Child, Sports, Close-up or Night Portrait for stunning results even in challenging conditions.
Price and Availability
The D7000 D-SLR camera will be available throughout the United States beginning mid-October 2010 at an MSRP* of $1199.95 for body only and $1499.95 for body and lens outfit that includes the AF-S DX Zoom-NIKKOR 18-105mm f/3.5-5.6G ED VR lens. For more information, please visit www.nikonusa.com.
*MSRP (Manufacturer's Suggested Retail Price) listed only as a suggestion. Actual prices are set by dealers and are subject to change at any time.
NIKKOR AF-S 35mm f/1.4G and AF-S 200mm f/2G ED VR II Provide Photographers with Versatility and Exceptional Optical Quality
MELVILLE, NY (September 15, 2010) – Today, Nikon Inc. announced the addition of two new pro level lenses to the legendary NIKKOR line. The new AF-S NIKKOR 35mm f/1.4G and AF-S NIKKOR 200mm f/2G ED VR II lenses deliver the performance, reliability and stunning image quality that photographers come to expect in a NIKKOR lens. The 35mm f/1.4 and 200mm f/2 VR II produce sharp results with excellent clarity and color reproduction whether capturing still images or recording HD video. With the addition of these two lenses, Nikon has introduced a total of nine new NIKKOR lenses in 2010, reinforcing Nikon's role as the world leader in optics.
"The new AF-S NIKKOR 35mm f/1.4 and 200mm f/2 VR II are welcomed upgrades to two very popular NIKKOR lenses," said Lisa Osorio, general manager of marketing at Nikon Inc. "Building on the success of their predecessors, these new lenses incorporate improved cutting-edge features such as VR II Image Stabilization, Nano-Crystal Coat and Silent Wave Motor technology, which help photographers take their still and video work to new heights."
Exclusive core NIKKOR technologies play a fundamental role in the design of these two new lenses, and both feature Nikon's exclusive Silent Wave Motor (SWM) technology for quiet, fast and accurate autofocus performance. The optical construction of each lens utilizes Nikon's proprietary Nano-Crystal Coat to minimize flare – both internally as well as from backlit subjects. Further ensuring exceptional image integrity is Nikon's Super Integrated Coating (SIC) for color consistency and reduced flaring. Each lens also incorporates a nine blade diaphragm, to help achieve a dramatic separation between subject and background with a natural out of focus area (bokeh) coveted by today's image-makers.
AF-S NIKKOR 35mm f/1.4G: Updating the Classic Wide-Angle Lens
The new AF-S NIKKOR 35mm f/1.4 is an update of one of Nikon's most respected and popular NIKKOR lenses. The lens combines a natural yet versatile 35mm perspective with an ultra-fast f/1.4 aperture, and completes the lineup of f/1.4G lenses announced in the past year, including the AF-S NIKKOR 24mm f/1.4G, the AF-S NIKKOR 50mm f/1.4G and the AF-S NIKKOR 85mm f/1.4G. The f/1.4 maximum aperture allows photographers to shoot handheld in low-light and provides dramatic separation between subject and a softened background. This classic wide-angle provides photographers with an intimate lens perfect for weddings, architecture, travel and photo journalism whether shooting high quality still photographs or video capture using Nikon's D-Movie feature.
In a wide variety of photographic situations, both FX and DX-format shooters will enjoy the benefits of extra-bright f/1.4 viewing and superb image quality. When mounted on a Nikon DX-format or an FX-format D-SLR within the DX Crop Mode, the 35mm f/1.4 has an angle of view that is equivalent to a focal length of 52.5mm in FX/35mm format. The build of the 35mm f/1.4 features 10 optical elements in seven groups with one aspherical lens element that eliminates coma and other types of aberration even when shooting at the widest available aperture. A Rear Focus (RF) system provides smooth and fast autofocus while eliminating front barrel rotation and two focus modes are available — M/A (manual-priority autofocus) and M (manual focus). A refined manual focus driving mechanism is adopted to reduce focus time lag and improve operational ease in M/A mode.
AF-S NIKKOR 200mm f/2G ED VR II: Telephoto Lens with Incredible Low-Light Performance
The 200mm f/2, like its predecessor, is an incredibly fast aperture telephoto lens that incorporates Nikon's Vibration Reduction (VR) II Image Stabilization system. The VR system provides up to four stops of correction to assist in creating blur-free images while shooting hand-held, or for when capturing D-Movie video content.
Additionally, the NIKKOR 200mm f/2 VR II incorporates an Internal Focusing (IF) system that allows movement of the optical elements within the lens barrel and does not change barrel length. Three focus modes are featured, with an A/M mode added to the conventional M/A and M modes. The optical construction consists of 13 optical elements in nine groups including three Extra-low Dispersion (ED) glass elements and one Super ED glass element that effectively minimize chromatic aberration, even at the widest aperture settings. Also included is a Tripod Detection Mode, which automatically compensates for minute vibrations when mounted on a tripod and allows users to keep VR image stabilization on and active – even when the camera and lens are mounted on a tripod. The 200mm f/2 is optimal for all types of shooting including weddings, portraits, sports, nature, and fashion due to its quick response and detailed lens design.
Price and Availability
The versatile AF-S NIKKOR 35mm f/1.4G lens will be available in mid-November with an MSRP* of $1799.95. The new telephoto AF-S NIKKOR 200mm f/2G ED VR II will be available early October for an MSRP* of $5999.95. For more information, please visit www.nikonusa.com.
Nikon's Newest Speedlight is a Powerful Addition to the Versatile Nikon Creative Lighting System (CLS)
MELVILLE, NY (September 15, 2010) – Today, Nikon Inc. introduced the versatile new SB-700 Speedlight, the latest addition to Nikon's powerful and renowned Creative Lighting System for a wide range of photographers and applications. The SB-700 is a high-performance flash that brings simplicity to on-camera, remote and multiple flash photography. Building on the success of the popular SB-600 Speedlight and the advanced functionality of the SB-900 Speedlight, the SB-700 also incorporates a wide zoom range covering the most popular focal lengths and FX/DX-format identification that optimizes zoom settings based on the user's camera body. The SB-700 also provides a more efficient use of batteries and flash coverage in addition to three light distribution patterns for flash-to-scene customization. Whether used as an on-camera flash or as a wireless commander or remote, the Nikon TO43 Speedlight offers dependable and consistent flash exposure even under the most challenging lighting conditions.
Designed for a variety of photographers ranging from amateurs in the field to professionals in the studio, the SB-700 integrates a host of new features designed to make flash photography simple, accurate and creative. The SB-700 is for photographers looking for an on-camera Speedlight offering more power for greater depth-of-field control than the built-in flash, or an additional Speedlight for wireless multiple flash set-ups. This Speedlight will also satisfy the needs of photographers looking for a compact Speedlight that can be set up as a Commander or a Remote as well as those who want to upgrade from their existing or older Nikon Speedlight.
"When designing the new Nikon SB-700, we were sure to incorporate the features that made the SB-600 Speedlight such a popular and well respected flash unit as well as the advanced technology that users of the SB-900 Speedlight have come to know," said Lisa Osorio, general manager of marketing at Nikon Inc. "The Nikon SB-700 is a multifunctional Speedlight that combines high-quality with a simple yet sophisticated design."
The Nikon SB-700 has many new and redesigned features and that make it easy-to-use, yet powerful enough to assist in tough and challenging lighting conditions and settings. The SB-700's LCD design and layout enables easy-to-remember and intuitive operation, while the multi-step power zoom covers wide 24-120mm angle of view with FX-format cameras. The improved user interface of the SB-700 utilizes a large easy-to-read dot-matrix LCD panel making navigation and usage even easier.
As part of Nikon's popular Creative Lighting System, the SB-700 includes support for Nikon's advanced wireless TTL operation and can function as a wireless Commander with control over two separate groups of Speedlights, or as a Remote Speedlight when controlled by the SB-900 Speedlight or the built-in Speedlight set to Commander Mode in most Nikon D-SLR's. The SB-700 also incorporates a high-speed recycling time of approximately 2.5 seconds for full power with NiMH batteries, and approximately 3.0 seconds with AA Alkaline batteries. The Nikon SB-700 also features a new Quick Wireless Mode with A:B (light ratios) for quick setting of multiple flash units. This makes it easy and quick to control two remote flash units in i-TTL mode.
Additionally, the SB-700 also features enhanced Thermal Cut-Out detection that automatically detects heat build-up due to rapid flash firing. By increasing the recycling time if the temperature of the flash head rises above a certain threshold, the SB-700 protects the flash from damage due to overheating.
For improved durability, heat-resistance and ease-of-use, the SB-700 uses new hard plastic-type color filters for fluorescent or incandescent color temperature balancing. When using the supplied filters, the flash automatically recognizes which filter is being used and adjusts white balance accordingly on select Nikon D-SLR cameras. Additionally, the SB-700's AF-assist illuminator is compatible with the complete line of AF systems used in Nikon D-SLR cameras*.
Similar to the Nikon SB-900 Speedlight, three illumination patterns (standard, center-weighted and even) can be selected in SB-700 to match each shooting situation. When "even" is selected, the light from the flash will cover a subject from center to edges without light falloff. This pattern is suitable for shooting group photographs indoors. The "standard" pattern will cover all conventional, standard flash coverage. The center-weighted pattern provides larger guide numbers than other light distribution types at the same focal lengths. This illumination pattern is suitable for subjects such as portraits, in which the light falloff at the image edges can be ignored.
Like the Nikon SB-900, when the SB-700 is mounted on a camera compatible with user firmware updates, the SB-700 firmware can be updated using the same procedure as with a Nikon D-SLR camera.
Available Accessories
The SB-700 uses four AA type Alkaline, Lithium or rechargeable NiMH batteries. To enhance the weatherproof ability of Nikon D-SLRs, optional water guards will be available for select cameras to protect the connection between the flash and camera, allowing users to utilize the flash when weather conditions are less than ideal. The SJ-4 Color Filter set provides a Warming, Red, Yellow or Blue filter for adding color to the background, foreground or just to accent the scene.
Price and Availability
The new Nikon SB-700 Speedlight is scheduled to be available in mid-November 2010, and will have an MSRP** of $329.95. The SB-700 will come bundled with the Speedlight Stand, Bounce Adapter, Color Filter Holder, Intelligent Color Filter Kit, Diffuser Dome and soft case.
*Performance may be limited according to lens in use.
**MSRP (Manufacturer's Suggested Retail Price) listed only as a suggestion. Actual prices are set by dealers and are subject to change at any time.