US Patent Application 20100214667 from Nikon is for a new 80-400 f/4.5-5.6 lens. Some interesting specs: the lens has a constant length of ~260mm at all focal lengths and possibly 21 elements in 14 groups with 4 ED glass elements (@2, 3, 12 and 15):
The current Nikkor 80-400mm f/4.5-5.6D ED model has 17 elements in 11 groups with 3 ED glass elements: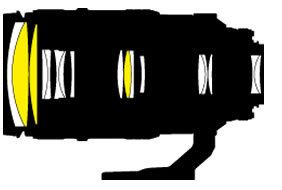 US Patent Application 20100214453 is for a backside illumination image sensor:
"A backside illumination image sensor equipped with a plurality of pixels disposed in a two-dimensional pattern, includes: image-capturing pixels; and focus detection pixels."
The camera drawing in the patent application looks like this: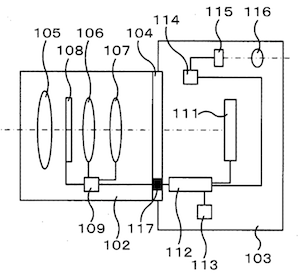 but the description says:
"electronic camera 101 in the first embodiment comprises an exchangeable lens 102 and a camera body"
Maybe they are designing a back-illuminated sensor for the upcoming Nikon EVIL camera?