This could be the future Nikon EVIL mount: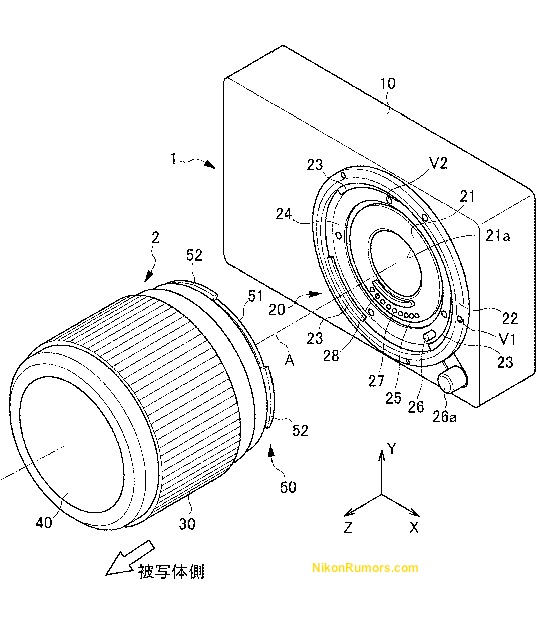 The Japanese patent website is a mess. I cannot link directly to the individual patents, in addition the text is computer translated. Here is the main description of Nikon patent 2010-044203 which defines an electronic mount contact system for an EVIL camera (electronic viewfinder mirrorless interchangeable lens):
[Field of the Invention]
This invention relates to the mount structure of an optical instrument, and an optical instrument.

[Background of the Invention]
That by which electric contact for making electrical communication possible among these is provided in the mount mechanism which connects a camera and a lens barrel is known (for example, refer to patent documents 1).

[Problem(s) to be Solved by the Invention]
In the conventional mount mechanism, electric contact is projected and provided from the support member which supports a point of contact, and may be contacted and damaged in other members. SUBJECT of this invention is providing the mount structure of an optical instrument and the optical instrument which can protect electric contact.
Here is another view of the Nikon EVIL mount (all drawings were part of patent 2010-044203):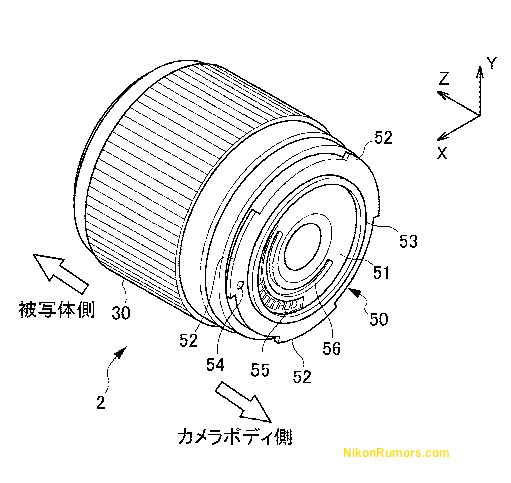 And some more detailed drawings of the mount after the break (click on image for larger view):
Japanese patents 2010-044225 through 044228 are all related to the same EVIL lens (we have already covered the US equivalents in previous threads – see here, here , here and here). The calculations point again to a 17mm image diagonal:
f = 10.25 to 17.30-29.30
Bf = 1.0 to 1.0-1.0
FNO = 3.60 to 4.50-5.86
2omega = 82.7 degree – 53.0 degree – 32.4″
with an 32.4 FOV and fl=29.30 the image diagonal comes out to 17mm.