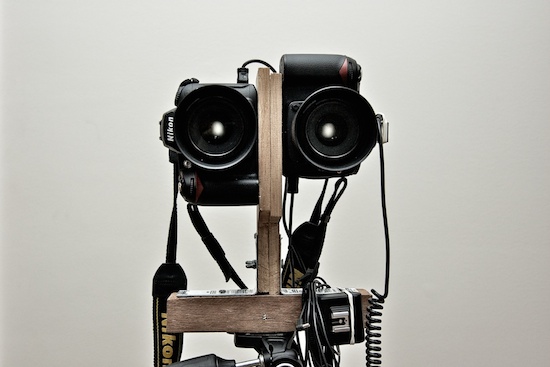 Alex Fry and Jamie Nimmo will have a 3D photography exhibition "Stereo Portrait Project" in Sydney Australia on 27th May (scroll down for the full press release).
Here is the technical background:
For the Stereo Portrait Project, we used off the shelf hardware and software, from the cameras, lighting, triggering, post production to the printing of the book. We shot using Nikon d90's with shutter cables connected to an RF trigger. The Lighting system was three Nikon sb900's, one connected via pc sync in a soft box, the other two optically slaved.
A custom camera rig was needed to put the cameras as close together as possible, roughly emulating the distance between the human eyes. There was no quick or cheap solution to do this, so we built a number of prototypes out of wood and brackets. Since we were taking portraits, having the cameras mounted vertically base to base made the most sense, giving us a relatively small interoccular and a vertical frame. We ended up making three versions of the rig, the first to test how the base plates attach to the cameras, a hand held version that was unwieldy to hold and the final tripod mounted version you see in the pictures.
To synchronize the cameras we used an RF trigger split out to two preload shutter release cables. We tested how fast we could sync both shutters together with the flashes, and got reliable sync up to 1/160 speed. Giving us the ability to have people move around, talk to us and not inhibit their performance. This was very important since hands in front of the body look fantastic in 3d.
The image pairs were then sorted using Aperture before being exported into Nuke, where final tweaks were made before combining them into the final Anagylphic 3D images.
Aperture made sorting and tagging hundreds of very similar left and right images much more manageable, while Nuke allowed us to simply adapt many of the same 3d workflows we use in our day jobs as stereoscopic visual effects compositors.
We printed a limited edition run of 25 books for the exhibition using the self publishing website Blurb. The process from layout to finished product was smooth and easy. When we got our books back, they looked exactly as expected. This is a great service that we used to compliment the larger prints that will be on display in the gallery and give the people a chance to take home the entire collection for tabletop stereoscopic enjoyment. The book is now available through their online bookstore here.
There is a lot of helpful information regarding 3D photography in the comments section of this post.
Press Release: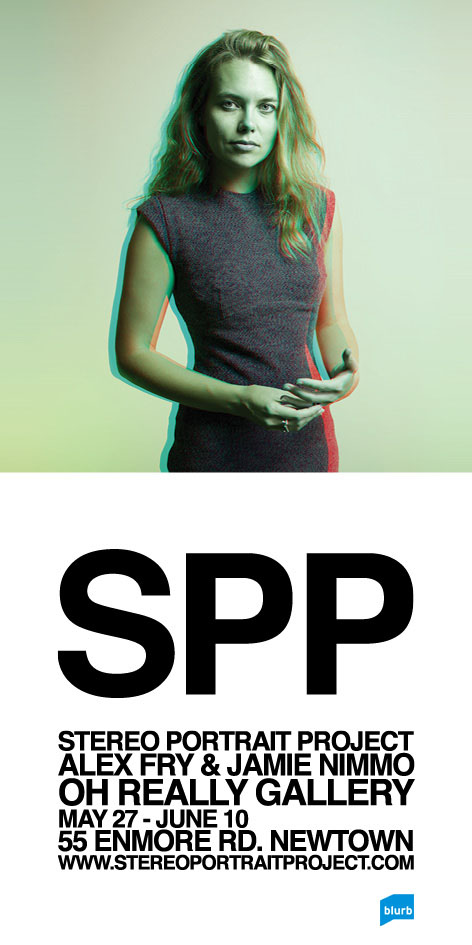 Stereo Portrait Project
Thursday 27th of May
Stereo Portrait Project is the brainchild of visual effects artists, Alex Fry and Jamie Nimmo. Born from their shared interest in stereo imagery whilst working on the
upcoming Legends of the Guardians: The Owls of Ga'Hoole, they started a collaborative project aiming to document people in society using 3d portraiture.
Their debut show concentrates on Australian creatives including Children's Author Morris Gleitzman, Archibald Prize winner Craig Ruddy, Writer and Futurist Richard Neville, Musician Rai Thistlethwayte, Director Michael Gracey and more. The exhibition invites the audience to face themselves as someone else using the sculptural aspects of 3d photography, opening up the inner lives of fascinating faces at Sydney's emerging art breeding ground, Oh Really Gallery in Newtown.
Stereo Portrait Project will be participating at the launch of Creative Sydney, Friday the 4th of June at the Museum of Contemporary Art (MCA) in Sydney. To add something different on the night, SPP will be setting up a stereo booth to give everyone the chance to see themselves in 3d whilst streaming those images live to twitter.
Stereo Portrait Project is using off the shelf, accessible technologies throughout all aspects of the show. It's supported by Blurb Inc, an award-winning creative publishing platform. The authors have produced a print on-demand book available from the Blurb Bookstore.
Stereo Portrait Project debut Show
Opening 27th May 6pm-9pm, til 8th June. Oh Really Gallery, 55 Enmore Road.
Stereo Booth 4th June. Creative Sydney. (see website for details)
www.stereoportraitproject.com
www.ohreallymagazine.com
www.creativesydney.com.au
au.blurb.com
www.animallogic.com
legendoftheguardians.warnerbros.com
Update: here are some 3D related links taken from the comments section:
Here is the update from one of the photographers:
I'll just answer a few of the points brought up in the comments here.
Yes, the lenses are 35mm AFS 1.8.
Focusing was done by having the subjects stand on a mark, flip to live view, find manual focus for both cameras, switch off live view, engage preload triggers.. Everything was shot at 2.8, this caused issues with both the subject moving off their mark, and asymmetrical focus when something was bumped or nudged accidentally..
As for the oversize inter-occular, it was a byproduct of the construction technique. We have no metal working experience so the rig was bolted together using available materials and skills. Its backyard, but it works.
The impact on the stereo is to exaggerate the depth, but the effects are negligible at the kind of display sizes we are viewing at, life is also made easier by having a blank background.
As for the rig's lack of ability to converge the cameras, we subscribe to the parallel school when it comes to camera setup. In a perfect world we would have purpose designed camera bodies with mechanically shiftable sensors, or be shooting with tilt/shift lenses to offset the sensor.. But we don't have those things, so we shift in post. It means you lose some resolution and field of view, but its fast, easy and avoids all the keystoning and vertical disparities issues inherent in shooting converged.
The Anaglyph conversion was done in Nuke. I implemented the conversion fomulas found here:
http://www.3dtv.at/knowhow/anaglyphcomparison_en.aspx
Specifically the Optimized Anaglyph formula, it dramatically reduces luminance asymmetry by knocking out colours that only appear in one eye or the other. You lose colour range but reduce the visual buzzing. Its responsible for the heavy green cast, but it feels better in 3d relative to traditional anaglyph.
If anyone is interested they can download my Nuke gizmo below:
http://dl.dropbox.com/u/3656251/OptimizedAnaglyph.gizmo.zip
We dint use Ocular but most likely will in the future. We aren't using it in our day jobs because Guardians is all CG and doesn't suffer from the issues that Ocular is designed to address (mainly repairing problems with mismatches in live action stereo footage).
@Larry N.Bolch
Are you the guy who takes all the great 3d Lambo and Ferrari stuff on Flickr?
As for the W1.
I have one now, its great and lives in my bag everywhere I go. Takes seconds to fire up unlike the 30 minutes of frigging around with the D90s. I love it.
Its worth noting that the W1 is also a parallel camera, doing the convergence as a post process..
@Rob Bannister
Yes, reconstructing 3d point clouds from stereo pairs is an area that interests us.
Its non-trivial but we have tried some stuff with projecting into a deepimage.. Its cool, but we need more hours in the day..
As for Nikon making dedicated stereo cameras in the future?
I think its going to have to evolve out of wherever they go with mirrorless cameras, smaller lenses for the same size sensor will make it easier to position the sensors close together..
See similar ideas with people getting excited about stereo rigs built on RED's small sensor scarlet.