In February 2009 Nikon announced the Fabre Photo EX microscope which now offers a DSLR attachment (the previous model Nikon EZ-Micro Stereoscopic Microscope could only take a Coolpix camera). The product was not announced in the US and it seems that nobody from Nikon support have heard of it. I had dozens of people asking me about this product and its availability. I finally found a website in Japan that is dedicated in "bridging the gap between 2 worlds apart, Japan and the rest of the world". They are wiling to ship the Nikon Fabre Photo EX microscope to the US for $26 flat fee. The prices are as follow:
Nikon Fabre Photo EX Camera Microscope for sale:
Nikon Fabre Photo EX Camera Microscope: US$1,303
FSBU1 (compact camera adapter): USD 338
NSA-L1 (DSLR adapter): USD 550
I will order one and will post a brief review after I get it.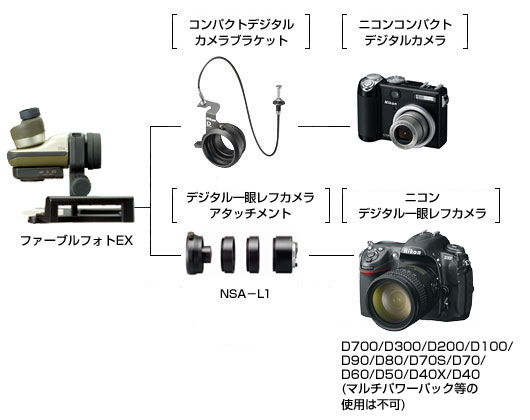 This product is part of Nikon Sport Optics.