I have one small picture of what I believe could be the next Nikon MX camera.
Here it is – the first one on the left (for comparison purposes I added pictures of Nikon D3 prototype, real Nikon D3, D700 and Nikon F6 to the right):
The size of the prism and the mount on that "thing" appears to be way bigger than the other full frame Nikon models. I am working on getting a high resolution picture which will hopefully reveal more details.
Here is full picture of the Nikon D3 prototype – you can clearly see the difference in the prism size: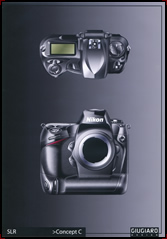 Disclaimer: this could be an old Nikon prototype or may not be related at all to Nikon MX. It could be Nikon D4, Nikon D800, Nikon F7, it could be an UFO, the next Canon with a Nikon label, whatever. I don't know for sure. I can only assure you that it's not fake. The source is very reliable. That's all I got for now.
SanDisk Specials. Rebates are valid till Oct 11.
The more you buy, the more you save. While supply last.