A summarized underwater review of the Nikon Z8, tested in Australia by Nicolas Remy (Instagram: @nicolaslenaremy) from The Underwater Club (see the detailed review here, check also his Z9 underwater review here).
Introduction
Considering how popular the Nikon D850 has been with underwater photographers, the Nikon Z8 was a much-anticipated camera in our community.
When reviewing the Nikon Z9 in a Nauticam housing, I found the flagship Nikon to be a compelling upgrade over the best D850, but it came with a hefty weight & cost penalty.
So does the Nikon Z8 really offer Z9-level performance in a smaller body, when dealing with the specific challenges of underwater photography?  To find out, I spent 35 hours over a five-week period diving the camera in a Nauticam NA-Z8 housing, in the temperate and sometimes murky waters of Sydney (Australia), with visibility ranging from 4 to 20 meters (13 to 65 feet).
I don't think NikonRumors' readers need yet another list of the Z8's specifications, so I will rather focus on those aspects which matter most for underwater photography, comparing the newcomer with the D850, and with the Z9. We'll cover autofocus performance, the viewfinder experience and a few other key aspects of the Nikon Z8.
Autofocus performance
The Z8's autofocus specs are much improved compared to the D850. Just like the Z9, it boasts a 90% coverage, whereas the D850's AF points wrapped around 21% of the frame only. It focuses in darker conditions too  (-7 EV vs -4 EV), which is a key asset when shooting in murky waters, deep dives, at dusk, or all of the above.
In this section, I will share general findings about the autofocus, you can read my detailed Z8 review for more lens-specific observations.
Without question, my go-to mode is AF-C 3D: you put the focus point on your chosen subject, depress the shutter, and the Z8 will track said subject all around the frame (remember, 90% coverage). Tracking works impressively well and generally sticks to the subject while you're getting closer, while you're recomposing, while the subject is swimming, or all of the above! That "stickiness" is a significant win over the best Nikon DSLRs, regardless of whether the "animal detection" feature kicks in. For testing purposes, I sometimes selected a random piece of algae swinging in the swell and tried recomposing, while the camera reliably kept on tracking the algae! Impressively, this highly commendable performance was sustained in low ambient light, such as shooting fish below a jetty in less than 5m/15ft visibility, without a focus light. For really unpredictable subjects, like fish swimming erratically in midwater, I switched to the Auto-Area AF mode and let the Z8 figure out what the subject was. This was more productive than AF-C 3D, as long as the fish stood out from its background.
Z8 vs D850 autofocus
For swimming fish and macro, the Z8 largely outperformed the D850, as it would stick to the subject for much longer when using continuous tracking. This enabled a different way of shooting, where I could select my subject from a distance (AF-C 3D), and then make my approach and possibly recompose, confident that the subject would still be tracked. With the D850 (and D500), I would approach first and then select my focus point once I was at the intended working distance. Selecting a macro subject's eye underwater can be fiddly, and that "old" way of shooting resulted in missed photo opportunities.
The Z8 let me work faster than Nikon's well-regarded DSLRs, resulting in more keeper shots, especially in lower ambient light. I don't recall having to switch on my focus light at all, except when shooting with Nauticam's SMC-1 diopter. The only macro situation where I found the D850/D500 still had an edge was focusing under a red light (at night). Just like the Z9 (and most likely mirrorless cameras from other brands), the Z8 relies on its blue and green sensor photosites (but not the reds) for focusing, making it slower when presented with a fully red scene

For wide angle, the D850 and D500 were already hard to fault, but again, the Z8's 90% coverage simply made it less likely to "lose" the subject compared to the D850's mere 21%. Having said that, while AF-C 3D and Auto-Area both worked very well in good visibility, when shooting wide angle with visibility of less than 6 meters (18 feet), I noticed the Z8 sometimes focused on floating sand in-between the camera and the subject. In hindsight, the Z8 appears to "overthink" the scene, locking on to tiny particles that the D850 or D500 would have ignored, and this could presumably be fixed via a firmware update. With the Z9, Nikon has had a good track record of delivering significant autofocus improvements via firmware updates, so I shared my observations with Nikon in the hope that we'll see this being addressed down the line. Although the Z8 has a plethora of AF settings to work around this low-viz wide-angle scenario, I'd prefer to just stick to AF-C 3D for every situation.
Finally, if you've read my article on using the Nauticam EMWL (Extended Macro-Wide-Lens) for "bugeye" photography, you'll know that the Z8, Z9 and other Z cameras currently suffer from some back-focusing issues (due to focus shift). The EMWL mounts in front of the Nikon Z 105mm MC lens, and one solution is to have that lens modified by Nauticam. It would be great if Nikon offered an option to restrict the maximum aperture while focusing (like Sony does), which would avoid the need for that physical mod – hopefully Nikon reads this!
Z8 vs Z9 autofocus
As I am typing those lines, neither the Z9 nor the Z8 are officially meant to recognise fish and other marine life. According to the manual, their animal detection feature is designed for dogs, cats and birds. However, it just so happened the Z9 (v3.1 firmware during my review) would sometimes recognise fish, seahorses and cephalopods, which saved me from having to pick my initial focus point. Comparatively, I found this to happen less often with the Z8 (v1.0 firmware).
Second, the tracking in AF-C 3D mode felt a little less "sticky" on the Z8 than on the Z9. Both cameras are significantly better than DSLRs, but if I had a scale of "stickiness" from 0 to 10, the D850 being 5/10 and the Z9 being 10/10, I'd score the Z8 at 9/10. Note that I set up both the Z8 and Z9 at level 3 and "Erratic" mode in the a3 menu (Focus Tracking with Lock-On), meaning both cameras could be tweaked to increase "stickiness" further.

The viewfinder experience underwater
The EVF is a significant change for anyone transitioning from a DLSR like the D850 or D500, and this has kept many DSLR underwater shooters on the fence. However, the Z9 has one of the best EVFs on the market, and I felt the Z8's EVF performed identically. For underwater photography, the many advantages of the Z8's EVF massively outweigh the two negatives, which I have noted below.
First, when there's plenty of ambient light, the EVF really feels "life-like"—meaning hard to tell apart from a good optical viewfinder. This results from a combination of the high resolution (3.69M dots) and the impressive refresh rate (120Hz), which is sustained during focusing. When it gets darker, the display adjusts to make it easier to see and frame your subjects. Like any EVF, it can get difficult to see both your foreground and background when framing a high-contrast scene—think shooting into the sun with a dark foreground. I did notice my water background being clipped on occasion, but I was still able to see the key elements and compose my shots.

Second, the EVF is quite large and I chose to make the display smaller (there is an option for that), so that I could see the whole frame from a distance, when using the Nauticam 40°/0.8:1 angled viewfinder. It is possible to see the whole EVF display through this viewfinder if you stick your mask up close, but I prefer having a bit of leeway.

Third, I really like being able to see all the important shooting parameters without taking my eye away from the EVF and without needing to press any button. This information is laid out on two rows, above and below the image.
Fourth, the EVF's visual focus aids make manual focusing (supermacro) much easier. Focus peaking is obviously configurable in terms of sensitivity and color, and you can even "zoom through" the EVF, by pressing the "+" button. I loved the focus distance indicator, which kicks in when you focus manually. (I installed the Nauticam focus ring on the Z 105mm lens.) It showed me how close I was to the 11.4in (29cm) minimum focus distance, so I knew if I had maxed out my magnification, and when it was time to attach the Nauticam SMC-1 diopter to get even more magnification. Again, it told me when I had maxed out my SMC-1 as well.

Finally, my favorite feature of the Z8's EVF is its DX mode, whereby you can choose to apply an in-camera APS-C crop and produce 19MP files, very close to the venerable D500's 20.9MP files. In this mode, the Z8 still uses the full EVF to show the DX framing, making composition as comfortable as when shooting in full-frame (FX) mode. I assigned the DX/FX switch to the Fn2 button, easily accessed via a lever on the Nauticam housing using my left pinkie. When composing shots, toggling between FX and DX modes really felt like I was swapping between a D850 and a D500 underwater—whatever suited the subject best.
The only time I missed an optical viewfinder was at night, when using a red light. In these conditions, I found the EVF showed less contrast than a good optical viewfinder.
Other relevant aspects
Size and weight
The Z8 is 10% lighter than the D850 and had a very similar shape. Compared to the Z9, the Z8 offers a saving of around 30% in both volume and weight. Yet, for underwater photography what matters is the size and weight once the camera is installed in a waterproof housing, which is discussed further down.
Battery life
Mirrorless battery life had long been an issue for underwater photographers: we can't swap batteries when the camera is locked within a waterproof housing: running out of juice means we can't continue shooting that great photo opportunity, and have to end the dive. Yet, Nikon has improved battery life with the Z8, which I found to be capable to last for 2, sometimes 3 standard 60-minutes dives. With its larger battery, the Z9 did better, lasting for 6 to 7 dives. Check my detailed Z8 review for in-water real-word figures.
Maximum Flash Sync
Because most underwater photos are flash-lit, one major point against the Z8 (same for the Z9) is its 1/200s maximum flash sync speed, compared to the D850's 1/250s. While I found 1/200s to be sufficient for shooting in temperate waters, when I took the Z9 to the Red Sea, I wished for a higher shutter speed a couple of times. I ended up closing down my aperture and increasing strobe power instead.  
Image quality
The Z8/Z9/D850 have a very similar resolution of around 46 Mpix, but the Mirrorless Nikons lose 0.6 EV of dynamic range, compared to the venerable D850 (measured by DXOmarks). In practice, I am still quite satisfied with the Z8's ability to recover highlights and shadows.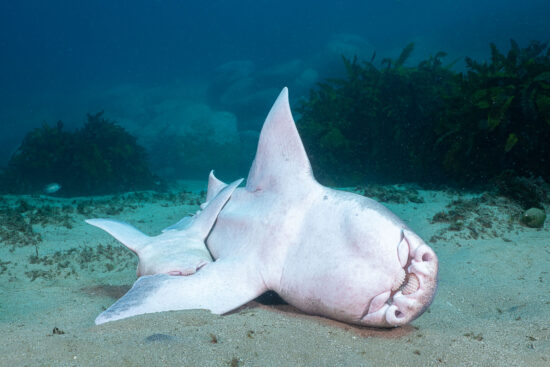 Burst shooting
As underwater shooter, we rarely make use of high-speed bursts because we use strobes (underwater flashguns) for most of our images, and they limit recycle time. For the few occasions where I did shoot fast bursts, I made use of the Z8's improved speed, capturing 20 full-resolution/lossless compressed RAW files per second (just like the Z9), compared to only 7 FPS on the D850.
Video capabilities
I am first and foremost a stills photographer, and I can only comment briefly about the Nikon Z8 as a filmmaking tool. However, I have started shooting some video with the Z9, and now the Z8, and I have found myself filming short clips every second dive, as these cameras made it ridiculously simple, in comparison with a DSLR, for three reasons.
First, I could switch from stills to video without taking my eye away from the EVF. I just had to flick a switch (right thumb on the Nauticam housing), and I could start filming 4K or 8K by pushing a lever conveniently positioned under my left thumb. Second, I found that "full-time" autofocus (AF-F) mode fared pretty well when capturing short wide-angle videos. I didn't expect this, as previous DSLR experience taught me you just couldn't trust autofocus while filming underwater, as the camera would start "hunting" anytime, making the footage useless. Third, in-body image stabilization also works while filming, and I found my video clips to be unexpectedly stable.
All in all, despite my limited filming experience, it was obvious how little effort or time was required to record short films that I was happy with, in-between shooting stills. Taking good video clips "on the side" feels more achievable than ever, and I am now thinking I should be getting a couple of video lights—keep in mind that the Z8 frequently fails to white balance deeper than 15 meters (40–50 feet).

The Nauticam Z8 Housing
As with all Nauticam housings I have used so far—this was the seventh—the ergonomics of the NA-Z8 are excellent. The multi-selector "joystick" makes it a breeze to move the AF target around the 493 available locations, and Nauticam's engineers have managed to arrange no fewer than eight control levers around the housing handles. It's an effective design choice: The alternative would have been to implement fewer levers and more buttons, but buttons often require taking one's hand away from a handle, which amounts to a loss of efficiency. The Z8 allows one to get the shot faster than a DSLR does, and the NA-Z8 housing maximizes this advantage.
Importantly, the design of the NA-Z8 is such that you can change ports and lenses without having to open the back of the housing. This applies to both Z-mount and F-mount lenses, as there are two distinct lens release buttons. By the same token, you can swap batteries without having to take off the housing port.

Flash Triggering
I have noticed the maximum synchro speed was sometimes limited to 1/160th (instead of the expected 1/200th), depending on the flash trigger and strobes in use, which I reported to Nauticam, see my detailed Z8 review for more information.
Size and Weight
Let's now take a look at how the NA-Z8 measures up compared with other Nauticam housings in the same league:
Housing external dimensions

weight

width with handles

height

depth

housing only

housing+camera+battery

NA-Z9

361mm

235mm

165mm

3.76kg

5.10kg

NA-Z8

356mm

204mm

163mm

3.40kg

4.31kg

NA-D850

360mm

195mm

135mm

3.07kg

4.12kg

NA-D810

350mm

208mm

134mm

2.96kg

3.84kg

NA-D500

357mm

188mm

134mm

3.02kg

3.88kg
As you can see, the Z8 in the NA-Z8 housing is about the same weight as the D850 in the NA-D850 housing (just 6.7oz/190g more, including camera and battery) and the external dimensions are roughly the same, save for the housing depth, as the Z8 is 1.1in/28mm deeper, to make room for the FTZ-II adaptor. This design choice means that you can keep using the same ports when upgrading from a Nikon DSLR to a Nikon Z camera, but this makes the newer housings a little more bulky. I would have preferred a thinner housing, but the NA-Z8 still fits in the upper compartment of my Pelican 1637 Air Case, so I don't really mind.
For anyone deciding between a Z9 and a Z8, note that the housing port sits about 1.2in/3cm closer to the seafloor on the NA-Z8 housing. This will make a difference only when shooting very low on sand.
Final Thoughts
The Nikon Z8 is one of the best cameras out there, excelling at almost any underwater photography challenge you might throw at it.
I could have written that statement about the D850 back in 2017, but the last six years have seen autofocus technology make significant progress, while mirrorless cameras have steadily matured, closing the gap on viewfinder experience and – to some extent – battery life. Now the tables have turned: The EVF experience is so good that it has become one of the key reasons for an upgrade, together with autofocus and the ease with which you can record quality video.
If you love your D500 and are hesitant to give up the compact and versatile Tokina 10–17mm fisheye, consider the Z 24–50mm/WWL-C combo (see my detailed review for lenses recommendations), which will cover the "close-focus wide-angle end" of the Tokina's range and deliver much better image quality. And if a fisheye is really needed, the Nikon 8–15mm remains an excellent option. In any case, you can turn the Z8 into a D500 by touching one lever to switch to DX mode.
Impressively, Nauticam managed to turn eight of the Nikon Z8's controls into ergonomic levers, located within easy reach of the NA-Z8 housing's handles, giving you extensive options to make the camera "your own." Overall, the Nikon Z8/Nauticam NA-Z8 pair will allow you to create images faster and with a higher success rate than the D850 and D500 ever could, as well as open the door to top-quality video recording, if that is something you fancy.
So, is the Z8 the best Nikon underwater camera out there right now? Well, it depends: If size, weight and cost are not an problem, I would suggest considering the Nikon Z9, which scores a touch higher on autofocus tracking (with animal detection being surprisingly helpful with marine life) and lasts around 2.5 times longer. But, boy, is it a big and heavy beast! Most underwater photographers will find the Nikon Z8 to be in the sweet spot. Either way, whether you're moving to a Z8 or a Z9, you'll find it to be the best Nikon camera you've ever used underwater.

Pros: 
One of the best AF systems on any camera (tracking, low light);

EVF is better than an optical viewfinder in low light and feels DSLR-like under bright ambient light;

The Nikon Z 24–50mm and Nauticam WWL-C combination form a compact solution for wide-angle, while delivering excellent image quality;

Flexible customizability of controls, accessible via eight ergonomic levers on the Nauticam housing; battery lasts for two busy dives.
Cons: 
Maximum flash sync speed of 1/200s;

slow to focus under red light;

sometimes focuses on floating sand in low-viz wide-angle scenarios.
About the author
Nicolas Remy is an Australia-based pro shooter and founder of online underwater photography Club & School The Underwater Club. His images have been widely published in print and digital media, and have won over 35 international photo awards. 
Follow him on Instagram: @nicolaslenaremy:
View this post on Instagram