I received this tweet from a reader (thanks):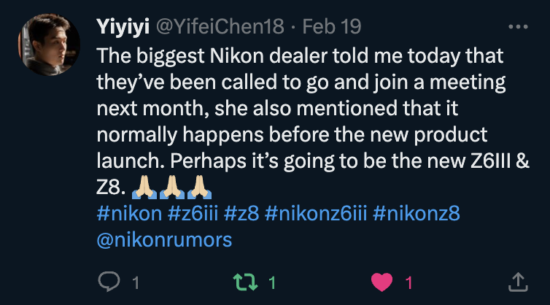 The biggest Nikon dealer told me today that they've been called to go and join a meeting next month, she also mentioned that it normally happens before the new product launch. Perhaps it's going to be the new Z6III & Z8. 🙏🏼🙏🏼🙏🏼#nikon #z6iii #z8 #nikonz6iii #nikonz8@nikonrumors

— Yiyiyi (@YifeiChen18) February 19, 2023
I was also told that some Asian Nikon dealers will be meeting in Macau next month for a new product presentation/training.
This timeline matches my previous Nikon Z8 reports indicating that the new camera is expected in the Spring of 2023:
The upcoming/rumored Nikon Z8 mirrorless camera will compete with the new Sony a7RV and is expected in Spring 2023
---
KEH promo: Compact cameras | Film cameras | Used telephoto lenses | Used mirrorless cameras | GoPro cameras | While supplies last | Bestsellers