Meike 7.5mm f/2.8 lens for Nikon Z-mount review by Bill Hall (see his previous reviews and additional lens information):
Meike, known for its budget-conscious quality products, is now producing this fast manual focus ultra wide angle fisheye lens for the Nikon Z-Mount. It has 9 groups and 11 elements, f/2.8 – f/16, a minimum focus distance of 0.15m / 6", a field of view of 190 degrees, and sells for $150 on Amazon.
This is a very compact lens, and its size fits very well with the size of the Nikon Z50. It's about the size of the Nikkor 16-50mm kit lens. The combination is not much bigger than a pocket camera. And it only weighs about 730g / 1.6lb. The all-metal construction promises a long life and durability. The aperture and focus dials operate very smoothly, but also stay in place when you move your hand away. The mount is all metal and mounts to the camera securely with no movement or looseness. It has a built-in lens hood, which is not unusual for an ultra-wide lens.
What comes in the box? The lens, front, and rear lens caps, and a warranty card.
What is this lens useful for? Since it has a 190-degree angle of view, it's useful for situations where you want to include as much as you can in a single frame, or when you're shooting in a tight space. It's useful in architecture and landscape photography. Related to this would be real estate photography. Portrait photographers can use it for shooting people in small spaces, and for large groups. Another use would be for street photography, though it requires you to be closer to subjects.
Is it hard to focus a lens manually? I had trouble with manual focus lenses when I was using DSLRs, but the Z mount mirrorless cameras have focus peaking. When you adjust the focus with this lens with focus peaking enabled, you see a highlight of what is in focus in the viewfinder. It's easy to adjust what is in focus. Also, the depth of field for a lens this wide is very deep. Setting it to infinity causes anything that's not really close to you to be in focus. And if there is something that's closer, it's easy to adjust for that. It will focus as close as 0.15m / 6".
This lens is a fisheye. But it doesn't make those circular pictures you've seen with black around them. It is also not rectilinear. It is curvilinear. Images shot with a curvilinear lens will have some barrel distortion. What's barrel distortion? That's when straight lines are distorted into curved lines. How much distortion an image has will depend on a couple of different things. Closeups will have quite a bit, while longer shots will have less. It will also be reduced if the lens is kept level. But it can be fixed in a photo editor. The last two example pictures are an image of a bicycle shop. One of them is as shot, and has barrel distortion, and the other is the same image edited to reduce it. There are tutorials on the internet that will show you how to do that.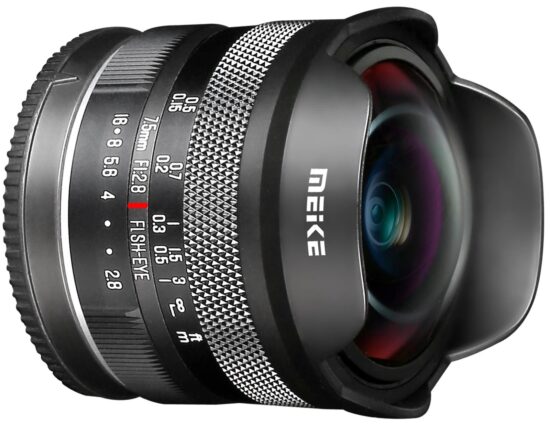 This is an APS-C / DX lens, but it should work on all Z-mount FX cameras. Just set the option to shoot in DX format or crop the pictures afterward. It will produce smaller pictures than the DX pictures that the camera normally takes. On my Z6, it produces an 11.5-megapixel image instead of 24 megapixels.
Here are some sample pictures, all shot with the lens mounted on a Nikon Z50 except for pictures of the lens itself. None of the pictures shot with this lens are cropped except for the corrected picture of the bike shop: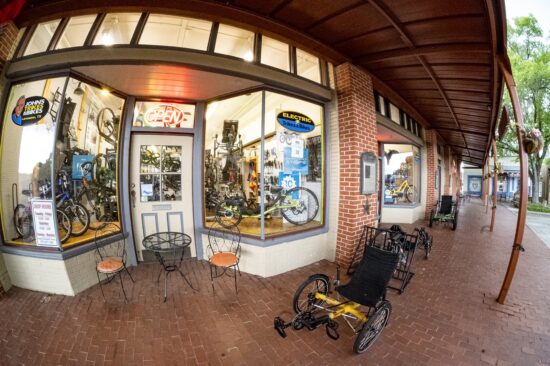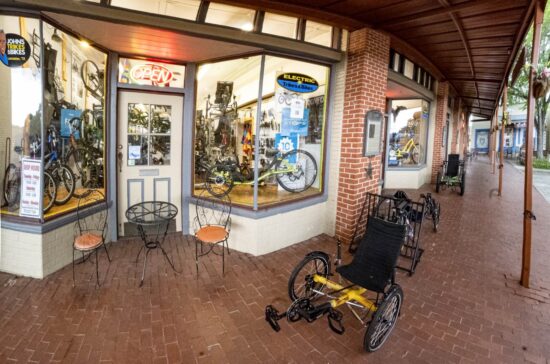 The Meike 7.5mm f/2.8 lens for Nikon Z-mount can be purchased on Amazon for $149.