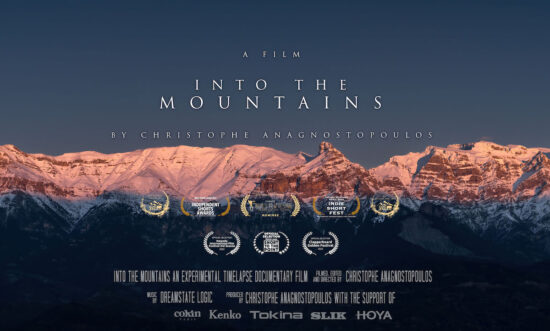 "The mountains are calling, and I must go." – John Muir
"Into The Mountains" is a visual journey through the beautiful mountains of Epirus, Greece directed and filmed by Christophe Anagnostopoulos with original music by Dreamstate Logic. This is Christophe's 3rd personal experimental short documentary film, after the award-winning films "Keep Looking Up" and "Forest of Tranquility".
The idea for this film was formed in my mind while I was filming "Forest of Tranquility" back in 2019. I had spent many days back then inside the forests and the mountains for filming and it was during that time that I made a promise to myself to create a timelapse film dedicated to those beautiful mountains. I had started working on the preparations of the production at the start of 2020, but then a powerful and unseen enemy, the coronavirus, changed our world and our lives, probably forever. After almost two years of restrictions, curfews, and quarantines, I finally had the chance to travel back to my favorite locations, the mountains of Epirus, which I missed so much.
In this film, I tried to capture some natural and beautiful sceneries into the mountains. Locations that can calm our souls with their simplicity and minimalism, no matter if it has beautiful clear skies or even bad weather. Another goal that I had set, when and if possible, was to avoid capturing anything that it is not created by nature. If I succeeded in this goal, it's up to you to decide.
The filming took place over a period of 4 months. The first scenes as also location scouting started at the end of October 2021, while the second and most important part of the filming took place in December 2021. The third and final part of the filming ended in January 2022. Weather played a very important part, adding an extra difficulty point to the project and to the filming. I had to deal with temperatures under zero degrees Celsius in most days with strong winds that created beautiful sceneries with the clouds travelling fast in the sky, but at the same time it required lot of effort to stabilize the tripods, the motion control system and the camera, especially during long exposures.
Hope you enjoy the film,
Christophe
The production of "Into The Mountains" was filmed exclusively with the following gear:
Cameras
– Nikon Z 7ii (x2)
Lenses
– Tokina Firin 20mm F/2 AF FE* 
– Tokina Opera 50mm F/1.4**
– Tokina atx-m 85mm F1.8*
– Tokina Firin 100mm F/2.8 FE* Macro
– Tokina Opera 16-28mm F/2.8**
*FE Mount Lenses mounted on Z 7ii via Techart TZE-01 Adapter
**F Mount Lenses mounted on Z 7ii via FTZ Adapter
Filters
– HOYA HD Nano MkII CIR-PL
– HOYA PROND1000 & PROND32 Grad
– HOYA Starscape
– Cokin NX Filter System Holder
– Cokin Nuances Extreme ND1024 & ND8
– Cokin Nuances Extreme GND 16S, GND 8S and R-GND 8S
– Cokin Nuances Extreme Clearsky
– Kenko Starry Night
– Kenko PRO1D ProSofton Clear
– Kenko Black Mist No.1 & No.5
Tripods
– Slik Vari CF-704
– Slik Pro CF-834
– Slik Pro CF-833
Motion Control & Timelapse
– Cinetics Lynx 3-Axis Motion Control System
– Kenko Skymemo Mini Star Tracker (in Timelapse Mode)
– Timelapse+ View Advanced Intervalometer (x2)
Ambient natural sounds were recorded on the filming location with a Tascam DR-05X Sound Recorder. A separate BTS video will be released in the coming weeks, showing various scenes during production.
Notes about Z 7ii Camera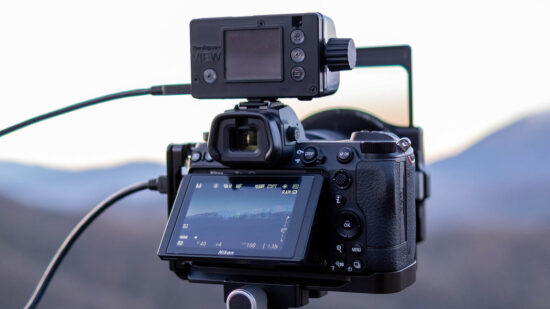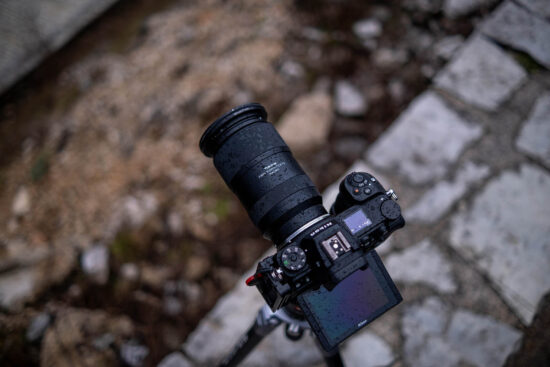 For the timelapse filming I used two (2) Nikon Z 7ii cameras due to its outstanding image quality, the 8k resolution and the ability to use all my favorite lenses, even with adapters. The Z 7ii has the same sensor as my previous favorite camera, the Nikon D850, but with some further enchantments, so in general I knew what to expect. All the produced material was of the highest possible quality, with excellent dynamic range, low noise and of course the very helpful for daytime long exposures base ISO 64.
As my schedule was to shoot all day long in very cold environments, with temperatures ranging from -9°C to 4°C at most, strong cold winds, running waters, snow, and ice, I wasn't sure about two things:
– Battery life and
– Weather sealing
The performance of the cameras in these weather conditions honestly surprised me as I could easily shoot more than 1500 shots in one battery, something very important for a timelapse photographer. It would be rather terrible for the battery to die in the middle of a sequence, ruining the shot. And I have to note that I didn't face any issues with the camera when snowing, even when I was changing lenses out in the field. Many kudos to Nikon for the amazing build quality and overall performance of the Z 7ii!
"Forest of Tranquility" is a short non-narrative experimental documentary film, capturing the serene atmosphere inside the forests of Epirus, Greece with the Nikon Z6 and D850
If you have an interesting idea for a guest post, you can contact me here.