I received some information from Asia that the next Nikon Z9 shipment is expected in mid-January. I am not sure how big this shipment will be or it will even make it to the US at all.
As I already reported, the number of existing Z9 pre-orders is insane and record-breaking. For example, a major US retailer received only 200 Z9 camera bodies last month – the same retailer received 200 Z9 pre-orders in the first 3 minutes after the official announcement… Similar stories can be found at the Nikon Z Mirrorless Cameras Facebook Group: rumors suggest that some retailers could have received as many as 4,000 Z9 pre-orders. I do not make up those numbers and there is no way for me to verify them – there are similar reports on multiple forums and social media – you be the judge.
Some readers have misinterpreted the report from Japan that the current shipping date for the Nikon Z9 camera is October 2022 – this could be the case for NEW ORDERS, if you ordered back in November last year I am pretty sure your camera will come sooner.
BTW, several Nikon Z9 cameras already sold for over $12k on eBay: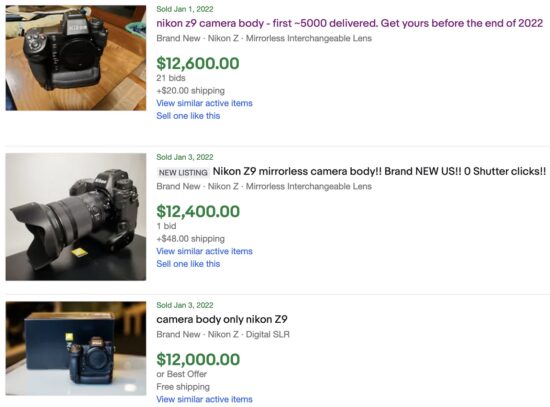 Maybe now is the time to place a backup Z9 pre-order with a small US Nikon dealer like our sponsors Pauls's Photo (West Coast) or Service Photo (East Coast):