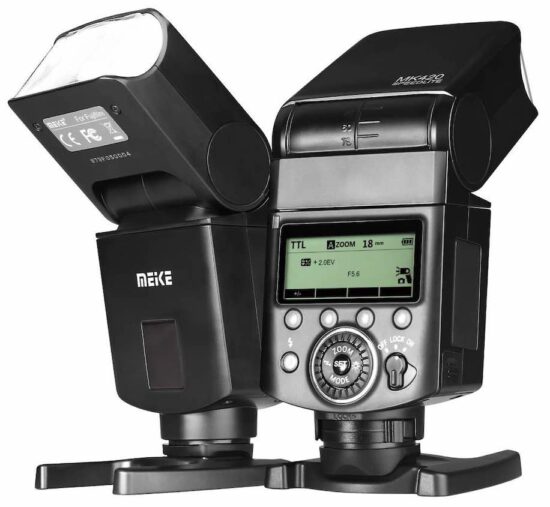 Meike MK-420N flash for Nikon cameras review by Bill Hall (see previous guest posts):
An external flash is a necessary tool for photographers when the light is low, even for cameras with a built-in flash. The built-in flashes are okay for emergency use, but the features of most external flashes far exceed the power and features of any built-in flash. And high-end cameras don't usually come with a built-in flash.
Meike's MK-420 flash has been available for Sony and Fuji, and is now available for Nikon cameras. Its price makes it quite attractive, especially considering the range of its included features. If you have used a Nikon branded flash before, the features of the Meike flash will be familiar.

What's in the box? The flash, of course, a pouch, a stand, a rechargeable lithium battery, battery charger, a stand, and a diffuser.
The flash has clean lines, and is not excessively heavy, though it does feel sturdy. It has an LCD screen for settings, four lit buttons for choosing options from onscreen menus, and a directional spinner that also clicks in four directions, and has a central button. Plenty of options for making settings. The power switch has off, lock, and on positions. The lock position disables the buttons on the back of the flash so that you don't accidentally change the settings. The flash mounts by sliding it into the hot shoe and moving a lever to the right. It's very secure, and works much better than many mounts that I have seen. It's much easier to use than the screw down variety. On the front of the flash is an AF assist light. On one side is a micro-USB jack for loading firmware updates.
The flash has a slide-out diffuser and white card reflector like many Nikon flashes, and the head will tilt from -7 to 90 degrees vertically and 180 degrees horizontally. It supports the standard Nikon iTTL mode, manual mode, sync mode to synchronize with other flashes, and repeat flash. Its guide number is 42 at ISO 100.
The included pouch is made of fabric that resembles rip-stop nylon. I don't know the actual fiber used, but it seems sturdy. Inside it is a pocket that's the right size for the stand, and room enough for the flash, battery charger, and charger cable. On the back is a belt loop with a velcro mount that makes it easy to mount without removing your belt, and a security flap to keep it from coming loose.
The charger is compact and plugs into any USB adapter or computer with a USB-A jack. A "wall-wart" power supply is not included, following the latest trend to not include these. You probably have a bunch of those like I do. It has an LCD screen on it to indicate the charge level.
The lithium battery pushes into the side of the flash and locks with a click. There is no battery door, but the battery fits flush with the side of the flash and looks exactly like a battery door would, so a door is not needed. Sliding a lever down causes the battery to pop out so that it can be removed.
If you have an interesting idea for a guest post, you can contact me here.
The Meike MK-420N flash for Nikon costs $54 at Amazon. Additional information: