The first Nikon CDS cooled Z6 mirrorless camera for astrophotography is now available for sale at Centralds – the company converted a regular Nikon Z6 to an Astro Z6 version. The price is $2,990.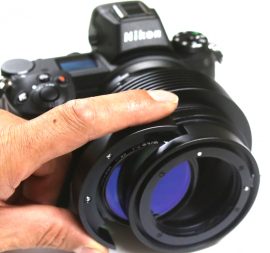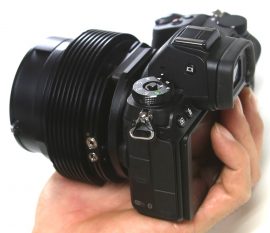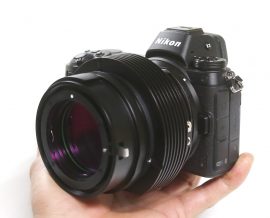 To achieve effective cooling, they actually moved the sensor outside of the camera and performed several other modifications:
"We took out the image sensor and moved it towards the lens and made a cooling module. Extracted CMOS sensor from camera body located in front of mechanical shutter, the exposure control by mechanical shutter is impossible and can't use optical view finder. But there is sufficient extra space between CMOS and Mount Ring, we can install Drop-In Filter system in the space.

The Housing of cooling module of CDS Cooled Z6 is functioning as heatsink for heat radiation of Peltier element and it's temperature is higher than that of ambient air.This housing deliver the heat to Clear Window in front of CMOS and make it warm.
Therefore it make Anti-Dew condition of window.The temperature of CMOS surface is very low and need more special Anti-Dew solution.First we made an airtight chamber with O-ring and blocked inflow of vapor into cooling module. And we prepared cold block with large surface area at cold surface on TEC.

CMOS is surrounding this cold block and cool down by the conduction from it.The surface of cold block captures vapor molecule more earlier than that of CMOS and this method prevent the dew condensation on CMOS surface.

As a result, permanent Anti-dew system is completed without any desiccants."
Nikon CDS cooled Z6 camera specifications:
24.5MP Full-Frame BSI Sensor (35.9 x 23.9 mm)
Pixel size: 6 µm x 6 µm
Max resolution 6048 x 4024 (3:2, aspect ratio)
EXPEED 6 image processor
one XQD card slot
ISO range of 100 – 51200, expandable down to ISO 204800
4K video recording at up to 30 frames per second
Tilting 3.2-inch high-res touchscreen
Image format: RAW, JPEG
Uncompressed format RAW (Nikon 12 or 14-bit NEF)
Interval Timer
Wi-Fi with NFC and Bluetooth
USB 3.1 interface
Cooldown the temperature of CMOS sensor about 18 Celsius degree(±2℃) from that of ambient air.
An absolutely high-Quality image in B-shutter use compared with usual unmodified DSLR
Realtime Monitoring of the cooling temperature by a digital thermometer
Drop-in filter system
Use of high-efficiency thermoelectric cooler module
Power: 12V, 1.7A DC
Low Pass Filter Removed.
Hoya MC Clear Filter Installed
Optimal design by 3D CAD modeling
Precision manufacturing by CNC machine
Perfect tuning of the optical axis of the CMOS sensor by 3 point alignment
A permanent Anti-dew system applied.
 Internal Silent cooling fan installed
 Live-view Focus function alive.
Disabled function: Low Pass Filter, Mechanical shutter, Sensor Cleaning, Body to Lens communication(AF, Aperture Control), Image Stabilization
Net weight: 1,050g
1-year CentralDS warranty included
Delivery: about 5 weeks.
Nikon CDS cooled Z6 camera for astrophotography sample photos:
Photos taken with the Nikon D850 Astro Cool camera (astrophotography)
Thanks Mehmet Ergün! (if you are into astrophotography, you must follow his Facebook page)

---
Get 15% off Topaz Labs products with code RUMORS15
Get $10 off Skylum Luminar with code NIKONRUMORS
Get 20% off ON1 software with code NIKONRUMORS
Get 40% off Rocky Nook books with code NIKONRUMORS
Get 35% off Franzis products with code NIKONRUMORS-35
Get 75% off Franzis Photographer's Collection II