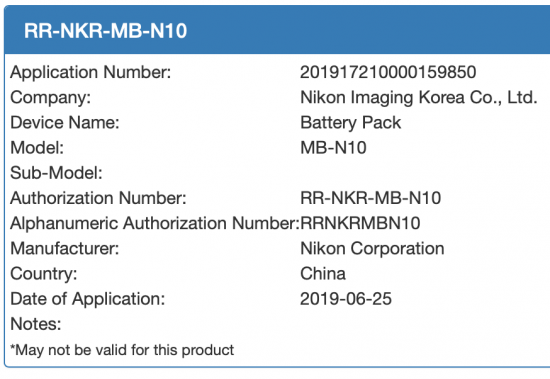 The Nikon MB-N10 battery pack for Nikon Z mirrorless cameras was recently registered with the Korean Communications Commission:
Update: the interesting thing is that this is a wireless registration – the device will probably have Bluetooth. 
The Nikon MB-N10 could be more than a battery pack – maybe also a wireless trigger?
"An KCC / MSIP RR ID is the authorization ID assigned by the Korean Communications Commission to identify wireless products in the Korean market. The RR assigns application ID numbers and Authorization number to approved products. The Battery Pack, manufactured by Nikon Corporation and sold by Nikon Imaging Korea Co., Ltd. has an Authorization Number of RR-NKR-MB-N10 and was approved on 2019-06-25 under application number 201917210000159850."
Maybe we are getting closer to the official release of the Nikon MB-N10 battery pack for Nikon Z?
Thanks Marcus!