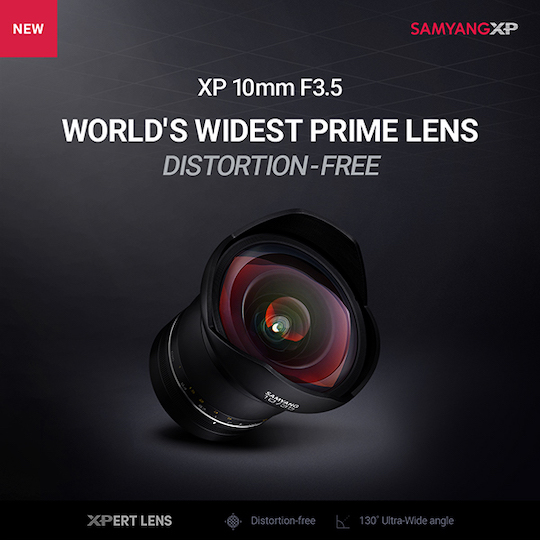 The previously rumored Samyang XP 10mm f/3.5 full-frame DSLR lens for Nikon F-mount is now officially announced. The lens is designed for high-resolution cameras and 8k video and is advertised as the world's widest distortion free prime lens with the world's largest angle of view of 130°:
By combining the stacking technology of optical lens design, we were able to realize overwhelming distortion suppression power at the same time as the world's largest angle of view. The XP 10 mm F 3.5 made of 11 lenses 18 lenses uses special lenses of 3 aspherical lenses, 3 low dispersion lenses and 1 high refraction lens, and it has various kinds of chromatic aberration, flare, distortion, etc. It significantly suppresses optical aberrations and expresses clear image quality and color from the center of lens to the periphery.
The price is €1,099. The US price is not yet available (check Adorama and B&H). The Nikon version will ship in a few months.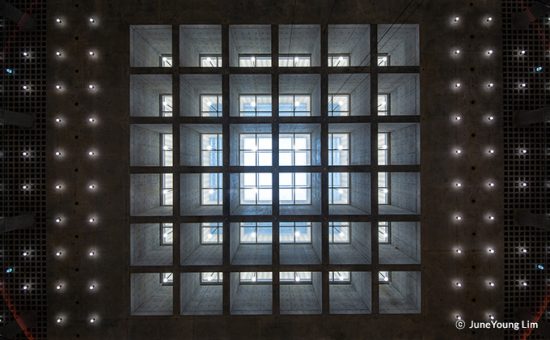 More sampler photos can be found here and here.
Samyang is expected to announce seven more new lenses, including some for Nikon Z-mount.
Specifications, MTF charts and press release:
Specifications:
Model name
XP 10 mm f / 3.5
Aperture range
F3.5 to F22
Lens optical construction
18 Elements in 11 Groups
Special lens
ASP 3, HR 1, ED 3
Coating
UMC
Minium focusing distance
0.26 m (0.85 ft)
Magnification Ratio
x 0.07
Diaphragm Blades
7
Filter size
–
Maximum Diameter
95.0 mm
Mount
Canon EF
Angle of view
Full Frame
130˚
ASP-C
104˚
Length
98.1 mm
Weight
731 g
MTF Chart:

Lens design diagram: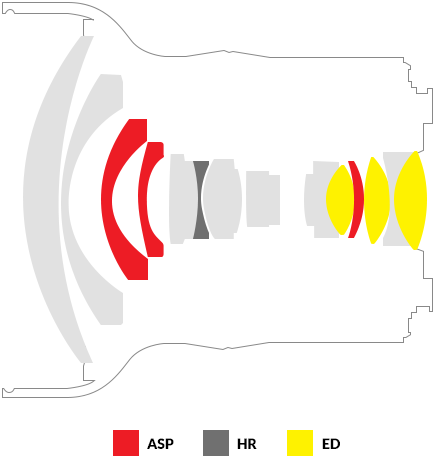 Additional pictures:
Press release:
Samyang Optics Launches the 'WORLD'S WIDEST PRIME LENS-'DISTORTION-FREE'- XP 10mm F3.5
February 25th, 2019, Seoul, South Korea – Global optics brand, Samyang Optics (http://www.samyanglensglobal.com) is pleased to unveil the 'WORLD'S WIDEST PRIME LENS- DISTORTION-FREE' (except fish-eye lens) – XP 10mm F3.5 fCanon full-frame DSLR cameras (XP 10mm F3.5 fNikon F will be launched within a few months as well.).
XP 10mm F3.5 lens from Samyang encapsulates the brand's universally respected optical technology, especially in the wide angle lens category. XP 10mm F3.5 provides ultimate ultra-wide-angle coverage up to 130° angle of view with crystal image quality.
As the demo premium lenses high-end cameras increases, XP 10mm F3.5 elevates the quality of images provides a burst of creativity the users with its high resolution of more than 50 megapixels distortion free that you can create an outstanding landscape architecture shots.
This lens features a total of 18 lenses in 11 groups. 7 special optic lenses maximizing the image quality from corner to center in vivid colours. The use of 3 aspherical lenses, 1 high-refractive lens, 3 extra-low dispersion lenses minimizing distortion extremely various aberrations. Flare ghost effects are also well-controlled by ultra-multi-coating technology from Samyang.
Now you can capture a wide landscape with 130° angle of view architecture does well in high resolution with distortion-free.
The XP 10mm F3.5 is expected to be the perfect lens fa broader range of photographer cinematographer who wishes to create professional photos videos in exceptional high-resolution solid body quality made with metal.
Available in this spring. The absolute resolution XP 10mm F3.5 lens will be available soon at a suggested retail price of EUR 1099.